Artistic Excellence at BCC
Boston Children's Chorus (BCC) is committed to providing the youth of the Greater Boston region an opportunity to experience the transformative power of music. Artistic excellence is at the forefront of BCC's work: we believe that quality music-making strengthens the impact of each performance for every singer and audience member. BCC maintains the highest level of artistic excellence with a robust curriculum, and by cultivating relationships with renowned educators and artists.
Music and Youth Development Curriculum
Boston Children's Chorus provides a specialized learning environment designed to give a rich and rewarding musical experience for each child. Music from all styles and periods forms the basis for our music curriculum. We teach our singers a range of vocal, movement and music literacy skills. BCC singers also learn important lessons of diligence, discipline, leadership, teamwork, and communication. BCC prioritizes choral excellence as a tool to inspire leadership, activism, and civic engagement of both singers and listeners.
Teaching Fellow Program
BCC's Teaching Fellow program offers the opportunity for young, developing pedagogues to get real-life choral teaching experience. Teaching Fellows are trained musicians who are interested in both teaching music and fortifying the entire learning experience for each BCC singer. BCC Teaching Fellows add value to our programs by designing rehearsal activities, giving lessons in musicianship, and building lasting relationships with each singer. They serve as role models, leaders, and mentors to every BCC singer they teach, making them an integral part of artistic excellence at BCC.
Guest Artists & Clinicians
BCC's priority is to foster relationships with leading artists and scholars in the field of music, and build life-changing experiences for our singers around these relationships. These artists - all educators, conductors, and composers - bring a wide array of cultural and musical experiences to BCC singers, and inspiring performances to audiences throughout Boston. Click the link below to learn more about Guest Artists at BCC.
BCC's Artistic Excellence Fund
Artistic excellence at BCC is maintained through donations to the Artistic Excellence Fund. This funding makes it possible for BCC to continue providing unique and powerful learning experiences to Boston's youth. Every donation to the Artistic Excellence Fund is put towards commissioning new works, contracting Guest Artists, purchasing new octavos, and sustaining the quality of our acclaimed music staff. Because of this support, BCC is able to continue inspiring social change through music throughout Boston, for both singers and audiences.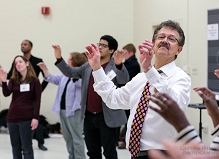 BCC builds relationships with leading professional artists and scholars in the field of music and music education.
Learn more