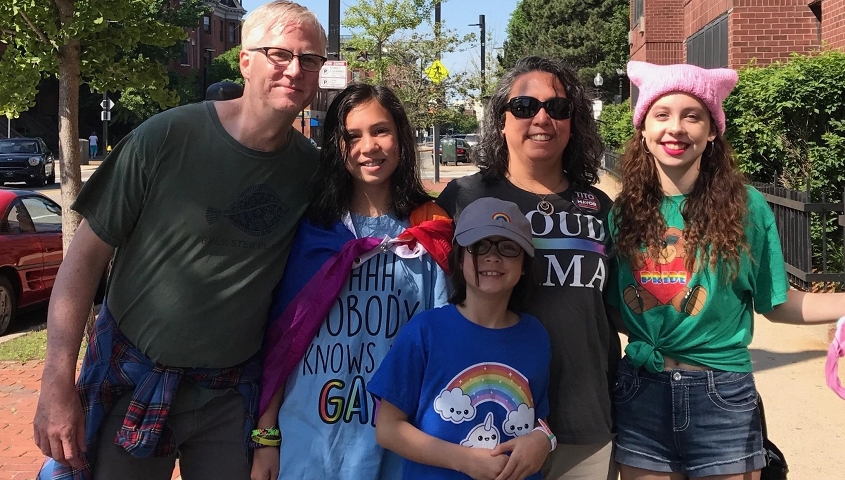 Hi, BCC community!
We are the Dolorico-Francoeur family.This year, we are thrilled to have 3 Dolorico-Francoeur singers with BCC! Soledad (15) will sing with Concert Choir, Magdalena (12) in CIA, and Paloma (8) in South Boston Training. This will be our 7th year as a BCC family. Soledad brought home an audition flyer when she was in 2nd grade at the Hurley School. As her mom, a choral singer since childhood, I could not have been more thrilled; despite the juggling of 3 children with different interests and activities and in three different choirs, we will do all we can to support our children and their involvement with BCC.
Living in Boston's South End, we are truly a mixed family: Tom was born and raised in MA in a family very closely tied to their Irish and French Canadian roots. I am the daughter of Philippine immigrants, born in the Bronx and raised in NJ. We are an American family, proud of the many identities and cultures we embrace. We are not the only mixed-race family in BCC, and it is a wonderful experience to blend in rather than stand out; to be met with appreciation rather than peculiarity.
Boston Children's Chorus is the right fit for our family, not only for the quality of musical education -- which is stellar -- but because its mission for diversity through singing mirrors the values we strive to live by in our home; through music they have learned to appreciate different cultures, languages, and experience. Most importantly, BCC is our family's partner in teaching the importance of not only equality and multiculturalism, but of empowerment, social justice, equity, and community activism.
- Maria and Tom
Photo with family in San Vicente on the island province of Palawan, Philippines.