Mission
Mission Statement:
Boston Children's Chorus (BCC) harnesses the power of music to connect our city's diverse communities, cultivate empathy, and inspire social inquiry.
About BCC:
Boston Children's Chorus (BCC)'s vibrant, jubilant, and powerful performances have established them as leading young artists in the city of Boston and beyond. Internationally recognized for their innovative programming, passionate artistry, and ability to connect to audiences, Boston Children's Chorus showcases the talent and passion of the diverse young people of our city.
Named Boston's "Ambassadors of Harmony" by the Boston Globe, BCC presents over 50 performances per season in a wide range of public and private events. They have performed in venues from Boston Symphony Hall, TD Garden, and Royal Albert Hall in London, to the Sydney Opera House, and the White House. BCC has appeared in TED talks, regular appearances on local TV and radio networks, and performances with high-profile artists including Idina Menzel, Javier Muñoz, Hugh Jackman, Leslie Odom Jr, and Melinda Doolittle.
In 2020, it was announced that the album Fantastic Mr. Fox won a GRAMMY for Best Opera Recording. This recording featured the acclaimed Boston Modern Orchestra Project in collaboration with Odyssey Opera and Boston Children's Chorus, under the baton of Gil Rose. Additionally, BCC was presented with the National Arts and Humanities Youth Program Award in 2013, distinguishing the chorus as one of the top arts and humanities-based programs in the nation; BCC accepted the award from First Lady Michelle Obama at the White House.
History:
Boston Children's Chorus (BCC) was founded by Hubie Jones, a civic leader who for six decades has worked to address the social problems facing Boston's underserved children and communities. In 2001, Mr. Jones experienced a breathtaking performance by the nationally renowned Uniting Voices Chicago (formerly Chicago Children's Choir) and returned to Boston determined to replicate this innovative program, as there were no organizations in Boston that effectively combined a mission for artistic excellence with an agenda for social change. He gathered the support of civic leaders and, after a year of planning and pilot projects, the Boston Children's Chorus was launched in October 2003.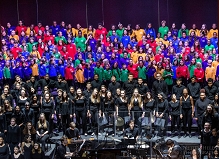 BCC presents key pillars of its 2019-2024 strategic plan and strategies for implementation in 2020.
Learn more