Sing With Us
Boston Children's Chorus (BCC) invites singers, aged 7-18, to join us this fall for the 2021-2022 season! BCC is a creative, affirming, and vibrant community with over 300 young artists in 8 choirs. Recognized for their captivating performance style, BCC singers have toured to over 10 countries, with notable showcases at London's Royal Albert Hall and the Sydney Opera House in Australia. Our singers have also performed at iconic Boston landmarks including Fenway Park, the Hatch Shell, and Boston's Symphony Hall. Weekly rehearsals create a safe space to hone musical skills and forge lasting friendships. BCC Singers come from over 100 different zip codes in and around Boston, connecting our city's youth and families through the power of song and artistry. Our programs focus on issues of justice that pertain to advancing recognition, respect, and representation of the many cultures that characterize Boston's landscape.
To join BCC this fall (September 2021), all you have to do is ONE of the following:
Participate in a placement session with a BCC conductor
Send us a performance video to info@bostonchildrenschorus.org

If you'd like to share your performance with friends and family, you can share your video on social media instead of sending us an email.

General Registration Requirements for the 2021-2022 season
Singer must be between the ages of 7 and 18.

Singer must turn 7 years old by September 13, 2021

Prior musical training is not necessary to participate in BCC
Placement Session Details
Zoom Placement Session (Private)
Sign up for a private Zoom placement session (see buttons below). BCC will send you a Zoom invitation for a 5-minute placement session with two of our conductors. Parents are permitted to be with their child during the placement session.
What to expect during the Zoom Placement Session:
Your singer will engage with two of our talented conductors or staff during the placement session. The session will be scheduled for 10 minutes and singers will be evaluated on vocal production, level of music literacy, and presentation. Please prepare a song that you love to sing, in any style. If you do not come with a prepared song, our staff may invite you to sing a popular song like "Happy Birthday". The Zoom link will be emailed to you as soon as you sign up for the session.
Placement Session Dates
September 15, 22
Performance Video Details
Email Your Performance Video (Private)
Send a one-minute video of your child singing "Happy Birthday", and answering the question: why do you want to join Boston Children's Chorus? info@bostonchildrenschorus.org
Facebook Performance Videos (Public)
Post a one-minute video of your child singing "Happy Birthday", and answering the question: why do I want to join Boston Children's Chorus?
Use the #BCC2022
Please note that all Facebook placement videos will be public with the use of the hashtag.
Tuition Information
Tuition is on a sliding scale based on household income. We also offer financial aid, email us at info@bostonchildrenschorus.org for more info.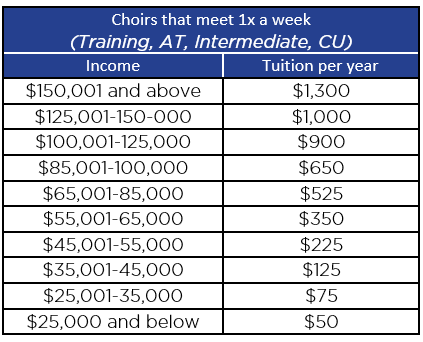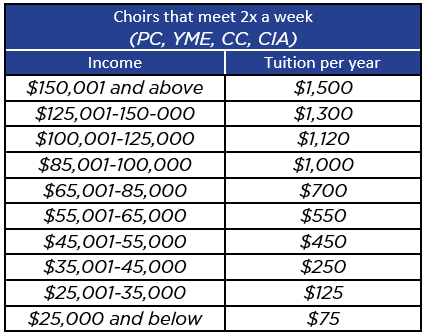 Here is your chance to see and hear the chorus sing and share some of their amazing experiences.
Learn more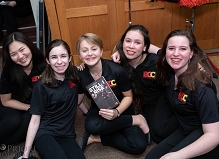 Here is your chance to see and read about the BCC experience from singers, alumni, and more!
Learn more