Guest Artists
BCC builds relationships with leading professional artists and scholars in the field of music and music education. These leaders interact with and work with BCC singers and the Boston community providing enrichment opportunities.
Visiting Conductors
Visiting conductors have led BCC singers in performances at major venues including The Isabella Stewart Gardner Museum and Boston Symphony Hall. Past visiting conductors include:
Maria Guinand, Schola Cantorum de Venezuela and the Cantoría Alberto Grau, 2011
Simon Halsey, Berlin Radio Choir and City of Birmingham Symphony Orchestra Chorus, 2012
Julian Wachner, Trinity Wall Street, 2015
Dr. Rosephanye Dunn Powell, Auburn University, 2016
Dr. Lynnel Joy Jenkins, Princeton Girlchoir, 2019
Alysia Lee, Sister Cities Girlchoir, 2022
Master Educators
Master music educators have presented workshops that improve pedagogy and develop a deeper understanding of music education and music literacy through choral singing. Past master educators include:
Dr. Mary Ellen Junda, University of Connecticut, 2009
Dr. Judy Bowers, The Florida State University, 2010
Fernando Malvar-Ruiz, American Boy Choir, 2011
Dr. Lynnel Joy Jenkins, Princeton Girlchoir, 2012
Henry Leck, Indianapolis Children's Choir, 2013
Dr. Rollo Dilworth, Temple University, 2014
Dr. Susan Brumfield, Texas Tech University, 2015
Jane Wilburn Sapp, musician and cultural worker, 2016
Jim Papoulis, composer and conductor, 2017
Dr. Andrea Ramsey, composer, and conductor, 2018
Visiting Composers
Visiting composers build a relationship with the Boston Children's Chorus and the Boston area community in presenting new compositions and workshops that help in developing an appreciation for music and growing the choral cannon. Past visiting composers include:
William (Bill) C. Banfield, professor of Africana Studies/ Music and Society, director of Africana Studies programs, Berklee College of Music, commissioned a piece for our 3rd Annual Professional Development Day Concert showcasing songs and stories from around the world. "This is my story. This is my song." These words, made familiar to many through an 1873 hymn, state it simply: singing is a powerful channel for storytelling, as music and text unite in portraying images and emotions.

Daniel Roumain and Marc Bamuthi Joseph, 2013. The Boston Children's Chorus (BCC) has co-commissioned a piece by Daniel Roumain in partnership with the Institute of Contemporary Art/Boston (ICA) to celebrate its tenth anniversary. Roumain worked with librettist Marc Bamuthi Joseph and choreographer Amy Seiwert to create this new work for children's chorus and dance.
Stephen Feigenbaum, Composer. Boston Children's Chorus has enjoyed a long relationship with Stephen. He's composed and arranged many works for our choirs.
Opus Nuovo
Since 2019, Boston Children's Chorus has been developing an exciting commissioning project called Opus Nuovo, with the goal of creating new choral works representative of our community and championing the work of composers outside of the eurocentric western canon. We look forward to continuing this important work in each future season of BCC—creating a choral canon that is truly reflective of our singers and our diverse communities.
Opus Nuovo is supported in part by a grant from Choral Arts New England & TD Charitable Foundation.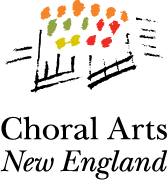 Guest Artists
Patti Austin, 2011
Kyle and Christopher Massey, 2011
Melinda Doolittle, 2012 & 2013
Cindy Blackman Santana, 2013
Leslie Odom, Jr., 2014
Dom Flemons, 2015
Roomful of Teeth, 2016
Nik Walker, 2017
Melinda Doolittle, 2019
Andrea Baker, 2020
Keb' Mo', 2020
Roman Banks, 2021
E. Faye Butler, 2021
Rev. Willie Bodrick, II, 2022
Renese King, 2022
Zakiyyah Sutton, 2022-2023
Rev. Mariama White-Hammond, 2023
Mayor Michelle Wu, 2023