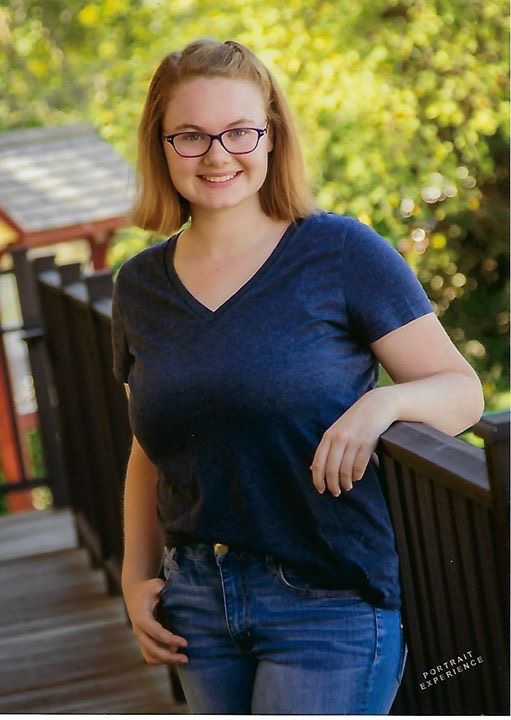 Abigail Sweeney, Class of 2018, is a freshman intending to double major in Music and Urban and Community Health at Rhodes College. Abby joined Boston Children's Chorus in her sophomore year of high school, after first hearing about BCC from a couple of friends who were already in the chorus. While in BCC, she sang in Concert Choir for two years and in her last year she moved up to Premier Choir.
"Without BCC I wouldn't have had the breadth of music knowledge that I do today," said Abby. BCC gave Abby the confidence to believe that she could be a music major. She was able to skip freshman level music classes and instead placed into upperclassmen music classes. Although she knows that she doesn't want to be a professional musician, Abby states, "music will always be an important part of my life." However, she is grateful to double major in music because that's how she met some of her best friends in college.
At Rhodes, Abby's entire freshman class had a day-long visit to the National Civil Rights Museum at the Lorraine Motel in Tennessee. This trip held, even more, meaning to Abby because of BCC and our annual Dr. King Tribute Concert. When visitors walk by the motel room that Dr. Martin Luther King Jr. stayed in, the song "Precious Lord, Take My Hand" plays. At her final MLK concert before she graduated, "Precious Lord, Take My Hand" was part of the concert's repertoire. So for Abby hearing the song in this particular context, she was able to reflect on her time at BCC and the annual MLK concert.
To Abby, BCC is the place where she made lifelong friends with shared values. "Everyone at BCC has a love for music excellence; we know what power we hold. We all understand that we need to use that power to create social change," said Abby. Additionally, she recounts her long commute for weekly rehearsals as "a time that I came to value" because it was the time to decompress and talk with her friends about the issues that were bothering them like about the world, school, or friends.
During her time at BCC, she got to be involved in many fantastic opportunities. One of Abby's favorite experiences was the Ouroboros Opera Trilogy in September 2016. She loved "getting to feel like a professional" while working on the opera, Gilgamesh with Concert Choir. Another favorite was the American Optometric Association conference in the summer of July 2016 because BCC sang with Broadway star, Laura Osnes (Cinderella, Bandstand, Bonnie and Clyde). She also loved singing the repertoire including music from Broadway musicals, Matilda and Cinderella and a song about eye diseases. Lastly, going on tour to Montreal with Concert Choir in April 2016 was another favorite because of "how nice the weather was in Montreal, and in general how much fun the tour was."
When asked about her favorite piece that she performed with BCC, Abby said "Music Down in My Soul" by Moses Hogan. "The song shows a lot of variation from the beginning soft opening section to the fun upbeat middle section with hand clapping. Premier Choir and Young Men's Ensemble had to have excellent dynamics to nail the piece."
We asked Abby about our season theme, Through Her Eyes, and what it means to her, she said: "Through Her Eyes allows us to celebrate the often overlooked role of women in music!"
If there were any advice that she would give to current singers, it would be to "savor every minute in BCC and all the people around you. It can be difficult at the moment to realize how special BCC is. Don't take anyone or even any rehearsal for granted."