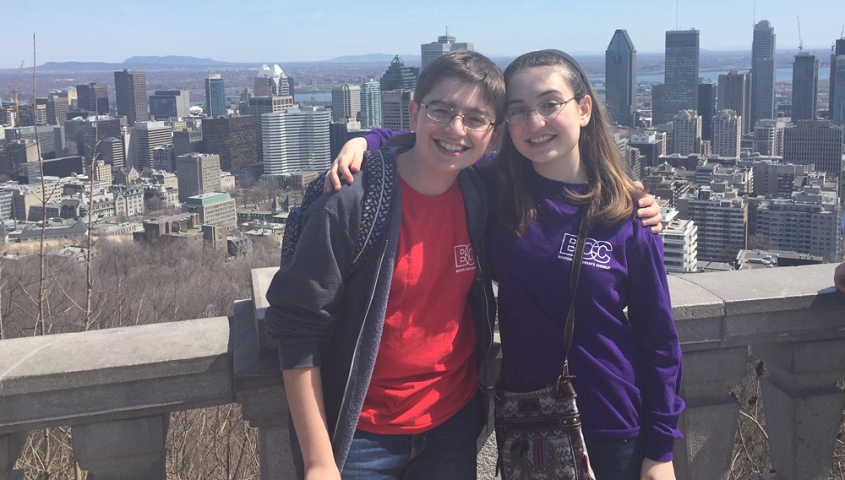 Photo above of Matthew and Hannah Cole.

Concert Choir's trip to Montreal over April vacation was a great social and musical experience for me. Being on tour was a unique experience because it allowed me to become closer with everyone in the choir. For most of the year I
have tended to socialize most with the people who I know best: people who sit near me during rehearsal. In Montreal, however, there were plenty of long bus rides, long walks, and laser tag games that allowed me to get to know people that were still unfamiliar to me. Throughout the trip, I bonded with so many different people over so many things, from swapping riddles and jokes to participating in impromptu "Hamilton" sing-alongs. As a result, this trip allowed me to more completely understand what a great community we have in Concert Choir. I realized that I am so lucky to be surrounded by a group of such kind, talented people. If it weren't for our shared interest in singing, I never would have been able to make so many friends
.
I received a broader glimpse of how music can bring people together during our first performance, an exchange with a school choir in Lawrence, MA. For the most part, the Lawrence students were younger than us, so we had the opportunity to act as role models for these children. I could tell that some of the kids were captivated by our performance, which made me conscious of a new impact of my singing that I hadn't really thought about: inspiring younger singers. Furthermore, despite the age difference, we were still able to connect over our love of music. I especially appreciated the fact that BCC and Lawrence singers were equally eager to give feedback on each other's performances, since it shows that we all wanted each other to become better musicians. I truly enjoyed getting the opportunity to reach out to younger singers, and I hope that the exchange was as impactful for them as it was for me.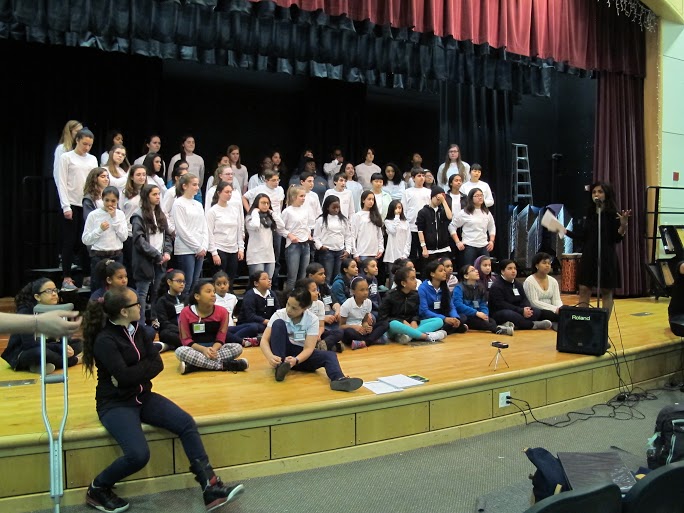 In addition to the community aspects of the trip, the excursion was a time for personal and musical growth. Learning one piece in particular, "Tota Pulchra Es" by Maurice Duruflé, was an important lesson for me. When we first started learning it, I, like many other members of Concert Choir, dreaded how hard it was. Then, during our performance at a choir exchange in Vermont, it clicked. With every note we didn't mess up, I became more and more confident. I really felt like we had accomplished something impressive. Later, singing with a guest conductor at McGill University reminded me how pretty the song is, and how important it is to express that musicality with our performance. By the time we sang at our final concert at the Notre-Dame Basilica, I had become surprisingly attached to the piece. If we hadn't had so many opportunities to perform and experiment with the song, I probably would have continued to be afraid of it. Now, it has gone from being "too hard" to something I appreciate and enjoy singing.
This trip taught me a lot about myself and our BCC community, but most importantly, it was a lot of fun, and I'm so glad I had the opportunity to sing and travel with such a great group of people.
Hannah Cole, age 16