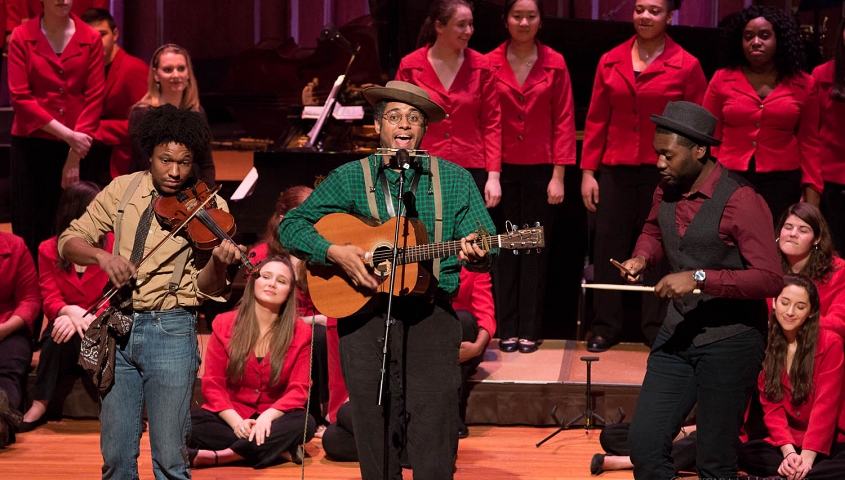 On January 19, 2015, Boston Children's Chorus (BCC) and guest artist Dom Flemons presents "Cross That River" in partnership with New England Conservatory at Jordan Hall. New this year is one performance that will showcase the musical excellence of BCC in harmony with the social vision of Dr. King. BCC will be joined by some special musical guests on stage as the singers unite to pay tribute, and celebrate Dr. King's memory. This concert has become Boston's signature social message on this national holiday. We are grateful to New England Conservatory who are our lead artistic partner on this event.
Dom Flemons
Dom Flemons is the "American Songster," pulling from traditions of old-time folk music to create new sounds. Having performed music professionally since 2005, he has played live for over one million people just within the past three years. As part of the Carolina Chocolate Drops, which he co-founded with Rhiannon Giddens and Justin Robinson, he has played at a variety of festivals spanning from the Newport Folk Festival to Bonnaroo, in addition to renowned venues such as the Grand Ole Opry.
Raised in Phoenix, Arizona, Dom's involvement with music began by playing percussion in his high school band. After picking up the guitar and harmonica as a teenager, he began to play in local coffee houses and became a regular performer on the Arizona folk music scene. Dom wrote his own songs and produced 25 albums of singer-songwriters and slam poets in the Phoenix area, including six albums of his own, during this time. He took a brief break from playing music in order to pursue slam poetry (he majored in English at Northern Arizona University) and performed in two national poetry slams in 2002 and 2003. Aside from exploring slam poetry, he spent his early adulthood listening to records and discovering a love of folk music, blues, jazz, jug band music, country music and '50s rock 'n' roll. Dom became interested in folk musicians such as Phil Ochs, Dave Van Ronk and Mike Seeger, as well as musicians such as Mississippi John Hurt, Howlin' Wolf, Hank Williams, Chuck Berry and Carl Perkins. After stepping away from the slam poetry scene, he rekindled his interest in music, this time focusing on the old-time blues music of the pre-WWII era.
A multi-instrumentalist, Dom plays banjo, guitar, harmonica, fife, bones, bass drum, snare drum and quills, in addition to singing. He says that he incorporates his background in percussion to his banjo playing. Dom's banjo repertoire includes not only clawhammer but also tenor and three-finger styles of playing. He first picked up the instrument when he borrowed a five-string banjo from a friend who had removed the instrument's fifth string. As a founding member of the Carolina Chocolate Drops, an African-American string band, Dom was able to explore his interest in bringing traditional music to new audiences. The band won a GRAMMY for its 2011 album Genuine Negro Jig and was nominated for its most recent album, Leaving Eden, in 2012.
Dom says he would like to use the traditional forms of music he has heard and immersed himself in over the years to create new soundscapes that generate interest in old-time folk music. Focusing very much on creating music that is rooted in history but taking a contemporary approach, Dom hopes to reexamine what traditional music can become.
In July 2014, Dom released his third solo record with Music Maker Relief Foundation, and his first since leaving the Carolina Chocolate Drops. Prospect Hill finds Flemons digging deeply into ragtime, Piedmont blues, spirituals, southern folk music, string band music, jug band music, fife and drum music, and ballads idioms with showmanship and humor, reinterpreting the music to suit 21st century audiences. He was featured on NPR's Fresh Air with Terry Gross and his new album has received praise from The Boston Globe, Paste Magazine, Living Blues Magazine, and more.