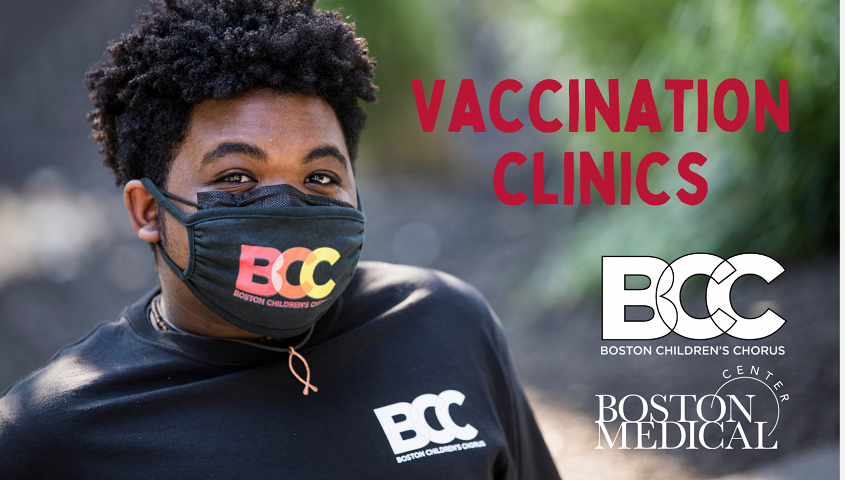 Boston Children's Chorus (BCC) is partnering with Boston Medical Center (BMC) to host two pop-up vaccination clinics in our main offices. These clinics are open to all our singers and families ages five and older for 1st doses, 2nd doses, or 3rd doses. Pfizer, Moderna, and Johnson & Johnson will be available. The vaccine is free, no insurance is required, and no pre-registration is needed. We welcome our neighbors and other community members to the clinics to encourage and celebrate COVID-19 vaccination for our youth.
Clinics will be held on:
Saturday, December 4: 9:00am - 12:00pm
Tuesday, December 28: 4:00pm - 7:00pm
We are honored to be a small part of making vaccines available to our community and our youth. Many thanks to BMC for making this possible for our community!
From Boston Medical Center (BMC) about the latest news on youth vaccination:
NEW: Moderna and J&J Booster Vaccines and Vaccinations for Children Under 12 Years Old Expected in November (As of 10/25/2021)
The CDC and FDA have been meeting and are expected to make new vaccination recommendations for Moderna and Johnson & Johnson (J&J) booster shots, as well as Pfizer vaccination for 5-11-year-olds. If approved on the expected timeline, we anticipate being ready to administer Moderna and J&J boosters in early November and 5-11-year-old vaccinations later in November.

The timeline for approval is dictated by FDA recommendations, CDC's Advisory Committee on Immunization Practices (ACIP) guidelines, and subject to final approval by the CDC director. Following the final approval, the CDC creates and releases a set of technical specifications to Epic and other hospital electronic medical record systems, which can result in a one to two week lag time from approval to hospital readiness, as we saw with Pfizer boosters.