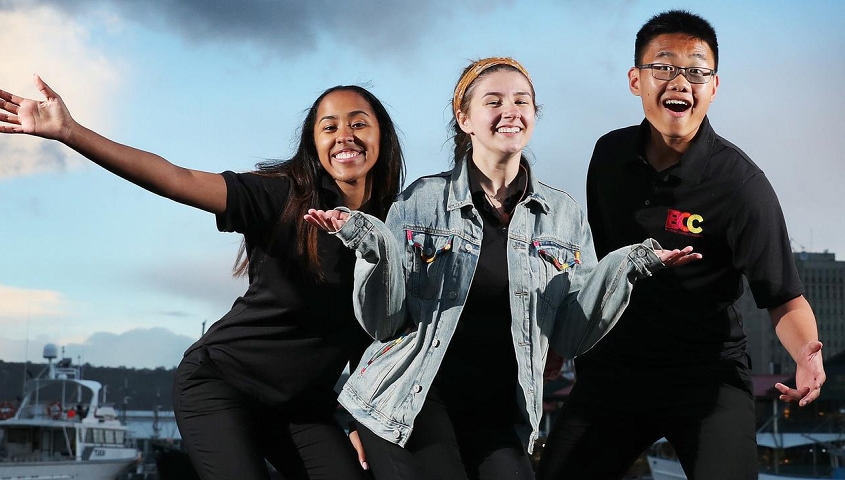 BCC down under went,
A trek of 30 hours,
A choir 55 were sent,
To share their choral powers.
At first to Hobart they did go,
To make their sonorous noises,
And Boston's finest they did show,
At the Festival of Voices.
Straight off the plane, into a gig,
And yet they did not flag,
They sang to crowds both small and big,
No time for the jetlag.
After a week they travelled on,
New audiences to rouse,
And finally raised their voices strong,
In the Sydney Opera House.
What a trip, what tour,
The memory forever lingers,
Here's to the future and many more,
And thank you to our singers.
(Poem by Robbie Jacobs)
by Irene Idicheria and Trey Pratt
After approximately 30 hours of travel, 46 singers and 8 chaperones arrived safely in Hobart, Tasmania on Wednesday, July 10th. Upon arrival, BCC singers traveled to Government House for their first concert, singing for the Governor of Tasmania (Her Excellency Professor the Honorable Kate Warner) and a packed audience. Our time in Tasmania was sponsored by the Festival of Voices, a two-week showcase uniting vocal and choral artists from Australia and around the world. BCC collaborated with the Shanghai Little Stars Choir, The Festival of Voices Youth Choir, and the Aboriginal Center for the Performing Arts' Gospel Choir. On Thursday, July 11th, our singers participated in a joint choral workshop with the youth choirs at the Tasmanian Conservatory. The evening ended with a rousing performance at Hobart's Town Hall.
On Friday, July 12th, our singers prepared for their signature concert here in Hobart - She Persisted at Theatre Royal, the oldest working theater in Australia. The program reprised this year's MLK program, with a few new pieces. One song, "Love: Then and Still," evoked tears from our performers, Dr. Anthony Trecek-King, and several members of the audience.
On the morning of July 13th, we had planned to visit Port Arthur, a historic penal settlement and the site of Australia's last mass shooting. Due to inclement weather (it's winter down under!), we decided to cancel the outside walking tour. Instead, singers visited the Museum of Old and New Art and explored the town of Hobart. The day ended with a concert at Federation Hall, home of the Tasmanian Symphony Orchestra, where our singers listed to the Australian Voices, a premier chamber ensemble that champions new music, and a performance of the Cherubini Requiem.
We had the opportunity to partner with and engage in discussion with Aboriginal Center for the Performing Arts' Gospel Choir on July 14th. ACPA members detailed key events in Australian human rights history, including the impact of the Stolen Generation on singers' personal stories. The powerful conversation set the stage for an emotionally gripping performance the the Festival of Voices Finale Concert. After our encore, an audience member approached ATK saying, "I haven't been this proud to be an American in a very long time." Premier Choir singer Stella F. noted the impact of this performance:
"We sang My Heart be Brave, and as some of us were speaking to each other backstage, we commented how this performance was different. We always say that we perform for ourselves, not the audience, but this time it was for them. We got to tell someone's story. We had just learned of the ACPA Gospel Choir's history, and it was so powerful. Even though we just learned about their past, there was such a deep sense of care for the members of ACPA. This was arguably our best tour performance on tour."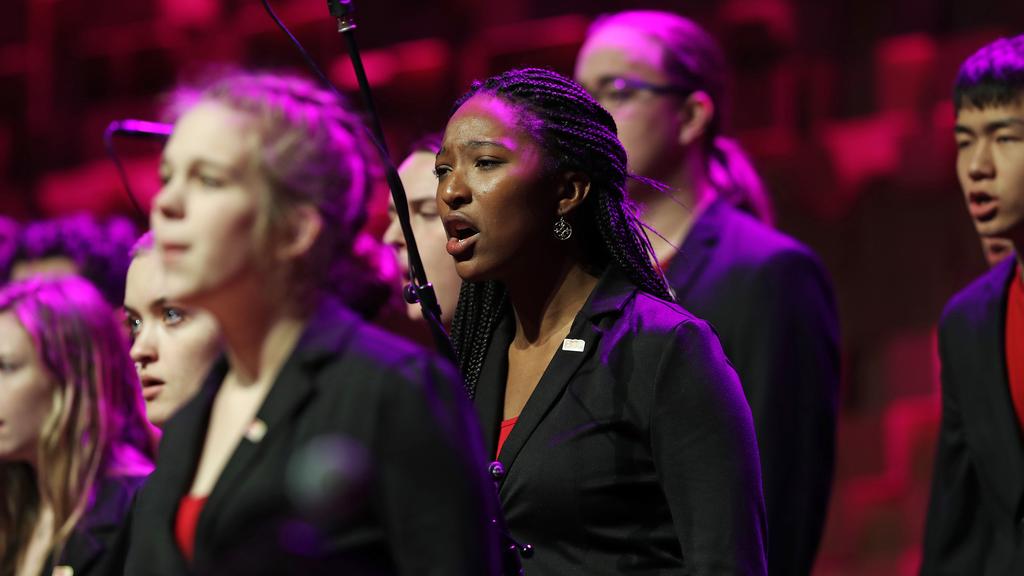 On July 15th, we said goodbye to Tasmania and flew to Sydney, where we spent the remainder of our trip. We were fortunate to stay with host families of the Pymble Ladies' College (like a US high school) in New South Wales. The next day, we engaged in a day-long collaboration with PLC. After a day of rehearsing and socializing, we performed for a captive audience at the Choral Workshop space of Conservatorium of Music in Sydney. During a tour of the Sydney Opera House, where our singers would soon be performing, our singers had an captivating moment. Young Men's Ensemble singer Nicholas B. said:
"Our tour guide let a small group of 10 of us sing Indodana in the main performance hall. It was so cool being able to sing with a small group, and imagine what it would be like for a single person to fill the space and carry their voice."
On Wednesday, July 17th, we participated in the University of New South Wales' unveiling of a statue honoring the life and legacy of Dr. Martin Luther King, Jr. BCC gave an introductory performance and listened to a lecture on Civil Rights by reporter, author and Columbia University professor Jelani Cobb. Earlier in the day, we participated in a workshop with students from an area performing arts high school and facilitators from the non-profit organization Aspire. The discussion covered sociopolitical topics relevant in the United States and Australia: healthcare, water conservation, immigration, voting systems, and indigenous rights. As a part of the workshop, students presented their ideas for paths forward regarding each topic. Premier Choir senior Ariela P. discussed immigration with her group:
"Immigration is an issue that affects and impacts all of us globally. Immigrants are a foundation of the workforce in many countries; without this foundation, the workforce would crumble. Something that each of us can do is volunteer and advocate for those whose voices are suppressed. We can advocate for better immigration policies, accessible education, and more. Every person brings experience and knowledge, creating a more vibrant community. If action is not taken, many people will continue to face danger and discrimination. Immigration is an issue that should not be only viewed as political; it should be viewed with empathy and compassion and it is something that many of our politicians don't do. Channeling empathy would improve policies and it is something that I want politicians to keep in mind."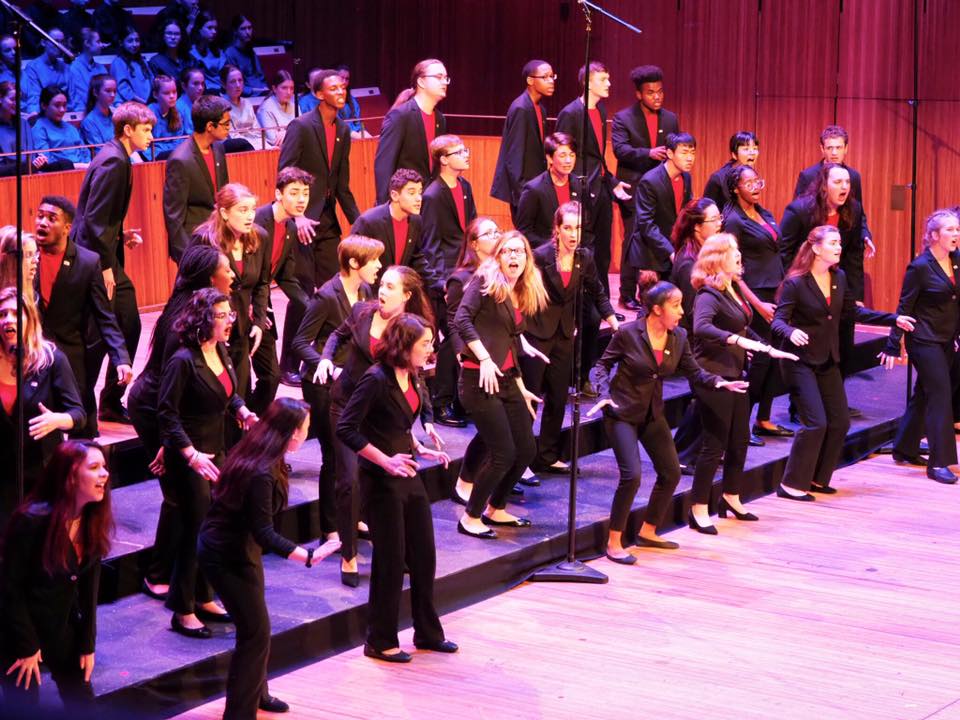 On Thursday, July 18th, we performed in a nationally broadcasted concert at the Gondwana World Choir Festival. During intermission, Dr. TK represented BCC in a talk-back with ABC Radio Australia. Preceding the concert, the group rehearsed for a later collaboration with the Guandong Experimental Middle School Choir singing "Mu Ge," a Chinese folk song, and "Ain't Gonna Let Nobody Turn Me 'Round," arranged by Dr. TK. Premier Choir member Grace H. offered translation to help spread the message and history of the piece. In the afternoon, we spent a few hours at the Museum of Contemporary Art on a guided tour of indigenous art and objects.
On Friday, July 19th, the choir participated in several collaborative rehearsals for the World Showcase Concert and the Closing Gala. In the afternoon, the singers represented BCC in a workshop that introduced attendees to the BCC approach to music education and social inquiry. Attendees reported to festival organizers that the BCC workshop, led by Dr. TK, was exceptional among other offerings with the same designation. Our singers spoke eloquently of our process, signaling its impact on their lives.
On Saturday, July 20th, the touring members of PC/YME enjoyed their last full day of the Gondwana World Choral Festival. The morning was devoted to rehearsing joint repertoire for the finale program. In the afternoon, singers attended a fantastic performance by the four-member a cappella group Idea of North. At one point in the program Premier Choir singer Stella F. joined Idea of North on stage to conduct them in a creative semi-improvisatory piece. That afternoon, our singers joined the Guangdong Experimental Middle School Choir for their combined set.
On Sunday, July 21th, Premier Choir and Young Men's Ensemble ended their 2019 tour to Australia with an absolutely stellar performance at the Sydney Opera House. BCC members joined other festival singers (totaling more than 600) for the performance of two new finale pieces, "The Arafura" and "Peace on Earth." Minutes of applause resounded in the room, and true to form, Dr. TK performed his famous jump on stage! The singers celebrated with an amazing dinner at Appetito in The Rocks. They were joined by family members who were in town, by members of the PLC, and their homestay families. Seniors offered their traditional superlatives to underclassmen and to one another. Tears were shed as the the singers reflected on years spent creating music with one another and with Dr. TK.
To all the staff who worked incredibly hard to make this a memorable and meaningful tour, thank you!
Chaperones: Dr. Anthony Trecek-King, Robbie Jacobs, Jana Hieber, Trey Pratt, Jacob Hiser, Irene Idicheria, Allyson Frick, Julia Allen