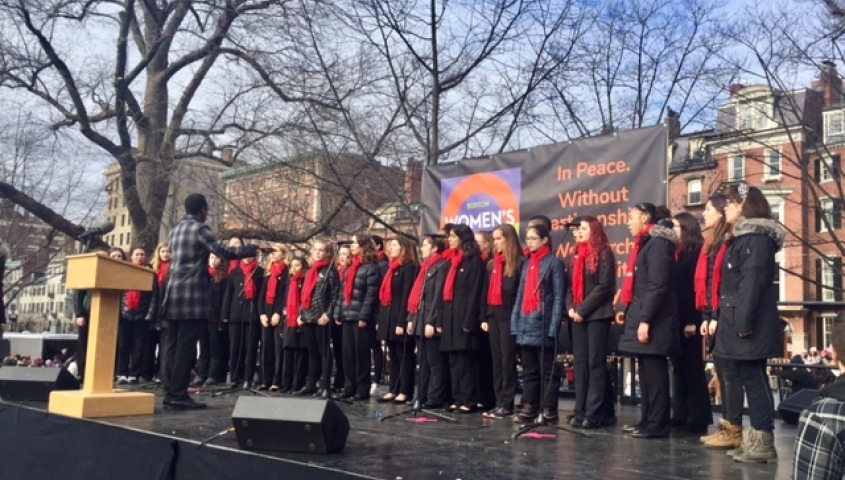 Reflections from the Boston Women's March on Saturday, January 21, 2017.
Click here to hear BCC Sing on Boston Common for over 175,000 marchers.

Nazeli, BCC singer and Premier Choir President:
Performing at the Women's March in Boston on Saturday was an experience I believe I will tell my grandchildren about. It made me proud to be a Bostonian and proud to be an American; the fact that despite obstacles and oppression people are still finding a way to have their voices heard and to make a difference in the world. To be surrounded by people so passionate about the issues I was passionate about was unifying and so incredibly inspiring. To be able to sing in front of all of them, to be able to contribute to spreading the message and taking a stand against oppression, made me realize just how much BCC has changed my life. BCC has opened my eyes to the injustice in our country and has constantly encouraged me to voice my opinions and work towards social justice, and it is in experiences like this one that I am able to do so. When we performed America the Beautiful, we changed the end of the last verse to "And crown thy good with sisterhood from sea to shining sea." The moment we sang "sisterhood," the audience roared with approval. Thinking about it still give me chills. It was then I truly felt the power of my own words. It was amazing, and I know I will remember it forever.
Sarah Stone, BCC Alumnus in Paris, France:
I attended the Women's March (La Marche Des Femmes) in Paris on January 21st, 2017. I was delighted and moved to see how many people (French, American, and others from all over the world) turned out in force to stand up not just for women's rights, but also for the rights of other groups who feel threatened by the new president and his administration.
Pam Adams, BCC Board Member:
I think the real takeaway from the March in DC was the feeling of empowerment that together we can make a difference. The comaraderie that was there was amazing. It really demonstrated that 'democracy' can work and we CAN be agents of change! I'm still on a 'high' from the experience of my lifetime!!
Loulou, BCC Singer:
Although I wasn't able to be there in the beginning to sing, as soon as I arrived, there was an overwhelming atmosphere of love, acceptance and I was just so moved that over 105,000 people came out in support of equality. Over these past few months, it has not been an uncommon feeling to us to feel like we're the only ones who care because our government has not been reflecting our opinions. The amount of times I have been told to "get over it" or to "accept that he's president now" has been uncountable. It was just so comforting to not only know that so many people are with us, but to literally see the entire Boston common filled to the brim with people who are unhappy with the state of our country and want to change it. Attending the march has restored my weaning faith in the country and in the future. Even though I stood for 4 hours and was exhausted, I would do it all again tomorrow, and everyday to come if that's what it takes. I am so thankful to live in Massachusetts where my opinions are reflected in my family and friends.
I am proud to be a part of this community and, for the first time in a while, this country
Lucy, BCC Singer:

I sang at and then marched in the Boston march yesterday. I came with my family but ended up marching mostly with BCC people. I think there's been a lot of negativity in our national dialogue since the election cycle. I wanted to be a part of something positive, a supportive and inclusive community. I think I definitely saw that yesterday. It was beautiful seeing how many people cared so deeply about so many issues. Everyone there seemed so happy to be able to express themselves and be surrounded by others doing the same. As someone who is a part of several groups that had been deemed "other" by Trump's rhetoric, the march gave me a feeling of belonging and pride in my identity. I was glad that I was also maybe able to help others feel supported in the same way. I was a part of history. This march will be something I tell my children about. Hopefully it will be a part of a continued movement towards equality and acceptance of all people.
Susan Conkling, BCC board member: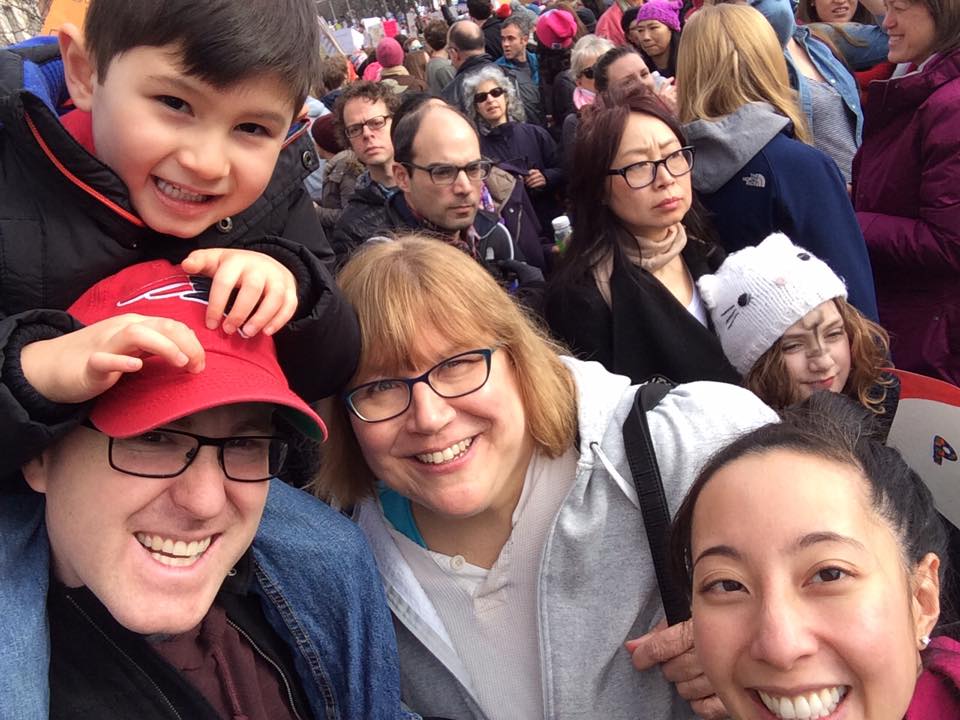 I was in awe of just how many people were there, how respectfully and kindly everyone was treated by the police (I recognize that should happen every day, but it doesn't), and how everyone spoke to one another along the way as if they had been acquainted for many years instead of just meeting up moments before. I was struck at their racial and ethnic diversity. Where I was marching, people applauded as women in hijabs walked by. There was also a group of young Latinas whose signs made it evident that they were undocumented. They were applauded and cheered as well. At the same time, the undocumented women's signs asked white women and government leaders if they were ready to lay their bodies on the line for them. As encouraging and motivating as the march was (and it was!), we need to be able to say "We will stand with you" and have a plan to do that.
David Blitzman, BCC Alumnus:
I march for equality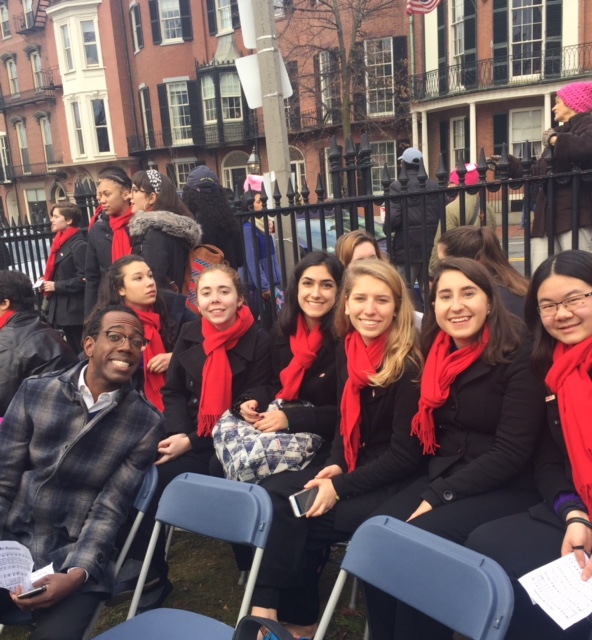 I march for justice
I march for freedom
I march to protest
I march to protect
I march to preserve
I march for my sisters
I march for my brothers
I march for everyone on the gender spectrum
Though I may have marched yesterday I continue to march
For the love of my country
For the love of the Constitution
and for the love of my country-men (and women)
The many join the street as one and the march continues
Though our feet may ache we know
We shall never fall nor break
We shall rise up
We shall challenge
and we shall fight
and if we do happen to stumble and fall we shall rise up once more and repeat
For through every darkness there is a new dawn
and even though the road may be long we will continue to march
and sooner or later I do believe, we shall truly overcome
Jenny, BCC Parent:
BCC's mission calls for communities and individuals to unite across barriers of race, class, disability, gender, or sexual identity. It is my sincere hope that our newly elected administration proves my worst fears wrong, but at this point in time, I can only respond to the actions and words that I have seen and heard with my own eyes and ears.
President Trump has publicly categorized entire immigrant populations as villainous; he has repeatedly insulted women's appearance using extraordinarily derogatory remarks, has insulted their normal bodily functions, and has minimized their achievements; he has validated physical violence as an appropriate method of dealing with others who insult or disagree with you; he has refused to take a public stand against white supremacists and homophobes.
All of this flies in the face of what BCC is trying to accomplish, and endeavoring to teach our children. I know that taking a stand is not an easy thing to do -- especially when there are possible financial ramifications for the decision being made. I am so very proud of BCC's strength of character, and honored to have been able to support its mission.
Donya, BCC Singer:
Some thoughts from the march! I was planning on attending the march before BCC asked us to sing in it, but when we were asked I was even more excited! It was so empowering to feel the immense amount of love radiated from the crowd Bostonians in front of me. I especially loved the reaction we got from our change in lyrics from "brotherhood" to "sisterhood." Seeing everyone come together for one cause just made me appreciate my city even more. I will always remember this amazing day in history and I'm so grateful I was given this opportunity to participate!!
Soledad, BCC Singer:
Performing and walking in the Women's March was one of the best days of my life. I felt so much more accepted in the world than I ever have. It was so cool to meet girls from other choirs and make new friends as well as catch up with old ones! I've been bragging to a ton of people that I made history with many other talented women by spreading positivity to the country through song. I will never be more grateful for any other opportunity I receive in the future. #lovetrumpshate #gowomen ❤️❤️❤️
Sonya, BCC Singer
Singing in front of such a massive and passionate crowd was an incredible experience that I will remember for a very long time. I am so honored and feel so privileged to have been able to participate in this event. I enjoyed singing with members of other choirs, singing one of our nation's most famous pieces, and having the chance to participate in the march itself, especially since it was an issue about which I feel very strongly. It was an amazing, once in a lifetime experience, and I am very grateful to have been part of this historical moment.
Julia, BCC Singer
I have never experienced something as meaningful and beautiful as that women's march. 175,000 people in Boston (men, women, children) marched in solidarity to protect their rights and show that they will not be scared of what is to come. In a wonderful, peaceful march people from all over the city and state came together. They raised signs, shouted chants and sang as they went through the streets of Boston. All around the world, women and men of all ages were marching as well, in one of the biggest days of rallies the world has ever seen. My favorite part of this moment, was walking on stage to 175,000 people screaming and cheering for us, before they even knew what we were singing. I loved watching the audience's face while we performed, and when we changed "brotherhood" to "sisterhood", they clapped and cheered for us. It was such a special moment for me to realize that I was surrounded by people who believed the same things I did, and were ready to protest and protect their rights. BCC has helped me experience life-changing events that I know I will cherish forever, including this wonderful march that I was fortunate enough to participate in. I will never forget this day and I am very grateful to have been a part of history.