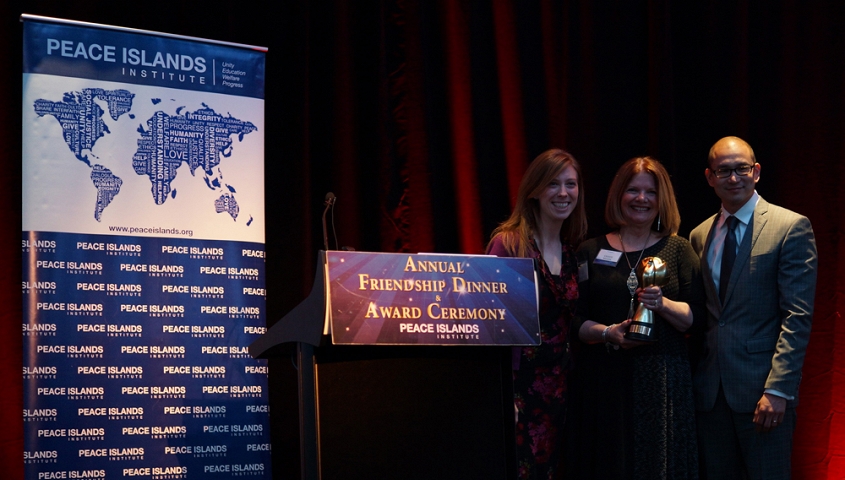 The Peace Islands Institute is a not-for-profit peace building organization established in 2011, founded by Turkish-Americans. The organization promotes respect and mutual understanding among diverse faiths and cultures by organizing educational and cultural activities. Their mission aims to contribute to improving diversity, pluralism and multiculturalism in society.
On April 14, 2016, BCC Managing Director Celeste Wilson and Director of Programs Ben Hires accepted the Community Award for BCC's role in working toward a more harmonious society and reducing bias through its nationally recognized, socially integrated choral music program.

Other community leaders recognized included Massachusetts Supreme Court Chief Justice Ralph Gants. In the past year, Justice Gants spoke to a group of Muslim Americans at the Islamic Society of Boston Cultural Center: "I am here to assure you that you do not stand alone. You have a Constitution and laws to protect your right to practice your religion, to protect you from discrimination and the denial of your equal rights, and to protect you from acts of violence that might be committed because of your religion or your nation of origin."

Timothy Phillips was also recognized for his role as co-founder of Beyond Conflict, a pioneering and widely respected conflict resolution and reconciliation initiative that has made important contributions to the consolidation of peace and democracy around the world.

Rupa Shenoy, a reporter at WGBH, was recognized for her unique podcast "Otherhood," which is about people who came to the United States as children or are children of immigrants.

BCC is honored to receive this award, recognizing its work with almost 450 youth from over 100 different zip codes around greater Boston. The singers and their families deserve this recognition, too. They are the ones making a difference in their homes, schools and communities.