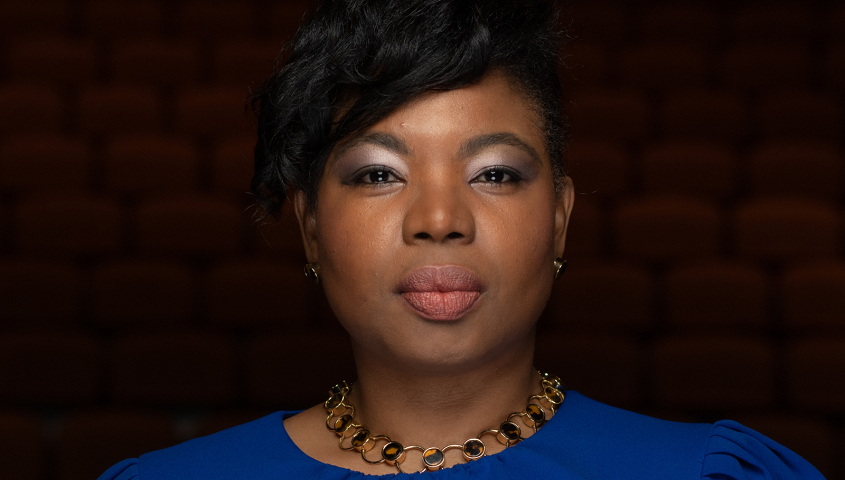 Boston Children's Chorus (BCC) is proud to announce the hiring of Akiba Abaka as Director of Good Trouble, a newly-created position aimed at shaping program offerings and re-committing BCC to being a multicultural, anti-ableist, anti-racist organization for young people in the Greater Boston region. With more than 25 years of experience in social arts, arts education and theatre production, Abaka is poised to help lead BCC into all kinds of "good trouble."
The phrase, coined by late civil rights leader and Congressman John Lewis, refers to engaging in nonviolent, purposeful actions to bring about positive change. It embodies the spirit of standing up against injustice and challenging the status quo. BCC has made it an organizational goal to stand up and create an inclusive, welcoming environment for its diverse student population. The organization will continue to serve as a catalyst for change, inspiring others to follow suit.
"Akiba is a pioneer in the arts and understands the deep racism that is often embedded in organizational structures of arts and culture institutions," said BCC Executive Director Andrés Holder. "As we venture into new territory with an eye out for creating good trouble, Akiba is a terrific addition to our team and will help BCC grow at the intersection of artistic expression and social justice in a way that creates lasting change for the young people we serve."
Abaka is no stranger to BCC. Boston civil rights icon and BCC Founder Hubie Jones is a leader she has long admired, along with Jones' wife Katherine, who Abaka had the privilege of working alongside in 2007 while directing and producing the world premiere of her play, 409 Edgecombe Avenue: The House on Sugar Hill.
"Art is my inheritance," said Abaka. "I was given the freedom by the people of my beloved city of Boston and my birthplace, Jamaica, to explore the world through arts and culture. It's my responsibility to pay it forward to the next generation of art curators and pass on the stories of those before me. Andrés' genius and visionary leadership is one to follow. I'm encouraged by the opportunities to help develop young people by utilizing the arts as a convening space, transforming the lives of all those involved. It's very humbling and exciting to be a part of such an impactful organization."
"Akiba has been instrumental to the arts community of Boston, actively participating in initiatives throughout the City," said Congresswoman Ayanna Pressley (D-Massachusetts). "I commend BCC for advocating for 'good trouble' and know Akiba will flourish in the role of creating it. Impactful arts organizations speak truth to power through creative expression and BCC is at the forefront of creating rich, culturally-responsive programming for young people across the Greater Boston community."
"BCC has been an impactful member of the Boston community throughout its history, inspiring social change through the arts," said Embrace Boston President and CEO Imari Paris Jeffries. "The hiring of Akiba as Director of Good Trouble further solidifies a commitment to future engagement with the next generation. We look forward to deepening our work with Akiba and BCC, and seeing what kinds of good trouble we can get in together to help advance the causes of equity, social justice and representation in the arts here in Boston."   
Prior to joining BCC, Abaka worked at ArtsEmerson, where she served seven years in audience development and four as a producer. While working in audience development, she spearheaded the research, development, implementation and evaluation of strategies bridging sales, marketing and community engagement efforts at Boston's leading international presenting theatre. As one of the organization's creative producers from 2020-2023, Abaka was responsible for overseeing the developmental path of artistic and community engagement programming for the institution. Abaka also is a founding partner and co-artistic director of Akiba Abaka Arts & Entertainment, Inc., an international theatre production company that creates plays, concerts and talks centered on narratives from the Black world.
Well-known in the academic world, Abaka is a Ronald E. McNair Scholar and maintains her interest in research on topics such as African Diasporic and Continental African cultural narratives since the Trans-Atlantic Slave Trade, the impact of storytelling and personal narrative in childhood and adolescent development, audience development and demand building for the arts, among others. She has also appeared and participated in multiple publications including "10 Weeks in Jamaica: Theatre Conversations from Jamaica to the World!", "Shifting the Leadership Paradigm: The Berkshire Leadership Summit and Beyond," and "Breaking Through the Bottleneck: Theatre Makers in the Black Community Congregate to Change Dynamics in Boston."
Abaka has extensive experience in production, directing, producing, and playwrighting pieces like Bar Girl of Jamaica by Robert Johnson Jr., A Raisin in The Sun by Lorraine Hansberry, Don't You Want to Be Free? by Langston Hughes, Coups and Calypsos by M. NourbeSe Philip and The Begets of Jane Hudson, which she wrote. Abaka has carried her passion into the classroom, teaching theatre and art classes in Boston area public schools and youth theatre groups. In addition to serving as a mentor for the Big Sister Association of Greater Boston, Abaka has served on the board of Boston Children's Theatre, participated on the host committee for Theatre Communications Group 2012 Annual Conference, and was a community member for Boston Children's Chorus Innovation Team in 2014.
Abaka has made presentations on storytelling and arts and cultural leadership at TEDx Beacon Street Youth Conference in Brookline, Mass.; Lost and Found: Intellectual Property, Race and Restorative Justice at the Center for Law, Innovation and Creativity (CLIC), Northeastern University; Black Theatre Commons Advocacy Check-In in St. Louis; and Women's Leadership Conference, American Conservatory Theater, in San Francisco. Abaka also has an extensive list of recognitions including Best Director by the Independent Reviewers of New England, Young Leaders of Color by the Theatre Communications Group, The John Andrew Ross Award for Distinguished Direction, and a Difference Maker Award by the NAACP Boston Chapter.
Abaka holds a bachelor's degree in psychology with a minor in theater arts from the University of Massachusetts Boston, a certificate in arts and culture organization management from ART/Harvard Business School, and a Master of Fine Arts in theatre education and applied theatre from Emerson College.
About Boston Children's Chorus:
Boston Children's Chorus (BCC) was founded in 2003 by Hubie Jones, a civic leader who has worked for six decades to address the social problems facing Boston's underserved children and communities. Named Boston's "Ambassadors of Harmony" by The Boston Globe, BCC harnesses the power of music to connect Boston's diverse communities, cultivate empathy, and inspire social inquiry. BCC choir programs include 10 choirs with singers from 110 different zip codes in and around Boston. BCC presents over 50 performances per season in a wide range of public and private events. They have performed in venues from Boston Symphony Hall, and Royal Albert Hall in London, to Sydney Opera House, and the White House.
BCC is supported in part by the Massachusetts Cultural Council, a state agency, and in part by a grant from the Boston Cultural Council, a local agency which is funded by the Massachusetts Cultural Council, administered by the Mayor's Office of Arts and Culture.
Media Contact:
Kyle Montemagno
kmontemagno@thecastlegrp.com
978.501.5346
Photo Credit: Eric Levin