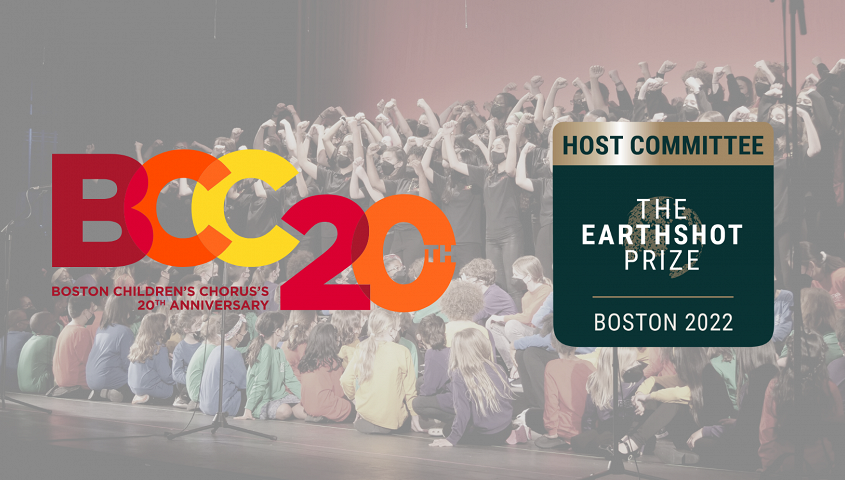 Boston Children's Chorus (BCC) is delighted to have our very own Executive Director, Andrés Holder, as a member of the Host Committee for The Earthshot Prize, Boston 2022.
"Boston Children's Chorus is delighted to play host in this historic and important celebration," said Andrés Holder. "As a new generation of leaders comes to the fore; our young people must be at the center of a reimagined more equitable, just, and empathetic future. Our lives on this planet depend on it."
Inspired by President Kennedy's bold and unifying 'Moonshot' goal to reach the moon within a decade, The Earthshot Prize's vision is to harness that same spirit of human ingenuity and collaboration and apply it to the most pressing challenge we face – repairing and restoring our planet.
As a global initiative, The Earthshot Prize is designed to incentivize ground-breaking and positive solutions to help repair our planet by 2030.
In celebrating the most ingenious solutions to the urgent environmental crisis, The Earthshot Prize aims to inspire people around the world about humankind's ability to solve seemingly impossible challenges and provide people everywhere with optimism and confidence that change is possible.
The prize is centered around five Earthshots – simple yet ambitious goals underpinned by scientifically agreed targets. These goals are to Protect and restore nature, Clean our air, Revive our oceans, Build a waste-free world and Fix our climate.
As a fitting tribute to the 60th anniversary of President Kennedy's inspirational 'Moonshot' speech and to celebrate Boston given its own work on addressing the impacts of climate change, The Earthshot Prize is partnering with the JFK Library Foundation alongside Mayor Wu and the City of Boston to host the Awards ceremony in Boston, MA in early December, where the 2022 winners of The Earthshot Prize will be announced.
Follow us at the following links for more news and updates as we head towards the Awards and to find out how you can participate in our City Activation activities.
Follow BCC!
Facebook: Boston Children's Chorus
Twitter: @BCChorus
Instagram: @BostonChildrensChorus
YouTube: @BostonChildrensChorus
LinkedIn: Boston Children's Chorus