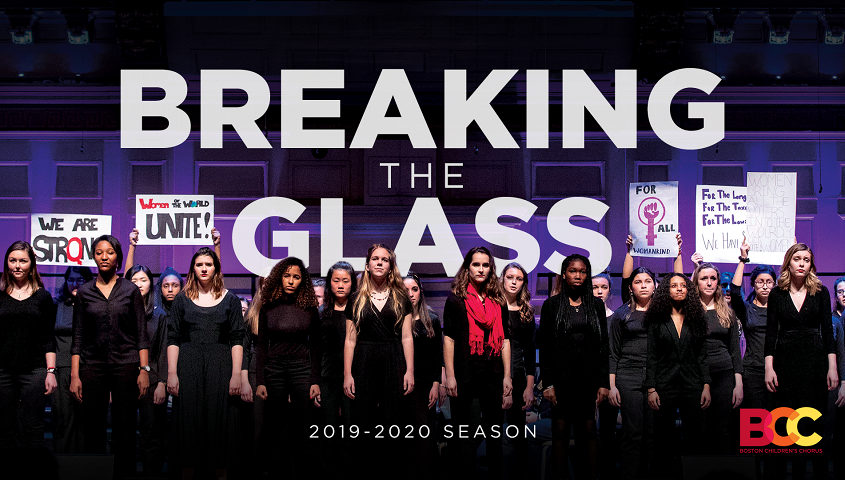 Boston Children's Chorus harnesses the power of music to connect our city's diverse communities, cultivate empathy, and inspire social inquiry.
This season, we explore hidden figures throughout history and today. Our concerts lift up narratives that include ancestors, body image, and archetypes perpetuated by society. As our community celebrates the 100th anniversary of the U.S. Constitution's 19th Amendment, we recognize our nation's progress to achieving gender equity. Join us on this journey to inquire and shine a light on the path toward gender equity through song – breaking the glass.
#BreakingtheGlass

INHERITANCE
A musical exploration of the underrepresented history of slavery and its impact in the United States. In her acclaimed podcast series, 1619, Nikole Hannah-Jones of the New York Times states, "they say our people were born on the water; when it occurred, no one can say for certain." Performing Spirituals, Work Songs, and contemporary choral music, BCC examines the Inheritance of peoplehood across 400 years of song.
Premier Choir and Young Men's Ensemble
Isabella Stewart Gardner Museum
November 9, 2019
1:30pm
Tickets: $15-$36

LIGHT THE WORLD
Come and join us by the firelight this holiday season. Enjoy cherished tales paired with music celebrating light, joy, and peace. Listen to songs from cultures around the world celebrating light and all it symbolizes. Featuring master storytellers, our concert at the Strand Theatre in Dorchester will leave you ready to sing your joy to the world.
Select Choirs
Strand Theatre
December 7, 2019
5:00pm
Tickets: $15-$50
Select Choirs
Strand Theatre
December 8, 2019
3:00pm
Tickets: $15-$50

STILL I RISE: 17TH ANNUAL DR. MARTIN LUTHER KING, JR. TRIBUTE CONCERT
I rise. I rise. I rise.
Now in its 17th year, our signature concert honoring Dr. King shines light on the historic artists who fought to be seen and recognized. Maya Angelou's anthemic poem reminds us of our hidden power to transcend boundaries. Featuring pieces by composers like Florence Price, Undine Smith Moore, and Rosephanye Powell, our performance at Symphony Hall will inspire you to rise and reach for your sky.
All Choirs
Symphony Hall
January 20, 2020
7:00 pm
Tickets: $15-$75
Reception: TBC
Select Choirs
Hibernian Hall
February 27, 2020
7:00pm
Tickets: Pay what you can

WEATHERING TIME: 12TH WEEKEND OF SONG AND PROFESSIONAL DEVELOPMENT
Our grandmothers were strong and resilient, striving to provide a better life for their families. Their experiences provide us with treasured memories, tales of past lives, and lessons of significance. Join our training and intermediate choirs at the Strand Theatre to bring together generations in song at the 12th Weekend of Song and Professional Development.
Select Choirs
Training and Intermediate Choirs
Strand Theatre
March 21, 2020
2:00 pm
Tickets: $15

UNDER MY SKIN
What would we see if we looked past the surface and embraced others for who they are and for how they see themselves? All of us, and especially our youth, are discovering who we are, how we identify, who we want to be. Join Premier Choir and Young Men's Ensemble as they inquire about the nuances of identity through song at the Isabella Stewart Gardner Museum.
Premier Choir and Young Men's Ensemble
Isabella Stewart Gardner Museum
April 4, 2020
1:30 pm
Tickets: $15-$36

THREE TREBLES FESTIVAL
The Three Trebles Festival is a weekend of travel and collaboration involving choirs from three states, culminating in a showcase performance. This year, BCC is proud to host the festival and perform with the talented and exuberant vocalists of the Princeton Girlchoir and the Children's Chorus of Washington, D.C.
Central Intermediate Advanced Choir
Hibernian Hall
April 5, 2020
2:30pm
Tickets: Free

IN THE MIRROR
Concert Choir takes the stage to open the door on self-esteem and beauty. In this moving and exciting performance, our singers explore the challenges facing young people today, and the bravery in believing in yourself. Prepare to be inspired as you listen to the voices of some of Boston's rising stars empowering themselves and others to look in the mirror and see confidence and respect.
Concert Choir
Shalin Liu Performance Center, Rockport
April 25, 2020
1:30pm
Tickets: $15

LIFT EVERY VOICE CONCERT SERIES: MISS UNDERSTOOD
Our lives and cultures are comprised of many overlapping stories. A single story is simple, but it creates an incomplete picture of a person, a community, entire countries. Join us at our second annual Lift Every Voice Concert at the Strand Theatre and explore what lies beyond the typecasted roles influencing perspective and opinion.
All Choirs
Strand Theatre
May 16, 2020
7:00pm
Tickets: $15-$50
Reception: TBC
*Price, times, and locations subject to change.
THANK YOU TO OUR SEASON SPONSOR

SPECIAL THANKS