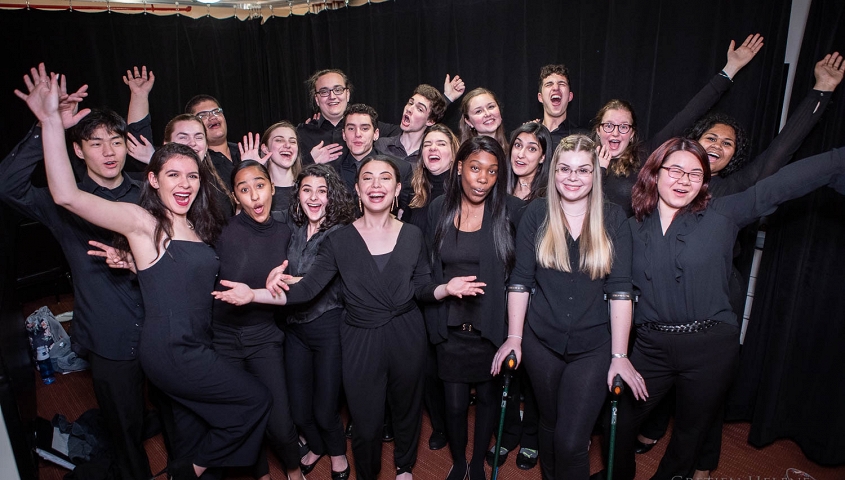 Photo Credit: Gretjen Helene
As our outgoing seniors graduate and head off into their next stage of life, take a peek at what's next for this year's 23(!) graduating young artists.
Aly Yanishevsky
I joined Boston Children's Chorus only two years ago, in 10th grade, and I constantly find myself wishing for more time. My time may have been short, however, these three years have been some of the most fulfilling years of my life and have shaped me in ways I can hardly begin to describe. In the past three years, I have made some of the best friends I've ever had, become more comfortable with my background and cultural identity, and learned how to dive into a new piece without crying (which was a struggle). I've gone from a scared new kid in Concert Choir to a section leader in Premier Choir, and I can't thank BCC enough for helping me get to where I am now. In the fall, I'll be going to Barnard College to study public policy and creative writing. I hope to carry BCC's message with me to local government, and maybe even to Congress!
Ana Villalobos
I started my journey with Boston Children's Chorus four years ago. I was mostly into the world of the performing arts as a dancer and was beginning to blossom as a musician. Entering Concert Choir in my freshman year of high school, I wasn't very sure about what to expect. And the results are unlike any other extracurricular activity. I was immediately welcomed by other returning members and new recruits like myself. That year we toured to Portland (Maine), Vermont and Montreal; these tours gave me exposure to new styles of performance, music, but most importantly, friends. I created friendships that have lasted these four incredible years, along with friends I have developed my the following year in Concert Choir and in my past two years in Premier Choir. These are friendships that I know that will last me a lifetime. As my career as a dancer came to a close, I flourished in music. BCC has exposed me to a completely new type of performance, one where I could voice my opinion and my emotions freely. It was the place where I saw the power that music can have over an audience. I have been given the power to make people feel such strong emotions of joy, sadness, anger, and sometimes pure appreciation and love. And for me, that is one of the most incredible gifts I would have received. As sad as I am as my chapter with BCC as a student closes. I am filled with gratitude, and excitement to begin my chapter with BCC as an alumnus. Next year, I will be at the University of Massachusetts, Amherst studying Environmental Science and Business. I plan on continuing my passion for music on campus and although I am still scared about the next four years of my life, I am so grateful for the four years I have had here!
Benjamin Hofmann
My relationship with Boston Children's Chorus has come full circle in my final year, and it is so rewarding to see. Ever since I joined as a fifth grader, not only has this environment challenged and strengthened my musical abilities, but it has fundamentally influenced the way I think and communicate. Music was what brought me into BCC, but why we embrace music—the focus we place on social, current, and necessary issues—is why I stayed. BCC has spurred within me this intense appreciation for music with a message, and for the individuals who create their art with intention and dedication. So many of the pieces we have learned, this year especially (The Girl from Aleppo, Considering Matthew Shepard), have moved me to literal tears during rehearsal. Do you know how wonderful that is? It is very special to have grown up with this chorus in my life, and it feels like I am finally realizing that I need not suppress the natural emotions that BCC and music evoke within me. That is really incredible. In September, I'm headed to Boston University, looking to major in journalism. I can't believe I'm finally going to leave, but, like I told my mom the other day if I can't find another organization like BCC wherever I end up.....I'll create the next one!
Chloe Duval
I cannot express how thankful I am for everything Boston Children's Chorus has given me. From helping me conquer stage fright to teaching me how to be an advocate, these 11 years have given my life purpose, harmony, and joy. As I've grown, a lot of things about my life have changed: my school, my home, my friends, even my family. But BCC has always been the one constant in my life, the one place I could go where I could count on the music, the friendship, and the love. From my first day in Dorchester House Training (then known as Dorchester House I), I have been blessed to be part of the most supportive, nurturing family I have ever known. I haven't fully accepted that I won't be coming to rehearsals next year, and I don't know what my life will look like without the BCC adults who've become my second set of parents; but as I go on to Yale University next year as a Gates Scholar, I know I will use everything BCC has taught me to try and make my mark on the world. Thank you, BCC! I couldn't have done it without you all.
Christopher Glynn
Daniella duBoulay
I never imagined myself graduating from high school and anxiously waiting for graduation. When I got the email about senior bios, I think reality hit and I realized that I'm going to college and graduating high school in less than 30 days. To be a self-loathing preteen and transforming into becoming an independent woman in the blink of an eye is crazy. I started my musical journey around 12 years ago when my parents signed me up for Music Theory over at the New England Conservatory. I was a very stubborn and closed minded person who has dreamt of performing at some of the greatest concert halls in the world. They wanted to find something that stuck to me as much as I stuck to it. My journey at Boston Children's Chorus started around nine years ago. My first rehearsal was nerve-wracking and I couldn't sit still for 30 seconds. I came to realize that the nervous energy that I possessed that day was surrounding the room we practiced in. I never understood the chorus' message up until recently. Once I saw the chorus in full effect, singing, laughing, working together to sound like a unit, I know I want to be in this group. To see everyone together, although I disliked the uniform back then, it was nice to see a forming community of friends where far from how extraneous you are, or maybe even the same amount of crazy. I have been in South Boston Training Choir for two years, Dorchester Intermediate Choir for one year, Central Intermediate Advanced Choir for a year, Concert Choir for two years and Premier Choir for 2 years. Throughout the eight years of my BCC experience, I have learned to love, appreciate my surroundings, respect others and stand for what I believe in. I plan to attend Simmons University in the fall and double major in Women's Gender Studies and Africana Studies. With my double major, I will continue the chorus' message along with the peace and everlasting love the chorus brings everywhere they go.
Donya Shavarini
I can't believe it is my turn to write a senior bio. When I joined Boston Children's Chorus 10 years ago, I never would have thought I would be in this place. I sang "Somewhere Over the Rainbow" from the Wizard of Oz as my audition to be placed in the West End House Training choir when I was just eight years old. There were countless times I thought my time with the organization was coming to an end. Now, as my time actually comes to an end, I am eternally grateful for all the time I spent at BCC as it served as my outlet from school, my creative space, and my safe haven. There is nothing more fulfilling than running a beautiful piece in a roomful of people who have grown with you. I have sung, talked, laughed, and cried, but most importantly, I have made lifelong friendships with some of the most incredible people I have and will ever meet. From local performances to world premieres at Royal Albert Hall to celebrity meet-and-greets, BCC has given me some of the most memorable experiences of my life that I will cherish forever. As I go on to study Biological Sciences at the University of Edinburgh in the fall, I know I will keep singing, but my life will be missing BCC.
Elizabeth Rozmanith
My first year in Boston Children's Chorus, in Central Intermediate Choir, I remember visiting Premier Choir in rehearsal and being told I would make it there one day. I was somewhat starstruck and could not comprehend becoming one of what seemed to be the most talented, wise and tall people I had ever met (I was very short in seventh grade). Now, I still can't believe I get to create music with all of the incredible people I have been fortunate to know in BCC. Even in the middle of my time here, when Mrs. Adams left, BCC moved locations, and I felt like my world was starting to fall apart, I was grounded by the people here. I am always excited to come to rehearsal to sing with everyone, hear Mr. Pratt hit both the low bass and high soprano notes, and laugh when Ms. Efthimiou cracks a joke unexpectedly or TK starts a spontaneous dance. People who don't know BCC hear me gush about it and ask, "Isn't it just a choir?" What they don't know is that "just a choir" is perhaps the least accurate description of BCC. BCC is my inspiration, my family, and my home. The number of times I have laughed and cried at BCC is honestly crazy, and I am sure more laughing and crying will hit me once it finally sinks in that I am graduating. As of now, I am in a futile attempt to pretend I can stay in BCC forever. Even though I am leaving everything I know now to attend Clark University in the fall, I know that I will always be welcome at BCC, and I hope to visit often.
Emily Ringrose
Oh they tell me of a home where no storm clouds rise
My name is Emily Ringrose and Boston Children's Chorus is, and forever will be, my home where no storm clouds rise, as American artist Josiah Kelley Alwood in his "Unclouded Day" so graciously put it back in 1879. Although it falls just short of a Herculean task to pick a favorite BCC classic, this song is definitely high on my list. It takes me back to the (for a lack of better words) "unclouded" day in London (quite the rare occasion, I know!) when my best friends and I gave an impromptu performance of this song as we made our way around the London Eye. BCC's mission transcends borders, whether it be quite literally traveling across country lines, or crossing those borders that are a bit more ambiguous, such as those particularly bolded lines separating people of different identities. BCC teaches you how to empathetically walk across those borders, in harmony with a cohort of fellow leaders. As I look towards my future at Barnard College of Columbia University, I am undoubtedly saddened that I will not be at BCC every week, but as I sing alongside our younger members today I am filled with a comforting sense of hope and excitement for the next generation of fearless leaders to come.
Eran Zelixon
Boston Children's Chorus is a love letter to music, friendship, truth, and joy. Once you're in, you can't help but savor every moment. In the beginning, I felt like I was walking among giants, so talented and kind! But these giants became close friends, lifted me up, and inspired me to do my best week after week. We all do; not for any audience, but for each other. Even on a bad day, I know my second family can put me in touch with what is positive, peaceful, and beautiful. I'll never forget a million small, intimate moments in rehearsals or a million big ones in concerts and tours. For the rest of my life, BCC's values will help me to make a difference, to be a friend to everyone I meet, and without the musical skills BCC gave me, I couldn't be attending Berklee College of Music next year. I am ready for the next adventure, but I will never stop feeling gratitude for the Boston Children's Chorus.
Evelyn Harper
I have been singing with Boston Children's Chorus since I was seven years old, and my time at BCC has empowered me to stand up for what I believe in. Throughout the years, BCC has fostered my love of music and given me the tools to confront important social justice issues through song. The power of BCC is the cumulative learning style that has allowed me to take ownership of the learning process and to continually build on what I know. In an increasingly polarized world, BCC has provided an environment for the discussion of issues that are often difficult or avoided at school. BCC has pushed me to strive to be the best that I can and create lasting bonds with my peers. My time at BCC has left me with many fond memories including a performance in Montreal and hosting two singers from Croatia. Performing with BCC has inspired me and given me a lasting passion for music. Singing with the BCC has helped me grow into the person I am today and I am extremely grateful for this. I will miss BCC but I am also very excited to be attending Boston University this fall with the Thomas M. Menino Scholarship.
Hal Cox
Boston Children's Chorus has been the biggest constant in my life to date. My final year is my ninth year, so for nine years I've been coming to choir once, then twice a week, and joining a group and singing for hours. When I first started, I was eight years old, and I already thought I was a good singer. It took about six months in the choir for me to realize that I hadn't been a good singer when I started—but by then I was already well on my way toward being "good." But BCC didn't just teach me how to sing, it taught me so much else. BCC helped me learn how to make and keep friends, even if I don't see them every day. For the first few years, the majority of my knowledge of social issues came from discussions in choirs. I learned how to be a successful member of a successful group; but most importantly, BCC helped me discover my passions. I start at the University of Puget Sound in the fall with a planned double major in LGBT studies and African- American studies. BCC has taught me how to advocate for what I believe in, and how to use music to further my causes. Moving forward, I'm certain that I'll always find a use for the skills I've gained during my time here.
Isabella Hoffman
I first joined Boston Children's Chorus seven years ago, when I was 12 years old. It is hard to believe that I am already in my final year of BCC. I had just moved from Colorado, and everything in Massachusetts seemed new and exciting to me. I had been a member of the Colorado Children's Chorale since third grade, and that choir made such an impact on me that I knew I needed to continue singing after the big move. BCC captured my attention because of the message they carried. I knew how important it was to include all people and how amazing it is to create a choir where each and every one of us is accepted-where each of us has a voice and will be heard. Upon entering BCC for the first time, I was excited to make new friends and learn about what makes us all different. Throughout my time in Premier Choir, Concert Choir, and Central Intermediate Advanced Choir, I have been given the privilege of learning about cultural differences and being put in situations that allow me to think outside of the box-realizing how important it is to be educated and open to all possibilities. This year has by far been the most meaningful to me, not only because it is my final year in BCC, but because of the significant health diagnoses that have opened my eyes to the importance of family. I have made friends that will remain with me for a lifetime. Their strength and friendship is something that I will remember forever. Returning to my first rehearsal after my hip surgery, I was welcomed back with open arms and shouts of joy. This brought tears to my eyes because no one had ever done that for me before. For this, I am truly grateful. I will be attending Our Lady of the Elms College in Chicopee where I plan to become a registered nurse. I am thankful for the lessons and love given to me by BCC and I will carry these formative with me throughout the next four years of college and beyond.
Jocelyne Chin
Boston Children's Chorus has been a second family to me ever since I joined in 2010. I've had three conductors over those nine years and they have each taught me something extremely valuable.
My first conductor in BCC was Ms. I. I distinctly remember her making the time most rehearsals to sit all of us tiny excitable children down for "family discussion time", where we'd talk about the pieces we were singing and what they meant to us. She knew we were kids, though, and let us chatter and laugh when we were too distracted to sing, but always got our full attention when we were learning new pieces or getting ready to go on stage. My favorite picture of her will always be the one where she stands in front of the whole organization, all 450 of us ready and waiting for her downbeat. She taught me that I didn't need to be loud or high energy or even in a position of power to command the respect of the entire room.
Mrs. Adams was my second conductor, and the one I stayed with the longest. One of my favorite memories of her is how, on tours, she went from hotel room to hotel room in her pajamas to do room checks before bed. She was the epitome of "mom"; she always knew exactly when to switch off the sweetness and threaten to throw her shoe when we talked too much in rehearsal. She never did, but I'm sure she came awfully close quite a few times. From her, I learned about the power of building and keeping connections with the people around me regardless of how well I knew them or how much I liked them. She taught me the worth of genuinely caring for others no matter who they were, and that in doing so, I could keep my relationships spanning the whole choir (across a few choirs, too!) and not just within my friend group.
Last but not least, Dr. TK is everyone's favorite choir dad and has been my conductor for the past three years. TK is the one who will ultimately be sending me out into the world to spread my wings and fly. He always pushes us to do more than we think we can and shows us that we are never "too young" to talk about issues like immigration, the MeToo movement, and institutionalized racism. He has fostered an incredible sense of independence and self-efficacy in me over the past three years and has taught me the value of staying level-headed when talking about difficult topics.
I will be going to Tufts University this coming fall, and I hope to pursue a double major in Cognitive Science and Music, Sound, and Culture (or, as a BCC alumnus put it: "the BCC major"). I am eternally grateful to the BCC family for everything it has given me, and I am so excited to see what is to come! (P.S. you can't get rid of me that easily, Premier Choir/Young Men's Ensemble, I'll be back with my camera by the annual Dr. Martin Luther King, Jr. Tribute Concert
)
Leah Kazuko
I want to start off by explaining that I can never truly explain how grateful I am to Boston Children's Chorus through words, but nevertheless, I'll give it my best shot. I joined BCC in sixth grade because my mother thought I needed to make more friends, so I auditioned and got accepted into South Boston Training Choir. Initially, I thought I was going to hate it because I had a fear of meeting new people, (I still do to an extent, haha), but after a couple of weeks, I really loved it. Being homeschooled at the time, South Boston Training Choir rehearsals really was the highlight of my week; a chance to try to figure out how to socialize. Through music, I slowly started to come out of my shell and develop friendships with people. As I moved up choir levels, life became more difficult for me. A lot of family issues began to spring up, and I started to go to public school, so everything was just a complete mess. I felt as if I had wings with weights chained to them; I wanted to fly and see the light, but I was stuck in a very dark place. But I had something to look forward to, a couple of hours a week that I could just sing and be myself around people who truly cared. Right, when I walked through BCC's doors, I could feel the weights of the world disintegrate into the carpet floor, and even if it was only for a couple of hours, I could finally fly. And I did. After years of moving up, I am currently in the Premier Choir, as the assistant to Dr. ATK. I have had the opportunity to perform at Carnegie Hall in NYC, Symphony Hall in Boston, Isabella Stewart Gardner Museum in Boston, Notre-Dame Basilica in Montreal, and PC/ YME are touring Australia this summer!! I have also had the chance to be co-president of Concert Choir, section leader in Dorchester Intermediate and Central Intermediate-Advanced, and a soloist in many songs. As I finish my seventh and final year in BCC and transition into Berklee College of Music in the fall to pursue music education and choral conducting, I want to thank Mr. Pratt (for blessing all us with his vocal range), Mr. Jacobs (for sharing his chicken fingers with me), Mr. Hiser (for practically slamming the correct pitch on the piano when we go flat), Mr. Reynolds (for putting up with cringy middle school me), Mrs. Adams (also for putting up with cringy middle school me), and Teeks (for assisting me more than I could ever assist him this year). I also want to thank all of the friends I have made throughout the years, my life would be impossible with you guys and I love you all very much. A final thank you to BCC as a whole because, without you, I would have never become the unforgiving musician I am today.
Matthew Auguste
I first joined Young Men's Ensemble in eighth grade. There is no way to eloquently summarize my experience, and there are no words to express my gratitude for this organization for shaping me into who I am now, but one of my most memorable moments was my first rehearsal. I walked into the rehearsal room and saw our conductor standing on a chair. Everyone was up and singing "Kalinda" by Sydney Guillaume. It was completely different than anything I'd ever experienced, and it was then when I realized that I wanted to be a part of this community. Before I joined Boston Children's Chorus, I wasn't always proud of the fact that I'm a first-generation Haitian American. I've been exposed to communities where Haitians are seen as dirty or poor and looked upon with disrespect. I came to BCC and saw how everyone here celebrated and enjoyed the Haitian culture I come from through songs like "Kalinda" and "Men Ale, Men Vini." It really warmed my heart and encouraged me to be proud of my heritage. BCC has completely changed the way that I interpret music; I am now able to connect with it in a completely different way. Every piece is a story of its own, and in that story, we are made to understand the emotions of the person who wrote it and what they were trying to communicate to their audience. That's what makes music special, and I'm glad that I have had BCC as a place where I can go to receive that. As I complete my fifth and final year in BCC, I am thankful for the transformation I have seen in myself as a result of my membership with this organization. BCC has taught me to be a better global citizen as well as a better person. I hope to carry all of the valuable lessons I have learned as I begin the next chapter of my life wherever that may be.
Max Phillips
When I joined Boston Children's Chorus nine years ago, my family had just moved to the Boston area. My first choir was the South Boston Training Choir, and this choir helped me strengthen a developing love for singing that has existed ever since. BCC allowed me to join a community that was full of people from all different backgrounds, each with their own unique story to tell, and I am so glad I could add my story to that list. The things that I have learned will help me when I head to New Zealand for my gap year and every year after that. I look forward to hearing about what BCC has accomplished in the coming years, whether it be next year or many years in the future.
Morgan Zvezdov
I joined Boston Children's Chorus in 2012 as I was entering the sixth grade. For the past seven years, BCC has played an immense formative role in my life, and in my character. There is nothing quite like singing with BCC- the warm environment at rehearsals, the group hugs and discussions, and the excitement of being together on stage all combine to create a truly unique group that has felt like a second home. I have met my dearest and closest friends at BCC, who challenge me to think differently, consider new perspectives, and who push me to do my best. Together, we have discussed our struggles and celebrated our successes- and I know we will continue to celebrate each other's future successes no matter where we may be. This fall I will be studying biomedical science at King's College London where I also hope to be involved in a choral or music group. I would like to thank everyone at BCC for all of the amazing opportunities, and beautiful memories we've shared. It is difficult to say goodbye to something that means so much to me, though I know my heart is forever with BCC, and I will never have truly left. In the words of ABBA, "Thank you for the music", and for all of the lovely moments that have come with it.
Noah Southard
When I auditioned for Young Men's Ensemble at the end of seventh grade, I was pretty nervous. Growing up in a small town where everyone knew each other, I was also excited to make new friends. I had always loved music and singing but had never really felt comfortable in my own town and school. Immediately, Boston Children's Chorus felt like a place where I could belong and be myself. BCC has been transformative in my life. This year, I have also been honored to serve as one of the Co-Presidents of the YME. I have grown as both a leader and a team player. I have listened to the experiences of my peers and learned from them. I have contributed my experiences and thoughts, and others have listened. I have expanded my horizons as a world citizen through our tours to Prague, Berlin, and London. BCC has meant more to me than singing. BCC has instilled in me a commitment to integrity, critical thinking, growth, social justice, community, family, and authenticity. I learned how to collaborate with peers and mentors in dynamic and complex performances. Engaging in a chorus with a racially diverse group of peers, I learned that vulnerability, humility and honest dialogues are essential for personal growth and cultivating healthy, meaningful relationships.
This fall, I will be studying Nursing at Temple University College of Public Health in Philadelphia. I view health and access to quality health care as social justice issues and want to make a tangible difference by taking care of people. Part of my inspiration to become a nurse is my desire to contribute to justice in society and help all people, especially those who are most in need because of structural oppression and discrimination. I want to connect nursing with the social context, listen to people's stories, and find ways to increase access to better health outcomes. In my classes and, hopefully, in future research, I want to examine the intersections of racial justice, social determinants of health, nursing practice, and policies.
I'm excited to move to be moving to a new city. I will be joining the Singing Owls, a choir that brings together college students with the residents of North Philadelphia to sing together.
Thank you to everyone at BCC, especially Dr. T-K who has inspired and mentored me, as well as given me an appreciation for wearing cool socks! Love and thanks to my parents and siblings for always supporting me.
Pallavi Sundaram
Pranav George
Samantha Morrison
The last seven years with Boston Children's Chorus have been a blast. I've learned from the most amazing people, toured the world, experienced the magic of musical connection, and discovered a lifelong passion for social justice. Perhaps more importantly, I've also practiced having hard conversations, learned to acknowledge my privilege, improved my leadership skills, and made friends for a lifetime. To everyone who empowers BCC to continue their incredible work: thank you from the bottom of my heart. (That includes you! Thanks for coming to our concert!) There truly is no other component to my life that has so completely reformed my sense of self. I will carry so much of BCC's mission with me as I embark upon my next adventure at Grinnell College. I am forever grateful.
Stella Fisher
In sixth grade, I moved away from my hometown in Connecticut to the big city of Boston, and I wasn't entirely sure I was going to like my new home. My audition at Boston Children's Chorus was far from ordinary, involving lots of solfege, which I had never learned, sight reading, and Ms. I getting tired of her shoes and throwing them across the room. I knew from that moment that BCC was going to be a place of many more laughs and amazing experiences. I was placed into Concert Choir with the incomparable Michele Adams and continued to learn and grow through the program. But when I became a part of Premier Choir, my life changed forever. I knew that performing, singing, and acting was what I wanted to do for the rest of my life. Throughout the past seven years in an ever-changing family, I have always thought of BCC as my home. Now as graduation approaches, I cannot even imagine not going into rehearsal every Tuesday and Thursday. But with the closing of this chapter, I open another one as a freshman Musical Theater major at Kent State University in Ohio. I treasure every moment with these beautiful people, and I know BCC will always have a special place in my heart.