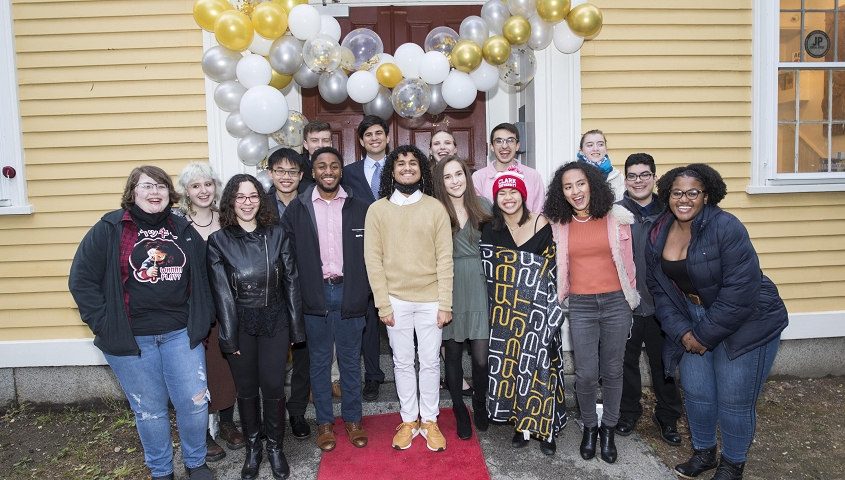 Photo Credit: Nicolaus Czarnecki
As our outgoing seniors graduate and head off into their next stage of life, take a peek at what's next for this year's 26(!) graduating young artists and reflections on their BCC experience!
Amanda Birenbach
I joined BCC in 2013 after moving to Massachusetts from California. I was 10 years old and very nervous. But after all this time of being in BCC, I'm glad that I stuck with it. BCC has benefited me more than just giving me friends and having a place to practice my passion, it also taught me life.
BCC taught me how to be confident while traveling without my parents; how to navigate unfamiliar spaces; how to speak up when I need help; how to participate in discussions confidently even if they are very controversial; how to be confident while on stage, either presenting or singing; and countless other things along the way. A place to be myself, sing my heart out, and connect over serious and light topics alike, BCC has been an integral place for my own growth as an individual throughout the years. For that, I am eternally grateful to the conductors and other mentors at BCC and for the countless singers, I've become friends with over the years. Even though I am leaving this community soon, I hope to find a new group in college and then again after.
Carmen Belizaire
My story begins in kindergarten; I was extremely outgoing, curious, and had a love for singing. At the age of six, my older brother and I auditioned for Boston Children's Chorus (BCC). Before the audition, I had an elaborate song prepared- I honestly believed I would have blown the conductors away. My brother, on the other hand, was singing 'Twinkle Twinkle Little Star." I thought I was a shoo-in. When the admissions letter came in, I was shocked. BCC accepted my brother, and I was denied--it said 'my voice was underdeveloped.' At six years old, my first rejection was a letdown; I felt like a laughing stock. The following year I was determined to prove that I could be a singer for BCC; I needed to redeem my kindergarten reputation. I attended every BCC performance my brother was in. This time I wanted to get it right! I auditioned again; then I got in! I started my first season with BCC in 2009. Who would have thought I would be there for eleven years and experiencing the most amazing and memorable moments that will forever impact my life. I am very appreciative of my conductors who taught me so much and fed my love of music. I am thankful for the BCC staff, who was so personable and didn't mind us sitting in the kitchen chatting and singing aloud. I am incredibly grateful to the friends I've made, from our facetime song practices, after rehearsal hangouts, and our late-night discussions.
I am delighted to begin this next chapter of my life and to attend the Massachusetts College of Pharmacy and Health Sciences, majoring in Premedical and Health Studies in the Physician Assistant Pathway. BCC taught me the importance of advocating for those who are being silenced so with this skill, I plan to serve marginalized communities affected by racial disparities in healthcare.
I want to thank the entire BCC family for uplifting me and giving me the wisdom to become the young woman I am today, and I am forever grateful.
Nicholas Brink
I started Boston Children's Chorus when I was in fourth grade. I remember the first day all of the fantastic musicians and being overwhelmed by the amount of girls. I was not sure that I would stick with it if I was the only boy in the room. Suddenly I am graduating and will be leaving BCC, my wonderful home for so long. I have made amazing friends and learned so much about music and social issues. From the training weekends to singing the national anthem for the Red Sox, the Bruins, and the Celtics, singing in an opera, singing with Hugh Jackman, trips to Canada, Maine, and of course, Australia and Tasmania—I have had life-changing opportunities. I plan to attend Rochester Institute of Technology in the fall and study Cyber Security. I plan to keep singing while I am in college and beyond. I will miss everyone at BCC.
Nicole Castilla Villamil
I've been a part of Boston Children's Chorus since I was 13 years old for six years. Both of my parents are Colombian, and so my family speaks Spanish. I love to sing and participate in musicals. My favorite BCC memory is when I was in Central Intermediate Advanced (CIA) traveling to Washington D.C for the 2016 Three Trebles Festival.
Caleb Chin
My name is Caleb Chin and I am in the Young Men's Ensemble (YME). Throughout my nine years at BCC, I have been a part of a warm and welcoming organization that has not only given me the opportunity to sing but also to travel, converse about important topics, and make some great friends. Wherever I go in the future, I will always remember the amazing memories I have made and the valuable lessons I have learned at BCC. Thank you to everyone who has made my BCC experience a wonderful one. In the fall, I will be studying Information Science at Cornell University.
Jordan Colon
I joined the Boston Children's Chorus when I was seven years old. As a young kid, I was excited about the opportunity to learn how to sing and make new friends, but throughout the years, BCC has proven to be the most enriching experience of my life. It has been my home away from home and a second family to me. The exceptional staff, including Ms. I, Mrs. Adams, TK, Mr. Reynolds, Mr. Jacobs, just to name a few, have had a profound positive impact on my life. From the time I started in the Training Choir until my days in the Young Men's Ensemble, they have provided a welcoming, supportive and nurturing environment that allowed us to grow at our own pace and made us feel like we can accomplish anything. They have taught me to discover and enjoy the beautiful art of choral music and the arts in general. They have practically taken me out of my shell, made me feel valued and appreciated, challenged me to get out of my comfort zone and explore the amazing world around me.
I had so many memorable moments at BCC. I remember the wonderful time we all spent at fall retreats singing our hearts out and getting to know the staff and fellow singers. I have had the opportunity to travel and perform at some of the world's renowned places like the Sydney Opera House, met some amazingly talented musicians, learn about different cultures, and made some wonderful friends that I will cherish forever. In addition, I have learned to appreciate who I am, embrace diversity, become more socially aware and engaged while interacting with people from different cultural, religious, ethnic, and socioeconomic backgrounds. BCC has taught me to listen, appreciate and treat every person I meet with respect, no matter what our differences. Thanks a million to everyone at BCC for bringing so much joy to my life and for contributing to who I am today: a global citizen, more socially aware, tolerant and empathetic. I will be attending Brandeis University in the fall where I intend to study business and social policy.
Sonyangelie Del Valle
Hannah Edlund
For the past 11 years, one of my greatest joys has been learning and growing with the Boston Children's Chorus. I was first introduced to BCC after attending the annual Spring Finale Concert more than a decade ago. A few months later, I found myself auditioning in front of TK, singing my—not so well known—original song "I Dress Like a Cat I Dress Like a Human'' and exchanging some of my treasured silly bands. Before I knew it, I was singing in the Dorchester Training Choir under the guidance of Mr. Reynolds. Fast forward to the present day, I have had the opportunity to perform at prestigious venues all across Boston and around New England, gained my first real music theory education, and have been challenged by BCC's unique repertoire. And while BCC's rigorous, thoughtful mentorship has shown me that music is a powerful pathway to social inquiry, the camaraderie and memories of my time at BCC have been just as invaluable.
John-Paul Franks
Branden Garcia
Hi! I'm Branden Ray Garcia! To be quite honest, my two years of BCC have been a very wild, yet interesting ride. In the most positive way, I was forced to blossom in ways I didn't know I had to. Overcoming social anxiety, becoming more self-aware, and jumping through the hurdles of initially not being the most educated in music theory—I've changed for the better because of BCC. I tend to keep a clear head about my ambitions and goals with certain plans I make because of BCC as well. Given such opportunities as forming the singer-led group, Group for Equity In Music (GEM), I have brought change to the BCC community. BCC has provided me the chances to blossom and contribute to the community by simply asking. I'm so grateful to have been supported by such a nice community of singers and staff who support me and my goals of diversifying their lives within the music world and ensure that people of all backgrounds receive the support they need to happily and successfully thrive in the world of choral music. It is because of this I plan to major in both Music and Latin American/Latino Studies at Brandeis University. I hope to better educate myself and bring back my learning to BCC and my community of Chelsea. BCC has taught me that to improve and go far and beyond—hard work is needed. No longer do I stand in the back row quietly. I ensure that my voice is heard and that it echoes throughout the rehearsal rooms melodically, doing what I can do to help contribute.
Abigail Gauch
I joined BCC when I was ten years old. Prior to this, I had very little musical experience. Throughout elementary, middle, and some of high school, I was in a therapeutic day program and had very limited access to my home community and friends. It was in BCC that I found the community that I was lacking and developed my love of music. BCC is more than just an organization it is a place that provides an outlet for conversation and sparks creativity and cultivates empathy. It is my home. BCC has taught me the importance of music far beyond its surface-level implications, it has shown me the power, emotion, and energy that is hidden behind every piece and performance. It is through the staff and students that we are able to perform these pieces and have impactful discussions about our world and the music we are learning. There is something truly special about the bond that is formed through performance. BCC has provided me with so many wonderful opportunities and given me my closest friends. This organization has changed me and shaped me into the person and musician I am today. I am so incredibly lucky to have had this opportunity. There are no words to describe the impact that BCC has made on my life and I will forever take the lessons and memories given to me as I move on and into the world. I plan to continue my studies next year in college at the University of North Carolina at Chapel Hill and am planning to get involved in the music and theater community.
Rayna Hall
Being in BCC has allowed me to fully grow and develop as a musician. When I was struggling with how to read music when I was playing the cello in school, I learned how to read that sheet music in BCC rehearsals. Whether it's stabbing a chicken tender with a knife or singing my heart out in some church that I'm never going to be in again, I always found myself having a blast surrounded by the people that I call my friends. BCC has created such a safe and comforting community that anyone can feel welcome in. I am incredibly thankful for the experience I have had in these years and would not give it up for anything.
Esha Hande
Benjamin Jaffer
Ashnaa Kukkal
Christopher Lapop Salazar
My name is Christopher Lapop Salazar. I have been in BCC for the last nine years. My favorite BCC memory was the January 2020 MLK Concert. While there may be different opinions, I only ever look upon it with satisfaction. Not only because of our singing up on stage, but because of my memories of our mini-concert of past songs in the waiting room before we went on stage. I spoke in two of my college applications regarding that wonderful moment that I can't forget: the grinning faces, the bent knees, the sound of someone setting the tempo of the song, and finally the glorious moment when all our voices merge. Next year, I will study at Harvard College, where I will aspire to be an Application Software Developer.
John Lee
John Lee has been a member of BCC for the past two years. He auditioned for fun without his parents' knowledge at the recommendation from an older singer. He has been in YME for both years and is a proud bass. His favorite performances include, "Stand Up", "Still I Rise", and "America." Before BCC, he has done choir in and out of school ever since childhood as a soprano in the church children's choir. A rising freshman at Boston University, he is pursuing a BS/MS in Human Physiology with a double major in Math. He hopes to continue singing while in college. When John is not performing, he enjoys biking, exploring Boston, and listening to music.
Abigail Nordan
It is difficult to summarize my experiences with BCC because I hold each one, no matter how small, so vividly in my mind. My memories from twelve years ago feel as prominent as those from last March. My journey with BCC has been more important to me than I can say — I have so many beautiful, inspiring, and irreplaceable friends and role models to thank for their kindness and mentorship. On the third night of PC/YME's tour of Australia, we performed a heart-wrenching piece called "Love: Then and Still" for the first time in Hobart, Tasmania. It was incredibly personal to us all, and for me, it was particularly visceral at that point in my life. 90% of us were in tears by the song's last note. For several minutes, we embraced and comforted each other. I remember looking out at the audience, expecting to see bewilderment — after all, we were strangers to them — but instead seeing that they, too, had shed tears and turned to one another. As a choir and family, we had dissolved the barrier between audience and stage.
Next year I will attend Oberlin College, where I'll be pursuing writing in some capacity (considering both creative and political fields). If my words can, even once, achieve what BCC did on that night in Tasmania, I will be satisfied. Shoutout to my mom, who drove me to rehearsals year after year after year, to my friends, whom I've had so much fun with, and most of all to Dr. Anthony Trecek-King, for everything.
Casey Pahre
When I auditioned for BCC and joined West End House in second grade, I had no idea that it would become such a huge part of my life. I almost considered quitting in seventh grade when I began at a new school with a heavy workload, but I'm so glad I decided to stay and balance BCC and school instead. I have committed to Dickinson College for the fall of 2021, and plan to study earth sciences with a focus on geoscience. I look forward to continuing to do chorus there: it'll be a bit strange to sing in a different choir after eleven years, but I'm excited to bring the perspective I gained from BCC somewhere new. When I'm not singing, I like to play the cello, write stories, learn about linguistics, and play D&D.
Sonali Peiris
Even though I joined BCC only two years ago, I have grown such a great love for this wonderful organization. BCC has been such an enriching and positive space for me and it has helped me to grow so much as a singer. Not only has BCC taught me to be a better musician, but also a better person. I used to be someone that had trouble making friends with new people, but being in BCC has truly helped me to come out of my shell and become more confident in myself.
Izabella Pitman
TJ Powderly
I've been in BCC for the past three years, and it's been an amazing journey. I joined BCC in 10th grade after hearing about it from a friend, and it was one of the first places where I could go to be really musically challenged. At the same time, I knew that every other person there was just as dedicated to creating beautiful, impactful music as I am, which had been hard to find in my life before then. Every song that we do in BCC is musically engaging and emotionally impactful, and BCC has given me the opportunity to perform in some truly extraordinary places. The conductors and organizers are all incredibly musically talented, and they taught me a lot about my voice and how to improve it. But, maybe most importantly, BCC is full of people who became fast and easy friends, all joined together by a love of music, and that is a gift that will keep giving for a long time to come.
Giulia Salvucci
Esther Trask
BCC has changed my life for the better. I have been part of BCC for nine years now, starting with Dorchester Advanced Training and worked my way up to Premier Choir. Last year, I was president of Concert Choir. I was also the singer of the year twice over the course of my time at BCC. I was fortunate to go on tour to Vermont and New Hampshire. I also was given the chance to sing at the historic Symphony Hall multiple times, TD Garden with Hugh Jackman twice, along with other well-known places in and around the Boston area. Over the course of my time at BCC, I have gained lifelong friends and skills that will carry me in life. I hope to continue to strive to have productive conversations about social and racial justice as well as sing. I am bound for Worcester, where I plan to study Ethics and Public Policy at Clark University. Though I will miss BCC, I am glad for the time that I have had there.
Grace Wagner
I joined BCC when I was 10 years old and it quickly became a second home to me. Growing up in a predominantly white neighborhood, I did not come across very much diversity. Having a place to discuss differences in culture and the stereotypes that can separate communities was invaluable to me. Boston Children's Chorus is the reason I am who I am today.
The mission of combining the arts with social justice and using them as a catalyst for social change rang true for me as soon as I stepped foot through the doors of 112 Shawmut Ave. Despite the iconic 20-minute elevator ride to BCC HQ (yes, an exaggeration), there was never a time when I was not on the edge of my seat to find out what we would learn during rehearsal.
Although my time at BCC involved a period of a lot of change within the organization (three different conductors for three years of Concert Choir!), the one thing that never changed was the family-like bond created between the singers. The departure of TK last year was the most significant change and it left all of us uncertain. Then, the onslaught of the COVID-19 pandemic doubled this feeling. Looking back, I had no reason to be worried. We came out of it stronger and closer than ever. Yes, the organization has changed dramatically during the last 8 years, but one thing that has never changed is the invaluable commitment and connection among everyone involved. Shoutout to Nick, Abby, Ameya, Becca, Sadie, and Lena who have become a second family to me and to Robbie, Ms. E, Ms. I, and the entire BCC staff, both past and present, who made it all possible.
Next year I'll be studying Theatre and Native American and Indigenous studies at Northwestern University. Someday, I hope to combine the two and, through theatre and TV, inspire another 10-year-old girl to change the world the same way that BCC inspired me.
Eliza Youngman
I'm finding myself feeling pretty sappy while writing this... I started BCC ten years ago in Central Training choir- where I spent most of the rehearsal time playing sock tag. And despite the ups and downs of that first year (I didn't get the realistic-seagull-noise solo but everything else was great), I had found my home. BCC is seriously such a wonderful place. Every time I have walked into a rehearsal room in the past 10 years, all the tensions of real life fade away, and are replaced by the infinite warmth people at BCC seem to hold. The fun I have had here, the skills I have learned, and the compassion that BCC has fostered within me rival no other part of my high school experience. I have made lifelong (seriously lifelong) friends here. While I am sad to leave, I hope in the future that I will continue to hold that BCC warmth within me. We did it Class of 2021!!!!!