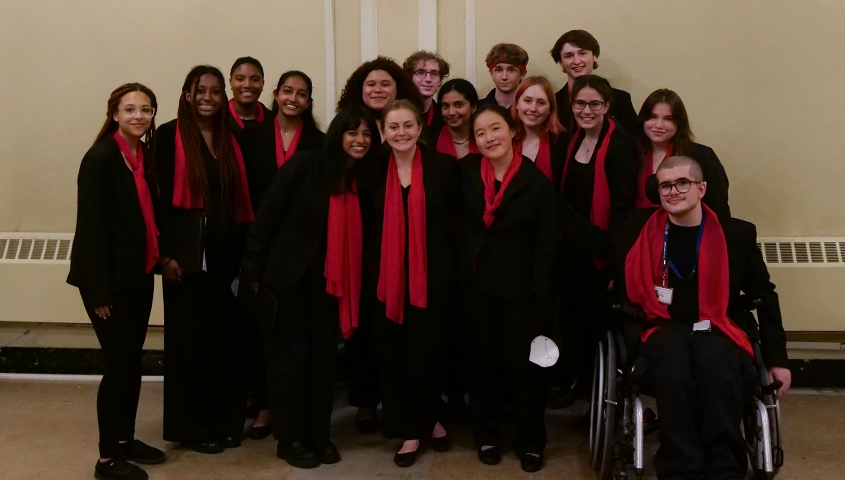 Photo Credit: Jocelyne Chin
As our outgoing seniors graduate and head off into their next stage of life, take a peek at what's next for this year's 25(!) graduating young artists and reflections on their BCC experience!
Angus Abercrombie
Celeste Alcalay
I've only been at BCC for a couple of years, but in my time here, the people I've met have made it incredibly special to me. PC welcomed me without a second thought this year. (I think Neha and I bonded over tables, or cookies, or, an apple, at a beginning of the year Gala. Being able to sing with a group of people I care about, I've made friends whose talent and ambition inspire me, and whose taste in humor and spirit have held me up when other things in life aren't great. It's beautiful to be able to come together twice a week in a place with so many different kinds of people commuting from separate parts of the city. That's one of the things I love most about BCC. BCC has given me the opportunity to meet incredible musicians and human beings (Jorge Sosa, Jazzmeia Horn, the WILD cast, the list goes on) who have taught me about the social power of a musical community and the role that each individual has (and that I have) in making a group whole. I'm grateful beyond words to my friends and teachers (All of them!!---Ms. E, Ms. Cooper, Mr. Griffith, Ms. Morin, Mr. Glassman, and Ms. Howe) for pouring their hearts and souls into BCC in order to make it what it is.
I'll be going to The University of Chicago in the fall, and plan to study Urban Studies/Economics/maybe Cinema and Media Studies?, continue my vocal jazz studies, and teach music to students in Chicago through U Chicago's South Side Music Mentoring program.
Dimitra Batchvarov
I started my time at BCC 8 years ago in Choral Union. Ever since then, BCC has opened up the world of singing to me. I loved singing before joining BCC, but it was there that I built professional experience as a singer and learned to convey emotions through my singing and body language to audiences big and small. I found a warm community at BCC that fosters kindness and support. It's a space where we push each other to be better and work harder, and where we celebrate every performance and accomplishment.
Susanna Buckley
Marina Chen
Isis Contreras
BCC means the world to me. I find it really funny that I didn't want to join in the first place. I remember being dragged to South Boston by my dad and having to sing a song that I wasn't prepared for. It was the best vision I ever made. Through BCC I've made lifetime friendships, I've had ups and downs, I've cried and laughed, but most importantly I've grown as a person. BCC has fostered in me a person that really cares. I would not be the person I am today if I hadn't joined. Next year I'll be attending Barnard College in NYC. I'll be double majoring in political science and psychology on a track for pre-law at Columbia. I'll be joining the school's radio and perhaps maybe even do a program with Julliard! Music will definitely still be a part of my life.
Anthony Curioso
My name is Anthony Curioso. I'm 19 years old and I'm a member of Premier Choir-Lower Voices. I love to sing, but in addition to that, I love to hang out and chat with my friends and make new friends - something I have been grateful for the opportunity to do with BCC.
I am incredibly grateful for the support I have received from BCC to overcome accessibility barriers that have arisen over the course of my tenure in the organization. Every time I raised an access concern with BCC staff - whether this was to do with navigating to, within, and from venues of rehearsals and performances or being able to hear what was being said despite having a severe hearing loss in my left ear - BCC rose to the challenge and provided me with the support I needed to not only make it through but to thrive.
I had previously heard about BCC through a conversation with Shantel Teixeira '20 when we were both attending the 2019 Five-Week Music Performance Intensive at Berklee College of Music. Ever since joining BCC, I have been amazed by the strength of the community and I have made lifelong friendships that I will never forget as long as I live.
Beginning in fall 2022, I will be attending the Catholic University of America in Washington DC, where I will be studying choral music education. One day, I hope to be a choir director myself and foster a similar strong community to what I have experienced over the last two years in BCC.
Christina Frederique
To say that Boston Children's Chorus simply "shaped me" would be an understatement. I can not even begin to imagine how different a person I would be or where my life would be today if I had not joined. My BCC journey began at the age of six. I still remember my audition and how scared I was, but as you can see, everything worked out well. It has been twelve years since then and I can say with the utmost sincerity that BCC has changed my life for the better. My time at BCC has taught me many important lessons and skills ranging from the value of community to social awareness.
Boston Children's Chorus is not just an organization, it is a family. And it has truly been an honor being a part of this family for as long as I have. To me, BCC is my home away from home, with a remarkable staff who have taught me everything I know. I have made plenty of friends and encountered many life-changing experiences that I will cherish forever. Despite the fact that the last few years have been challenging, I am very much grateful to be able to perform on stage again for my final year of BCC. The countless hours of rigorous rehearsal from West End House Training to Premier Choir have been well worth the effort. Even though I am sad to close this chapter of my life, I have plenty of fond memories to look back on. I am ready to move forward to the next step and start anew.
I am pleased to announce my attendance at the Massachusetts College of Pharmacy and Health Sciences this fall, where I will be majoring in Health Science. Lastly, I want to give a special thanks to everyone who has contributed to this wonderful BCC experience that I will never forget. It is you who have shaped me into the young woman that I am today.
Simone Isabelle
I joined BCC in the second grade, with no idea that I had found a second home and lifelong friends. Over the last eleven years, every single person I've met here has created a community, I have never seen or felt anywhere else. BCC has given me countless musical opportunities, started important conversations about the world, and created a space where everyone is safe to be their truest selves, and taught me how to be a leader. As I leave BCC and enter the next chapter of my life, I will always cherish the time I've spent and the lifelong friends I've made here. The emotional moments on stage, hearing the passion in our voices, and navigating the last two years together constantly remind me why music is so important to me. Though I will miss BCC when I graduate this spring, I know that the community and the many gifts they have given me will always be there, and I am so grateful.
Treasjah James
Julia Juene
Sadie Keesbury
I joined BCC for the first time when I was eight. I kept singing for two years, but eventually left. Then, when I was a sophomore, two of my friends from school were in BCC, and I rejoined, and I am so glad I did. The past three years, even though every one of them was in some way affected by COVID, have provided me opportunities memories, and friendships that I would not trade for the world. I'm going to miss it all so much. Especially my soprano II's (best section until the end of time). Next year, I will be studying at Vassar College. I can't wait to use what BCC has taught me about music, social justice, and forming relationships for the rest of my life.
Sabrina Kogan
I am Sabrina Kogan and a member of Premier Choir. I joined BCC only in September 2020 after finally building up the courage to audition over zoom. For my first few years of high school, I was terrified of sharing my voice, especially through singing. But, joining Boston Children's Chorus helped me find my confidence.
My first experience with BCC was through their virtual programming. Even through the screen, I felt connected to every member of my choir and conductor. The energy and community created here at BCC is indescribable and irreplaceable. I have learned countless things from my short time here ranging from improving my sight-reading to gaining a more open-minded understanding of pressing issues in our world.
During my time at BCC, I had the opportunity to sing about the urgent global crisis, racial injustice, and so much more. Most importantly, BCC gave me a voice to speak about the current inhumane war between Russia and Ukraine. I was able to do interviews with NPR, WBUR, CBS, Boston 25 News, and other media networks to share and spread awareness about my family's and other Ukrainian citizens' struggles.
I am eternally grateful for the mark BCC has left on me and how it shaped me into the person I am today. I'm going to miss weekly Tuesday/Thursday rehearsals, and the unforgettable friendships I have formed here. The mission of BCC is nothing like I have ever seen before, and I hope I am able to be part of an organization like this which harnesses the power of music and art to inspire change for the greater good.
Next year, I am studying Health Care Policy at Cornell University in Ithaca, NY. While I am so excited for this next chapter in my life, I am sad to leave the talented BCC community behind. I hope to continue singing and performing throughout my college years and beyond.
Ameya Kothandaraman
BCC came into my life in sort of two waves. The first time I auditioned, I sang a duet with my brother for Ms. Hieber. In 2019, I auditioned again - singing a harmonized duet of "Happy Birthday" with Mr. Pratt - and joined CC just after MLK. In my first few weeks, we had a conversation about test-taking in school. The conversation took most rehearsal, expanding into the bigger topics of schooling and education. I was blown away. I'd never really had a conversation like that or experienced a choir rehearsal like that. That was fortunately just the beginning. BCC has taught me so much. It never felt like just singing - it was truly performing with people who had big ideas about the world. Putting those ideas into the core of the music we sang (music that I got to write, and interpret in ASL too, introducing me to new perspectives and important histories. Learning to advocate for myself and others, both physically and mentally. I've been so lucky to share the stage with my friends and sing our hearts out until our voices are gone (which definitely happened, don't worry:) I'll be majoring in Theatre Performance at Hofstra University for the next four years and will take that energy and these memories with me. Thank you to Ms. E, Mr. Griffith, Ms. Cooper, Mr. Glassman, Ms. I, Mr. Hiser, Robbie, and TK. Huge shoutout to the '21-22 presidents you guys are amazing for leading us through a crazy time. Super grateful to the entire '19-20 PC/YME group. And I love our '21-22 alto section so much, you guys are such a supportive, crazy, loving, dedicated group of people. Thanks, BCC!
Amy Li
After nine years with BCC, I will always remember the people, the music, and the community. I'll miss both the small moments, like Mr. Holmes singing as the Grinch or our heated group discussions, as well as the big ones, like performing with the 4 tenors or singing "Walk Out on the Water" on the MLK stage. BCC has taught me how to listen to the voices of different backgrounds and cultures, and to embrace the diversity in each person. It has become such a special place for me, and I hope that I can find a similar community in college. In the fall, I will be studying at Georgetown University in the School of Foreign Service.
Lucy Norman
I joined BCC in 6th grade after discovering my love for singing in my elementary school choir. I will never forget how excited I was for my audition! Immediately I was welcomed into an incredible environment where I felt free to be myself. I have spent 7 years getting to know amazing people, and growing up with them as we moved through the choirs. I have had many unforgettable experiences through the years. Whether it was performing at the State House, singing at a Red Sox game, or performing in WILD, none of it would have been possible without BCC. I am so grateful for the incredible conductors and staff I have gotten to know, and for their hard work that helped me become the singer I am today!
Kelsey Raymond
Sam Ringrose
BCC has been such an influential part of my life, and I will always cherish the incredible community it has made me a part of. The journey from Central Training to Premier Choir saw me grow so much as a singer, but also as an advocate for social justice. I know that BCC's mission is just because of how effectively it taught me about changing the world for the better. I will never forget the lessons BCC has taught me, and my experiences here have been a significant influence on my decision to study Theater and Economics next year at Tufts University.
Neha Saravanan
The day after I moved to Massachusetts, I auditioned for BCC at my parents' insistence. Little did my sulking 14-year-old self know that within those first few rehearsals, I would meet some of my closest friends and make some of my most cherished musical memories. BCC has allowed me to grow not only as a musician, but as a student, a friend, and a leader. I am inexplicably grateful to all the wonderful conductors I've had the opportunity to learn from- Mr. Jacobs, Ms. Efthimiou, Dr. TK, Mr. Griffith, Ms. Cooper, and Mr. Glassman.
And I thank the members of Premier Choir for continually prioritizing dialogue and advocacy. I will forever hold on to our powerful moments on stage; to the love, we share for each other, and for the music we make. I will be majoring in Biology on the Pre-Med track at New York University in the fall.
Shane Sekuler
My name is Shane Sekuler, and I joined BCC as a member of the Central Intermediate choir 7 years ago. Fast forward to today and I am a proud member of the Premier Choir with many of my friends that I met on my first ever day of rehearsal. I've had to balance BCC with various other after activities, sports, and clubs, but I have found that the hour-long commute is well worth the drive. Outside of rehearsal, I am a member of a competitive archery team, Team Aces, that practices in Foxboro, Massachusetts. In the fall, I will be continuing my studies in the Honors Scholars Program at Binghamton University in Binghamton, New York, where I will be studying Political Science.
Aditi Shankar
I joined BCC in 8th grade when I moved to Boston from Atlanta. Even before I moved into my new home in Boston, I arrived at 20 Old Colony Ave. and auditioned with the song "My Favorite Things." The first person I met in Boston was Dr. TK. It turned out that his niece sang with me in my old choir in Atlanta! This connection immediately put me at ease as I was stepping into a completely unfamiliar environment. Reflecting back on my first moments here, it astonishes me to think that my time at BCC is coming to an end. BCC was a much-needed constant in my high school life and has always been something I looked forward to. Through thick and thin, I returned, and for those 2 hours, twice a week, I felt at home. I owe BCC an enormous thank you for making me not just a better singer, but a more thoughtful and confident person. The skills and ideals BCC has taught me to go far beyond singing and pervade all aspects of how I have carried myself through the world these last 5 years.
Hannah Takahashi
I've grown up with BCC and, in better words, grown with BCC. I started BCC at seven years old as a curious kid who enjoyed singing. I didn't have any opportunities to sing around me, and I heard about BCC through a mutual friend. Going into the city every week was exciting, considering I live in the suburbs, so I was thrilled to go. Since my first rehearsal with Mr. Reynolds, I knew BCC was where I belonged. I have learned so much from this organization, from leadership skills to vocal techniques. I have enjoyed my time here so dearly, and I've always looked forward to seeing what I like to call my second family. BCC has been an experience like no other, and I'm so grateful for all of this choir's opportunities. From going on tours to singing with Idina Menzel, Boston Children's Chorus knows what they're doing. I am thankful to all of the conductors who have given me so much musical knowledge and grateful to all of my peers with which I grew up.
Elizabeth Thomas
I first heard about BCC in elementary school because I remember a girl in my class talked about auditioning for it, so I asked my mom to take me too. I never actually saw her at BCC, but I definitely do not regret auditioning and continuing to do it each year. I first started when I was 7, In the Dorchester Training choir, and am now 17 in Premier Choir.
Because I've been in Boston Children's Chorus for a decade now, I think half of my memories from growing up took place at BCC related things, mainly the concerts, because they gave all the kids time to hang out and chill and just be kids, but also share the same overall interest of music and still be able to sing really well together and enjoy it, which has always been one of my favorite things about doing this, and I hope I can continue to experience that in the future.
Erica Weinreich
BCC has been always been a source of joy in my life, as it has provided me a space to sing, which is something I have loved since I was a kid. However, the organization has changed me in ways I could have never imagined when I first joined at the age of ten. BCC has proven to me that music can powerfully inspire personal and social change. During rehearsals, we use music as a medium to spark difficult conversations about social issues, which has encouraged me to keep the conversations going in all areas of my life. These rehearsal room conversations have taught me how to be an empathetic listener and have also given me a space to share my own story. Being a singer at BCC has motivated my passion for social justice, and through the past eight years, BCC has allowed me to find and use my voice to spark change in my communities. I am forever grateful to BCC for the lessons I have learned from our music and from the friendships I have formed with singers who continue to inspire me every day. It is safe to say that I will use my voice through music and conversation as a means of self-expression to channel my emotions, beliefs, and ideas for the rest of my life.
Lena Wollam
I have been in BCC for a majority of my life. It feels as though we have grown together, through ups and downs and changes and stability. Within the last six years of BCC, I have had eight conductors (and so many more assistant conductors!), only three of which still conduct in BCC today.
There have been so many changes to rehearsals, from changing rehearsal spaces and new HQs, to new technologies and innovative ways to perform concerts. However, the mission and feeling of BCC have stayed constant. BCC has this gift to keep moving ahead through hardships, never losing the magic that makes it special, and most of that comes from the staff and the singers. I have loved getting to know the singers who have graduated before me and seeing the people they have grown into — it is easy to see how they shaped the culture of inclusivity and social change that is present in BCC today.
I also see this same passion in the younger singers, and I am excited how they will make BCC their own and use it to push themselves and the people around them forward. I have learned and grown so much from BCC, being a place that encouraged me to use my voice from such a young age, and I am sad to have to find something else to fill my time on Tuesdays and Thursdays — and Saturdays and Sundays on concert week, and a maybe not-so-rare filming day, or surprise national anthem gig. I want to give a shoutout to my fellow seniors and the people who endured Virtual Choir; it is because of us that BCC has kept moving forward despite such a setback these past two years. Our impact on BCC will be felt for a while to come. Also, thank you to my parents and Mrs. Takahashi who drove me 45 minutes into Boston twice a week for seven years. That's a lot, and I appreciate it so much. In the fall I will be attending Scripps College, where I hope to continue finding passions like BCC that make life a little brighter.