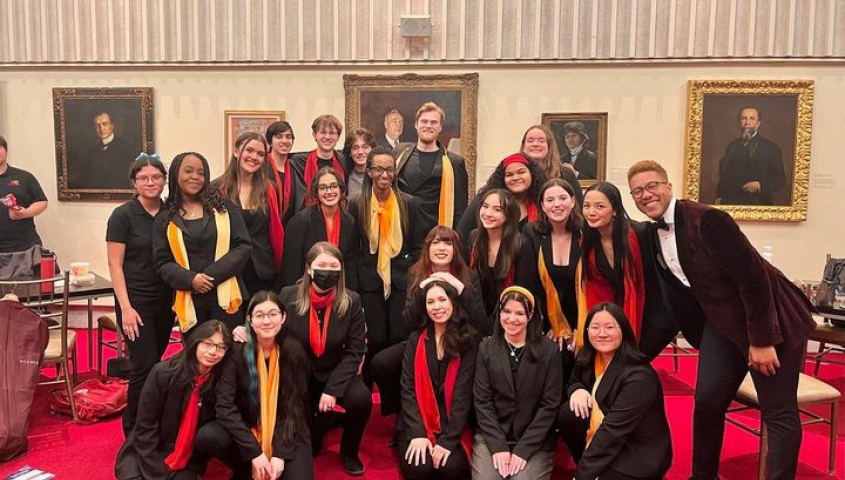 As our outgoing seniors graduate, take a peek at what's next for some of this year's 21(!) graduating young artists and reflections on their BCC experience!
Amari Vadhan
Anna Wadsworth
Beatrice Riley
I've been a part of BCC since I was 10 years old. I started singing in the Dorchester Intermediate choir with Mr. Reynolds. To be honest, I didn't want to stick with it. I was shy and didn't feel confident in my singing. With encouragement from my family (thank you, Mom, thank you, Aunt Cara!) I went back and feel like that was one of the best decisions I've ever made. It's shown me that I am not the shy unconfident girl that started so many years ago. I've made some great friends, have loved the exposure to all the different music, and learned that BCC is so much more than a choir, it's an incredible community.
What is one piece of advice you have for younger singers?
My advice for younger singers is to stick with it and be yourself. You will find your place here because BCC is a place for everyone.

What is your favorite BCC memory?
The MLK, Jr. concert this year was my all-time favorite concert and special memory. As a senior, I suddenly realized it was the last MLK concert I would sing at. It was such a powerful and beautiful concert and one that my family always looked forward to. It was awesome and bittersweet at the same time.
Camilla Herrera
My name is Camilla Tineo Herrera, and I've been in BCC for 10 years. Some of my core memories have been with BCC, but let's start at the beginning. Once upon a time, when BCC was located on Shawmut Ave, and I auditioned with the song, "All of Me" by John Legend, I didn't know many things.
I had no idea I would meet my very best friend for life. Someone who I value so much not just because of her friendship, but as a person. She is a key person in my life, and I don't remember my life without her. My family and I love her very much. I didn't know I was going to have a family at BCC. I hold many of the staff at BCC very close to my heart, but I want to recognize specific people.
To Mr.Griffith, who has never radiated anything less than kindness and has grown every single one of us singers, into excellence, thank you. BCC would not be where it is without him, and a big part of my enjoyment and happiness at BCC comes from him and his energy. He is an outstanding conductor and an amazing person. Watching him conduct my last MLK concert brought me to tears. There is nothing like watching someone do what they love and doing it so well. He is someone we should all learn from and someone I cherish.
To Ms.Joseph, who always greets me with a smile when I enter BCC headquarters and listens to my very long rants about whatever I have going on that day, thank you. I also want to recognize all her hard work as a backbone of BCC. We don't thank her enough for all the work she does to keep BCC rolling smoothly. From a spontaneous Celtics game or talking on the train, I loved all the moments we had together. I appreciate her presence more than I can express.
Finally, Mr.Glassman, I don't have enough words to describe how fundamental his presence is for me at BCC. There is no doubt in my mind that Mr.Glassman and I are like family. He may be a 76ers fan, but I've let it slide. Above anything, sitting and having a conversation about just about anything has been vital to rehearsals. I appreciate so much who he is as a mentor, but I can speak strongly to the energy he brings to rehearsals, concerts, and conversations. He is always so positive and never fails to provide a good laugh on days when I don't even know how much I need his energy. There are people that just make you feel better and happier, and he is one of those people. Thank you.
As I said, I didn't know many things coming into BCC. I can confidently say I know a lot more now than I did 10 years ago. I won't say every single thing I have learned, but I will say that apart from singing my heart out for a decade, the greatest thing I am leaving with from BCC is, that you never know who you're going to meet.
BCC has graced me with experiences of meeting well-known people with important titles, however, it is without a doubt that the most important people I have met have been the people right here at 20 Old Colony Ave. My family. If you can't tell by now, I talk a lot. But none of this would be complete without my mom. From driving me to EVERY SINGLE CONCERT, hearing me practice music at home, volunteering at BCC, and being my rock always, I would not be anywhere near where I am now without her.
With that being said, I will be attending UMass Amherst in the fall and plan to study political science with the hope of someday being involved in law and public policy. I hope to return for BCC concerts and hopefully maintain all the relationships I've built.
What is one piece of advice you have for younger singers?
Advocate. Something I noticed this year is we have a lot to say, but often don't communicate to the right people. So please, advocate. That is a large part of what BCC is. Advocacy. Do it! I implore you.

What is your favorite BCC memory?
My favorite BCC memory is probably the trip we took to Washington DC. I really connected with everyone there, and it was such an amazing experience.
Chineze Egbunike
I joined BCC when I was just 8 years old. I remember being really excited because I had spent the first years of my life watching my siblings in performances all year long. When I joined BCC, it was everything I imagined it would be. The process of learning and perfecting songs was a process that I came to enjoy, but it wasn't the best part of BCC. Making new friends and talking about important social issues is what I came to enjoy most about BCC. After I graduate from high school, I am attending Columbia University, and I plan on studying math and computer science. No matter what I choose to study, I will keep the friends I made at BCC and the love I developed for music.

What is one piece of advice you have for younger singers?
Don't be afraid to start conversations with new people, almost everyone here is kind.

What is your favorite BCC memory?
Going to Washington D.C with CIA.
Deshawndra Harston
I started BCC two years ago when I first moved to Boston. In looking for fun extracurriculars which I found at BCC, as well as much more. I have made many friends throughout my time in Concert and Premier Choir. I have improved my vocal ability and ability to understand the world around me. BCC has allowed me to learn and use my voice to advocate for many different social justice movements that I care about and that impact me in my daily life. I will be so sad to leave this amazing group that I have found, and I am so thankful to all of my friends and the adults who have supported me for the past two years. Next year, I will be studying International Relations at Boston University in the School of Global Studies.
What is one piece of advice you have for younger singers?
Make mistakes, make friends, and have fun.
What is your favorite BCC memory?
Listening to PC Shares
Fiona Thomas
Grainne McBride
I have been at BCC for four years and can say that any parent should offer their child the chance to experience this amazing community. I now know what it means to look at a song and really sing it with meaning and intention. More than anything BCC has become a place where every week I have time to have fun with such cool people! I plan to go to Union College next year and will possibly major in environmental engineering. Because of BCC, I will definitely try to pursue some form of music during my time in school.
What is one piece of advice you have for younger singers?
Have fun! Just as life isn't, music is not about being perfect. Music is incredibly powerful, and everyone should feel comfortable to be wild and free with music.
What is your favorite BCC memory?
My favorite BCC memory is the time spent preparing in rehearsals for the WILD production. It was such a unique opportunity that brought so many ages of kids together to dance and sing. It made me realize how huge and enthusiastic the community of BCC was and how dedicated the organization was to environmental action. I will never forget this amazing experience!
Grey Poduska
Though I have only been with BCC for a short time, this program has already had the biggest positive impact on me. I was lucky enough to join Premier Choir late this past November, and even though I was late to the game, I was welcomed with more kindness than I ever could have imagined. I was afraid that being older than everybody would make things awkward, but nobody seemed to care at all! It has also been so incredible to be surrounded by such talented and skilled people, both in the leadership and within all the singers. Everyone cares so deeply about making quality music, both in the technicalities and in the emotion. When I got to the first rehearsal, I was terrified, I felt like I knew nothing and nobody. But now, months later, each Tuesday and Thursday is the highlight of my week, I love seeing everybody's faces and feel lucky to call them not just my friends, but my family (Too cheesy? Sorry!) It will be so hard to say goodbye at the end of the season, but next year I will be studying Psychology at the University of Oregon.
What is one piece of advice you have for younger singers?
If a song is moving to you, let it move you! Feel the emotions! I promise I have cried a little (or a lot) from a song before.
What is your favorite BCC memory?
When, on the stage at the Isabella Stewart Gardner Museum concert, it finally felt like we got the timing for Each Of Us down perfectly, and as we walked around to our different places we were all looking at each other and I could feel such a sense of anticipation in each second, and pride once we got to the very last "inevitable."
Jillian Ryan
When I joined BCC in second grade, I never imagined how great of an impact this organization would have on my life. In addition to the fact that music has grown into one of my most cherished parts of who I am, the memories and friendships I built throughout my eleven years here have made BCC truly invaluable. Singing on opening day for the Red Sox and performing on stage with Idina Menzel are among the experiences that have helped me form lifelong connections with each of the singers here (especially my soprano 2s this year– I love you all endlessly). Beginning my journey in Central Training and concluding it in Premier Choir, BCC has continuously opened my eyes and my heart to social justice issues through reflective dialogue. In the fall, I will be staying in Boston to study mechanical engineering at Northeastern University. I will forever be grateful to BCC for shaping me into the person I am today, and I will hold on to the lessons, friendships, and music throughout the next steps of my life.
What is one piece of advice you have for younger singers?
Stick with BCC!! The friendships you've made and the people you will continue to meet are truly irreplaceable. Engage with the BCC community because they are always there for you!
What is your favorite BCC memory?
Three Trebles Festival in 2019
Joshua Silo
Kyla Murray
I joined BCC four years ago in Choral Union as a bit of an experiment. Being homeschooled my whole life, as well as being very introverted, I'd never had many opportunities to make music with other people. My older sister had been singing in a more "traditional" children's choir for several years, but I'd been deterred by its pretentiousness and lack of diversity. At BCC, I found an incredibly supportive community where I was respected and encouraged by both singers and conductors. I've never been in another group where I felt so pushed to do my very best yet never shamed for making mistakes. Even though my time in BCC was shorter than I'd have liked, I've grown in so many areas—musical talent, stage presence, social awareness, leadership skills, and personal confidence. Especially during my years in Premier Choir, I've been given amazing opportunities and met even more amazing people. I'm so grateful to the conductors, staff, collaborators, and of course my wonderful singer friends (we'll stay in touch, promise!). I'm so proud to be a part of this family!
What is one piece of advice you have for younger singers?
Reach out to your fellow singers for help! Text your section leader, ask someone next to you for notes from a day you missed, or borrow a snack or a pencil. People love to help you out, and you'll make friends so quickly!
What is your favorite BCC memory?
This has happened a few times, but anytime I'm on stage for a concert, and I end up sharing a smile, a look, an emotion with another singer I don't know well. Even if I never talk to them again, there's something about connecting with a (near) stranger so suddenly that makes me truly happy to be alive!
Kyra Lapop Salazar
Laura Scoville
My name is Laura Scoville. I was born in Guatemala City. My mom adopted me and brought me home to Boston. I have been singing throughout my life. I started singing in the Children's Choir at my church, then at the North End Music and Performing Arts Center, and finally at BCC. I have been with BCC for four and a half years. I love being a part of a diverse community. BCC has been a true beacon of light for me because it has helped me develop confidence and find my voice. BCC also taught me the importance of standing my ground and being one with everyone who expresses music powerfully. Mr. Griffith taught me to express the pieces of music through body movement and emphasizing emotions. Mr. Glassman taught me to perfect my various consonances as well as how to strengthen my diction. Ms. Mahima taught me the importance of pushing through the breaking points in my voice, by demonstrating different strategies. Ms. Howe made it her priority to make sure I was able to follow the different concepts of the musical arrangements and was always willing to go over certain sections of music if I didn't fully understand what I was asked to do. My conductors will always be role models for me. I also have made a lot of true friends at BCC, and I hope we will always keep in touch. BCC has been a big part of making me the person I am today, and I can't express my gratitude enough for all everyone has done for me. I will be attending Lesley University in the Fall.
What is one piece of advice you have for younger singers?
Have fun and as Mr. Pratt said to me: "Plant your feet, take a deep breath, and SING!"
What is your favorite BCC memory?
My favorite memories are finding out I was promoted to Premier Choir and the 2023 MLK Concert.
Magdalena Dolorico-Francoeur
Since I was eight years old, BCC has been an integral part of my identity, and it will continue to be. I remember from a young age having nothing but unfettered excitement about coming to rehearsals for the Villa Victoria Training Choir. My older sister was actually in BCC before me, and my parents always tell this story about me during her concerts at age 5 or 6, belting out the songs from the audience that I had learned from her. As I grew older BCC grew more into a second home and shelter for me. I had some struggles with academic motivation and socializing throughout middle school. Where during the average school day I cycled through being overwhelmed, exhausted, and dejected, my biweekly BCC rehearsals were the highlight of my week. It was a place where I felt capable, alive, and socially motivated. It was bursting with artistic inspiration and warm companionship that I could not have been more grateful to have. I have gained so many unforgettable experiences and friendships through BCC, along with the discovery of the world of music that I love so much, and may not have been exposed to without BCC. I will be attending Bard College in the fall, majoring in Anthropology, and intending to continue studying and actively participating in music, perhaps as a double major or minor. I have so much admiration and gratitude for this community, for the singers and staff--those who came before me, those who grew up alongside me, and those who will remain after me (you guys are going to kill it and I can't wait to watch!). Thank you BCC, I love you forever.
What is one piece of advice you have for younger singers?
My advice to younger singers is to keep doing what you love and what brings you authentic joy. These are the things that will make you feel okay on your worst days, and even better on your best days! Also, set a reminder to bring your music to every rehearsal. Definitely don't forget it at home.
What is your favorite BCC memory?
My favorite BCC memory is going to Washington DC when I was in CIA. It was full of so much singing and dancing under the sun together as well as long bus rides that were also full of singing and dancing, despite how much we were told to save our voices. I was twelve or thirteen and felt such a sense of belonging in the group which is so meaningful at any age, but especially at that age. I can't wait to go on tour again this summer!
Matthew Kromm
It's crazy to think that it's been 11 years since I auditioned with Ms. I in a tiny room at the old BCC headquarters. Nobody told me when I walked up those seemingly endless flights of stairs (the advantage goes to the new location on that front) for my first rehearsal at Central Training that what I was starting would be so important to me for the rest of my life. Since then, I've had the pleasure of singing with dozens of stunning conductors and hundreds of talented singers. The things I've had the chance to do, the songs I've been able to sing, and the places I've gotten to go to with these wonderful people have not only made me a better singer, but a more learned and well-rounded member of society as well. At the center, BCC has taught me that everything I do, whether practical or artistic, should aim to change the world for the better. Thank you to all the current and former staff of BCC for everything you have done and continue to do to make the organization the perfect place for children to grow into knowledgeable, caring, and forward-thinking adults. After graduating later this month and enjoying my time with friends and family this summer, I will begin studying at Harvard College in the fall.
What is one piece of advice you have for younger singers?
Stay with it—however fun it is now, it only gets better and better!
What is your favorite BCC memory?
Going to Australia and performing at the Sydney Opera House with children's choirs from all corners of the world
Nicholas Jaffer
Rebecca Lapham
Rory Li
I cannot imagine the person I would be today without the Boston Children's Chorus. Before I joined, I had been raised very sheltered in white suburban communities. BCC opened my eyes to a world of diverse personalities, backgrounds, and passions. Looking back, I can say without a doubt that BCC changed my life. Besides the incredible opportunities I've been given as a singer- from performing with professionals to singing at important events- at BCC, I've found irreplaceable opportunities to learn and grow as not only an artist but also a person. It is here that I've met some of the most dedicated, compassionate, and hardworking people I've ever known, whose powerful voices have and will continue to inspire me for years to come. This home away from home has shaped me as a singer, activist, leader, and friend, and I am eternally grateful for all of the memories I've made here in the past eight years. I want to thank Mr. Griffith, Mr. Glassman, Ms. Mahima, and Mr. Hiser for their phenomenal leadership and musicianship, and all of the ways they have helped Premier Choir thrive this year. Thank you to Magdalena, Matt, and Levi, my three(ish) wonderful co-presidents. I couldn't have done it without you. Thank you to Mr. Reynolds, my first conductor at BCC and the first person to motivate my long commutes to rehearsal. Thank you, Mrs. E. I could go on and on, but there are truly not enough words to describe the gratitude and love I hold for this family. Next year, I am so excited to announce that I will be studying Public Health on the pre-law track at Johns Hopkins University. BCC has given me the tools to advocate for justice and equality in the healthcare system, and I will do my best to make this family proud. Thank you for everything!
What is one piece of advice you have for younger singers?
Sometimes it can be scary to reach out and make friends with the people around you, but I promise it will be worth it! It will make rehearsals and performances so much more fun, and you will learn so much. Take a chance on someone
What is your favorite BCC memory?
After singing "Panic" at the welcome ceremony for the royals of Wales earlier this season, I remember running in the pouring rain with Mr. Glassman, Ms. Joseph, Magdalena, Tiana, Ilaria, and Cami to a place to eat before going to the Celtics Game. That whole entire evening is very vivid in my mind, and very eventful, but that experience of dashing through miserable puddles and people in my sneakers- cold, wet, and very windy, with people I love- is very meaningful to me. Moments like that remind me of how grateful I am to have such an incredible community, with people that make even objectively horrible experiences like that a fond memory.
Sarina Miller
After nine years I can confidently say BCC is my home. BCC is where my family is. To put it briefly, BCC is the reason I know my closest friends. BCC is the reason I have learned to find comfort in music and community in hard times. BCC is the reason I am who I am. BCC has taught me to think critically and lead with compassion. I know I will carry BCC's values with me as I enter college and beyond.
What is one piece of advice you have for younger singers?
Come to rehearsal early to hang out with your friends!
What is your favorite BCC memory?
Singing Precious Lord for the first time.
Saurahya Milien
Singing with the Boston Children's Choir has been one of the most enriching and enjoyable experiences of my life. I have been in the choir since she was 7 years old, starting with central training and working my way up the ranks over the years. One of the most enjoyable parts of my time with the choir was the opportunity to perform in Boston and various other locations. From Symphony Hall to TD Garden and other memorable venues. It has been incredibly rewarding to see how much joy and inspiration we can bring to people through our music. Looking back on my time with the Boston Children's Choir, I am extremely grateful for the friendships, experiences, and opportunities the choir gave me. I always look back on the time I spent here with pride.
What is one piece of advice you have for younger singers?
Don't limit yourself. Sing out, Sing Loud, and Sing Proud.
What is your favorite BCC memory?
Going on tour in CIA with Mr. Holmes