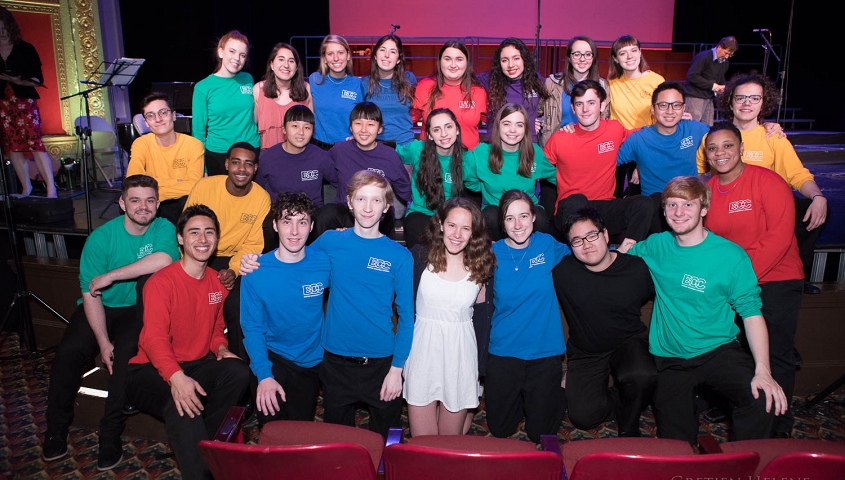 Photo Credit: Gretjen Helene
As our outgoing seniors graduate and head off into their next stage of life, take a peek at what's next for this year's 29(!) graduating young artists.
SKYLAR ALDRICH
BCC has been such an amazing, transformative time in my life. It has opened my eyes to so much, and taught me more than I can express. It's really crazy looking back and thinking that it's only been like two and a half years. I've made so many wonderful friends. Being a part of the Boston Children's Chorus has been an incredible ride, and I'm so thankful for all the opportunities that I got. Right now I'm looking into psychology, but whatever I do, I hope I can bring a little bit of what I've witnessed here with me, whether it be the music, the community, or anything else. I want to thank everyone here, being a part of BCC has truly made me who I am today.
MAKAYLA ANDRE
BCC is the one of the many places that my mother took me to every Saturday starting at Dorchester House, but the only place that kindled my creativity. In BCC, when learning what key our music was in or the acronym for EGBDF, I also learned how to use the ideas of learning music to my advantage. I went through middle school focusing on music and attempting to create my own music. Surely enough I wasn't a killer song writer but I found out that I still had many strengths in writing. Because of this, I was able to create my own stories and poems. BCC has also taught me what it means to make a difference by doing the slightest things. When we go sing at churches or for other organizations in need of some satisfaction, we made such a huge impact by doing what already we love. BCC has also taught me to love people for their differences. Although we are all on different skill levels, we hold one another up no matter what. I would like to take this time to thank my mother, Rosalind Budgeon, for being the only one to be more active than I was in making sure I was doing the right thing at BCC. I will miss my choir CC very much and will miss BCC the most. Thank you for everything.
MATTHEW BRIDGEMAN
Matthew has been a part of the BCC family for 6 years. He currently finished the London tour/festival and exclaimed it was Fantastic. His favorite memory was the spontaneous jamming/singing session with the other choirs that lasted for hours. Pinnacle of his tours was the Concert at the Spanish Synagogue in the Czech Republic 2 years ago. He has loved every minute of singing with the BCC. He also toured with the group to Vietnam and Cambodia as a young 13 year old, impressed by the culture and history there.

Matthew has been involved in the Bedford schools music and theatre programs. He plays trumpet in the Marching Band, trombone in the concert band, and piano at home. Matt also sings with the Honors choir, the Bedford Bucappella (lead arranger), and the Rolling Tones, (a coed acappella club) He has song with Coro Allegro in Boston, (featured boy soprano), and currently is playing trumpet with the MWS for a spring concert. Matt just finished playing The role of Father in the 2017 production of Children of Eden. He has acted and sung in Bye Bye Birdie, Cinderella, Shrek, and Anything Goes. He loves all things Music!

Matt will be attending The University of Hartford in the fall as an Acoustical Electrical Engineer major with a minor at the Hart School of Music in Composition. He hopes to support himself writing music, but also loves physics and math, so will use these skills to get a Bachelor of Science in Engineering as well. This summer he will be attending The Interlochen Camp for the Arts in Michigan as a composition student.

Matt has been active in the Boy Scouts since middle school, completing his Eagle project last fall. He supervised the building of 5 beautiful toy and book shelves for the local preschool. Matt also participates in his church, and was a big help on the Appalachian Mission trip his junior year.

Matt would like to thank ALL of his music educators including Ms. Adams, Dr. TK, Mr. Reed Spencer and Mr. Tyrone Sutton. " I can't thank everyone in the organization enough for helping me become the person and the musician I am today. I will keep in touch with BCC and promote its mission in my future endeavors."
BRANDON CHARLES
RICHARD DANG
I remember third grade me, chubby and oblivious, being nudged into the rehearsal room at Dorchester House by my dad. It was a bright Saturday morning, a time that I usually reserve for a great physical activity called sleeping. As I entered the room, I was greeted by Mrs. Adams, who was and continues to be a beaming and energetic person, and then sat down in the back of the room, right in the middle of the second to last row. I wasn't very keen on introducing myself to anyone, either, because I was certain at the time that this was just a one time thing. The rehearsal started and we learned solfege as well the infamous "Hot Cross Buns," a song that will forever be in the hearts of BCC singers. I left the room that day knowing that I was never coming back. And then I did come back; for the next ten years. Throughout those ten years, BCC gave me opportunities that I never would have had anywhere else. I met and connected with people from all around the state, got to perform and express myself in some of the greatest concert halls in the world, and discovered a passion for music, which continues to be an integral part of my life and personality. It's almost impossible to imagine where I'd be without BCC, but luckily, I'll never have to worry about that. This fall, I'll be studying computer engineering at the University of Massachusetts at Amherst, and even though that might seem unrelated to music, the responsibility, respect, and teamwork skills that I've learned at BCC will be applicable for the rest of my life, regardless of what I do or where I go. Thank you to the Boston Children's Chorus for an incredible ten years that I will never forget.
CHARLOTTE DEL COL
I started in BCC when I was seven years old. I have always loved to sing, all the time and everywhere, so my parents thought it would be best if I had a creative outlet. I was placed in the Villa Victoria choir with Ms. Ambush and I was hooked. I went through BCC with two years in Central Intermediate Choir and three years in Concert Choir. My 8th grade year I had to stop doing BCC because of conflicts with school afternoon commitments. I took a four year hiatus from BCC, continuing to sing at my school in a capella groups. Throughout that time I still enjoyed singing, but I didn't feel the meaningful connection that I felt with the music we sang at BCC. I decided that for my senior year, I wanted to go back to something I truly identified with and really cared about. This year I have loved rebuilding the connection with music that I used to have, as well as finding new and meaningful friendships in Premier Choir. I'm so grateful for all the lessons BCC has taught me, and all the relationships I cherish here! Next year I will be attending Colby College in Maine, to study Environmental Science, and I look forward to joining an a capella group!
CHLOE DEMELLO
I never thought I would even make it to my senior year of high school. These past four years have been some of the hardest years I've had in my life, and sometimes it was difficult for me to get out of spouts of anxiety or depression. I joined BCC in the fifth grade, not knowing what kind of impact on my life it would have on the world I live in. In the past eight years, BCC's energy and community has given my black and white negative world some new color and positivity. Every single person who I've met and worked with in BCC has shined some light on my once dark mindset, and made me realize that I had something to look forward to. Next year, I will be attending Belmont University to further explore the U.S. and to hopefully use music to heal other people like BCC helped heal me. It's gonna take some time to get used to not going to a rehearsal every Tuesday and Thursday, but I can't wait to see what my future holds in Music City
OLIVIA DUNDON-DUVALL
I joined BCC when I was ten years old, and spent three years in Concert Choir and the past five years in Premier Choir. The BCC community has had such a significant influence on my life for the past eight years. I have met my best friends here, and I have learned about the amazing power music has to connect people. I feel so incredibly lucky to have grown up in an organization that values acceptance, community, and strives to make its singers citizens of the world. Traveling with BCC to Vietnam, Cambodia, the Czech Republic, Germany, and England have all been extraordinary opportunities that I feel so grateful to have had. BCC has truly made me realize my love and passion for music, and next year I will be moving to Philadelphia to pursue a BFA in Musical Theatre at the University of the Arts. Thank you to everyone at BCC for making these last eight years amazing!
NICOMEDES FLORES
Nicomedes Flores born September 4th, 1998 in Boston, MA, is an American Singer/Songwriter & Music Producer. Nick is currently enrolled at the Boston Arts Academy as a Senior Music Vocal/Technology major and has taken 5 years of enrichment classes at Berklee College of Music through Berklee City Music. With over 10 years of private instruction from Kenneth March (Berklee Alum) and the Boston Children's Chorus, he has been able to hone his abilities in Voice, Guitar, and Music Technology. Nick has 7 years worth of performances behind him adding up to well over 150 concerts. Nick has performed alongside the Grammy winning music group "Roomful of Teeth" as well as Glee star Matthew Morrison. He has done shows for dignitaries such as President Barack Obama and the Prince of the Czech Republic William Lobkowicz. Along with these performances he has also been on two international tours with the BCC to London as well as the Czech Republic and Germany. Nick is currently the bass section leader for the choir and in this role is mentoring the younger members of the choir.

Through music I hope to usher in a new age of social compassion and understanding. By using music as a catalyst, I will teach youth how to empathize and take action in order to alter, peacefully, the social struggles that are currently plaguing both the United States and the world. Some issues that I would like to hone in on include racism, poverty and environmental rights. Music is the harmony of the universe and I believe that through the unity of music a positive change in the world's values can become a reality.
FRANCES GARRETT
3 years ago, when I walked into rehearsal at BCC for the first time, I was scared out of my mind. I had just moved to Boston a couple years before, and I was still trying to find my way. Only a sophomore, I wanted to fit in as much as possible. Music had always been my safe space. My comfort zone. Something I could pour my emotions into when there was nowhere else for them to go. At BCC, everyone feels like that. At BCC, it's okay to be dramatic. It's okay to lose yourself in the music, to feel every word as you sing it. Every one of us in BCC tries hard to succeed, and cares immensely about the community and the impact we leave on people. Being with this group has opened my eyes, and has made me realize that I shouldn't try to fit in, but that we should celebrate our differences. BCC has encouraged me to be myself, thanks to the people I've met and the community I was welcomed into with open arms. I'm going to miss practicing choir music with the train squad on the T, singing songs around the piano before rehearsal, Mr. TK's funny stories he'll tell in the middle of practicing a piece, the songs that will always make me cry when we perform them, when we hit that perfect chord and it sounds like angels singing, discussions about important world issues, the community, and all the friendships I've made along the way. I can't believe my time at BCC has already come to an end, but it is 3 years I'll remember for the rest of my life. Next year I will be attending college with no particular plan in mind on what I want to do for the rest of my life, but I will always pursue what I love. Thank you to BCC for giving me an outlet to find myself, to get woke, and for changing my life for the better.
TERESA FLAHERTY
I joined BCC on a whim at nine years old, completely unaware of the journey I was about to begin. I spent one year in DHT before moving through the ranks of CI, CC, and eventually PC. BCC quickly went from something to fill up my free time to one of the most important parts of my week. It became an oasis, a place to relax and focus on making music. Being a part of BCC has shaped who I am so much. I can't begin to imagine what I would be like if I hadn't joined eight years ago. BCC has created in me an intense love for music and performing that I definitely would not have otherwise. It has given me more confidence, better social skills, and countless other skills that will continue to help me for the rest of my life. It's given me means to make friends from all walks of life who I now consider my second family. I will forever be grateful for the values and skills I have gained during my time here. After eight years, I can confidently say that my time in BCC was the best time of my life, and I am sad to have to leave. Next year, I fly across the Atlantic to attend the University of Limerick in Ireland, and I can only hope that I will encounter more experiences that allow me to grow the way BCC has.
NAZELI HAGEN
I've been a part of the Boston Children's Chorus for 10 years, and to say it has changed my life would be an understatement. I came into BCC a shy, self-conscious eight-year-old, but the supportive environment I found here has truly made me who I am. BCC is special because it celebrates your differences as opposed to your similarities, and I think the world could use more of that. BCC is where I could go to talk about everything I wasn't "supposed" to talk about, where issues that were all too often pushed under the rug at school were suddenly at the center of each discussion. BCC has opened my eyes to what the world is and how I can change it; it has taught me the power of my own voice and given me confidence. It has challenged me and forced me to constantly be growing and pushing myself past where I am comfortable, and for that I am eternally grateful. I end my time at BCC sad to leave but thankful to have had as much time with the organization as I did, and excited to start this new chapter of my life studying Computer Science at Harvard University in the fall.
COLEMAN HAYES
At a very early age, I developed the love for music which was soothing. As a toddler, I didn't like to sleep at bedtime, my parents played a cassette tape of Beethoven and Mozart which ultimately put me to sleep. When I attended elementary school my chorus teachers noticed I liked to sing, so at the age of eight I was introduced to BCC. I started out in Dorchester House and as I had many activities throughout the years with academics, sports and socially. BCC kept my overactive mind balanced. I thoroughly enjoyed performing for YME while touring to Germany, Vietnam, Cambodia etc. It's been an honor to be a part of the Ambassadors of Harmony. I truly have adopted great friendships in which I can say we literately shared the shirts and pants off our bodies when there was a wardrobe mishap that occurred so our performances can go on. I've had the opportunity to perform before and with many dignitaries, the most memorable being President Obama, and Yo Yo Ma. I will definitely keep in touch with the BCC staff and friends as they are my extended family. I thank you all for my development into a young man. I was accepted to attend Merrimack College this fall.
EMMA HUMPHREY
When I was six I memorized every word to the musical Wicked and skipped around belting it constantly. I sounded terrible. My mother, since she couldn't convince me to stop, did the next best thing and signed me up for the Boston Children's Chorus, an affordable, open option for fixing the problem. I sang my mandatory "Row row row your boat" audition piece and then started the following fall, driving an hour each way with my Dad to rehearsal every week, fumbling over solfege hand signs, and donning my extra small starched-white BCC polo for concerts. Since then BCC has served as an invaluable creative outlet for me, an organization that I continue to love and come back to because it offers intense mental stimulation within a harmonious environment, exposing me to new people and ideas while constantly pushing me to expand on my own abilities. A guest speaker who worked with us before one MLK concert said that even if we just use this experience to sing to our future children, it will have been worth it, and BCC has given me an invaluable opportunity to have music in my life merely for the joy of singing. Next year I will be attending Harvard University to study computer science and archaeology, and plan on continuing to sing in between class and convincing Mr. Hires to let me work at concerts in exchange for tickets.
ROBIN KERR
In 7th grade I began my time at BCC in Central Intermediate Choir under the direction of Ms. Adams. I moved up to Concert Choir and was lucky enough to spend two more years with Ms. Adams as my conductor. We traveled to New York, New Jersey, and Maine. I gained so many role models who inspired me to work harder and be a better person. After looking up to the singers in the red jackets for so many years I was so excited to be part of Premier Choir. Our tours to Germany, the Czech Republic, and England have given me the opportunity to expand my knowledge about different cultures and learn more about the world we live in. I came into BCC with a love for music and singing. Now, I am looking forward to starting college at Mount Holyoke this fall with a wider perspective, the confidence to speak out against injustice, and a supportive BCC family.
CARL-ISAAK KRULEWITCH
One day when I was in the third grade at the Josiah Quincy Elementary School our normally bland music class was interrupted by a lady who wanted to hear all of us in Mr. Corcoran's class sing. We gathered around the old upright piano in the room behind the auditorium. Each kid sang a little bit by themselves, and some more together, then we went on with our day, and forgot all about it. How surprised my parents were when a few weeks later they got a letter saying I had been accepted into the Boston Children's Chorus!
Once they looked into the organization my parents sent both my brother and I into the program. While it was good fun, I wasn't really serious about BCC at first; my afternoons with treble choir were more spend eating M&M's in the back of the small rehearsal room and chatting. I'm so glad that when Ms. Adam's did my evaluations at the end of the year, she knew I needed to move on to the Young Men's Ensemble; my voice change had made it almost impossible to sing even the alto part, but YME was overwhelming at first. Everyone's vocal ranges fit the music, and they all seemed to know each other, but i persevered.

Now, after ten whole years with the organization, I've grown very far from then. I'm now one of the leaders in YME, not just some poofy-haired kid who sang. I've travelled the world on tour with BCC, performed in amazing venues and helped to build a community of friends where young people can gather to sing. Now, as I go about making my decisions for college, whether I decide to study music at one school, science or math at another, I know that I've come a long way since that day in third grade, and BCC has been with me the entire way.
ALEX LEE-PAPASTAVROS
I have sung with BCC since the fall of 2010 and with YME for the past six years. I have never given much thought into whether I would return each year. It was always a non-starter that, despite any other commitments I might have, I would be back at BCC Central. I honestly believe that the authentic and diverse friendships that I have formed through singing have helped me thrive as a person. I still remember, in my first weeks as a wary Concert Choir member in 7th grade, bonding with a new friend over Nintendo Gameboy at retreat, whom I today call one of my closest friends. I attend a small school, so going to rehearsal each Wednesday and Thursday has been a breath of fresh air as well as a relief from the grind of the school week. Being able to talk with Mr. Hubie Jones about hearing Dr. Martin Luther King speak at Jordan Hall, and having the opportunity today to have sung in six MLK tribute concerts in that very same performance hall, has been impactful and a testament to the progress that our country has made and the work that still needs to be done. I plan to attend Cornell University in the fall, and hope to continue singing. Thank you BCC family for seven amazing years!
BRIANNA MCKAY
Think about standing in a crowded room when you don't know anyone. You feel like the outsider, right? Think about standing in a room full of people that you know and have grown close too. Not so much the outsider now. That's my journey with BCC. I went from being an outsider to making friendships with the most amazing people. I might not have been in this organization very long, but I've learnt so much. I've grown as a singer and became more aware of how much music can impact a person or a cause. I've become more aware of how much can create change in the world. Through BCC, I've seen music be the starting factor in friendships, be the supporting factor in change, and be the universal connection between everyone in the world. With all that BCC, the singers, and staff members have taught me, I plan to major in Vocal Performance at Belmont University so that I can continue making changes in the world through music.
MICHELLE PERUZZI
To be writing my senior bio, feels odd for me, I always saw everyone else before me do the exact same, not realizing how fast this moment was coming for me. I auditioned for BCC at the age of 9 and that was one of the best decisions my 9 year old self had made. I remember auditioning at school and being so scared to tell my mom I wanted to do this, but she wasn't mad and she let me join. That is when I entered the BCC Camp when that was around and went 'through the ranks' of BCC starting from West End Training Choir and ending up in Premier Choir in these 9 years. I can't begin to thank BCC for all that it has allowed me to experience. From performing at Symphony Hall, to the Concert Choir excursions to Maine, Vermont, and Montreal, and now our international tour to London this year. I've gotten the chance to meet so many incredible people in my time here and I will treasure each friendship I've made forever. BCC has taught me so much about music, the world around me, and even myself. Because of this organization I figured out music is what I want to purse and I will studying music education at Wheelock College in the fall. Even though this is the end of it all, BCC will always be a 2nd family to me. I know I will always have some place here and BCC will always and continue to be apart of my life.
DALIA MELANNIE MORALES
BCC, has been the single most best thing that has happened to me in my lifetime. Period. No hesitation. No 'but' included. Unlike many of my fellow choir members, I entered a bit late to BCC, during my ninth grade year. I remember my audition very well, Dr. TK, the first person I formally met. He allowed me to sing 'We Built This City,' one of my favorite songs at the time. All I could think of after the audition was how I could have done better, and I feared I would not get accepted. Luckily, BCC took me into their melodic arms and placed me in Choral Union. I spent two great years with Ms. Simmonds and Mr. Viani, but I wanted to go further. My third year, I advanced to Concert Choir, where I met Ms. Adams, Mr. Heiser, and Ms. Howe. Sure it was a challenge for me but I met some of my closest friends thanks to it. I was able to push myself so much more than the Dalia from my first year. Now, I am a senior, my fourth and last year, I will graduate as a part of Premier Choir. BCC's president and PC's conductor, Dr.TK, was the first person I met in BCC and will be the last person I will get to see before I graduate. My journey with BCC is over and it is simply… surreal. One thing that I will always hold in my heart is the community of BCC where I knew I could always count on someone for even the simplest of things. Although this is a very emotional time for me, it is also a milestone. I finally get to graduate, and start off my life as an adult. As a part of being an adult, I will be attending Curry College this following fall for my undergraduate. I thank all my former conductors, marvelous accompanists, and fellow staff who made my experience at BCC perfect.
ABIGAIL ROBINSON
Joining BCC in 2007 was a life-changing experience for me. At the time, I was attending Parkside Christian Academy where Mrs. Matthews was principal. I remember that very day when BCC came to my school for audition, I was among the three that signed up. Receiving the news that BCC had accepted me into their organization hadn't only excited me but also encouraged me to be the artist I am today. Many doors have been opened and several opportunities have been afforded for me through BCC. For this reason, I'm grateful and appreciative for such an organization as this. As I complete these last few weeks of high school at Fenway High, I am beginning to miss what I will be missing next year while in college. Ever since second grade, I have been singing with BCC. These 10 years of dedication to the organization mirror the values that I've learned and respected. Being raised by two hard-working and disciplined parents afforded my consistency as a student and as a singer with BCC. In the fall of this year, I will be attending Berklee College of Music. I will always keep in mind the family that was created for me here. A quote by one of my favorite artists, Lauryn Hill, says "I consider myself a crayon, I might not be your favorite color but one day you're going to need me to complete your picture". As a word of encouragement to the singers who will be graduating after me, you're going to have challenges and you're going to have low moments yet at the end of the day, whatever you contribute to the table is needed and will benefit someone. You have value as a human being regardless of how you identify yourself. Live above all the nonsense and discrimination that is in the world today. The experience will only help to build your character. I thank God for the work that is being done at BCC and for our youth.
JACOB KOBI MANOLSON RUSSELL
My 11 years at BCC have been full of incredible, life-changing learning experiences. Three lessons stand out particularly. First is the power of self-expression. When I was 7- I stood on the stage at the Macy's Christmas Tree Lighting at Downtown Crossing, in the cold of Winter - and barely opened my mouth! Now I've gained the confidence and the skills to not only perform for prestigious audiences like The President of The United States and Good Morning America, but also to excel in the fields of political debate (Model UN and JSA), as well as slam poetry. The second takeaway I have gained from my time with BCC is a love of travel. Hubie Jones, the Founder of BCC always says "You don't know what it truly means to be an American until you leave America and look back at it." It's partly due to that thinking that I have decided to take a gap year with KIVUNIM. The program is based in Israel and travels to 10 other countries throughout the year. Lastly, BCC has taught me to be an "Ambassador of Harmony." It is my credo to always listen to different narratives and try to bring peace and justice to the few, and eventually the many (world at large). To that end, I will be studying Political Science with a focus in International Relations at Carleton University in Ottawa. I'm endlessly thankful for the many ways that BCC has set me up to succeed.
ELLIOTT RONNA
Elliott Ronna has been a member of the Boston Children's Chorus for eight years, including five seasons with the young men's ensemble. Throughout his time with the chorus Elliott has performed for the likes of President Barack Obama, Vice President Joe Biden, and Governor Charlie Baker. He has participated in three international tours, traveling to Vietnam and Cambodia, the Czech Republic and Germany, and most recently the United Kingdom this past April. In his junior year, Elliott served as YME Co-President, helping to lead the group in a year long exploration the topic of environmental justice. Elliott has also been an avid musician outside of BCC, spending six years as a guitarist for the Berklee City Music program and participating heavily in the arts department at Cambridge Rindge and Latin School, where he will be graduating this June. After High School, Elliott plans to take a gap year before attending Oberlin College.
NATE RYAN
I have had the privilege of spending the past 5 years of my life at BCC. In 8th grade I auditioned "off the street" and was placed in the Young Men's Ensemble. On the day of the first rehearsal I remember being very nervous; I felt out of my comfort zone. Living in the suburbs an hour north of Boston, the most independence I had at that point was walking home from school. Now I was taking the train into Boston by myself to sing with people I didn't know. The butterflies of self-doubt and fear subsided throughout that first rehearsal, as we sang together for the first time. At that point, I had no idea that the strangers in that room would become such valuable friends. These friendships I'm certain will last a lifetime, because we have shared countless experiences with each other. I have been fortunate enough to travel and tour Vietnam and Cambodia, Germany and the Czech Republic, and London with my fellow singers. It is impossible to put into words how much my experiences with BCC have shaped me into the person I am today. I was given a new outlook on how we live in the U.S. compared to other countries. I was also able to discover how much the differences between cultures are important in defining who you are, but that they should not separate us. Just as important as the travel, however, are my fellow singers. If I had not joined BCC, I doubt I would have had many friends that were not white. A big part of what BCC has meant to me has been breaking out of the bubble that is the community that I live in, and being exposed to this group of diverse, passionate, empathetic, and talented people. From a young 8th grader, to a legal "adult" and graduating senior, I continue to be inspired by my peers and I will always strive to live with the values I have learned in BCC in my heart.
MICHAEL SARACCO
I joined Boston Children's Chorus last year, and although I have only been with the chorus for two seasons, it has truly been a pleasure to be a member of the Young Men's Ensemble. BCC has taught me about the central role that music plays in society, specifically to bring about social change. Since my primary musical background is in musical theatre, it has been genuinely refreshing to perform music of other genres and to further hone my musical skills. BCC's global perspective with regard to music and emphasis on service to others, coupled with an extremely high quality of musicianship, has profoundly inspired me. I am eternally grateful for the opportunities that BCC has given to me and the people I have met through such a wonderful organization. BCC has shown me that music speaks where words truly cannot- a trait that proves how important the arts are to the betterment of society. Next year, I will be attending Vassar College, where I will carry with me the compassionate outlook that I have developed from being involved with BCC, and hope to become a member of the Vassar College Choir.
LUCY SINCLAIR
When I joined BCC 5 years ago, I never could have imagined the impact this organization would have on my life. I found a second family with the singers and staff at BCC. Together, we've had incredible performances at Fenway Park, Symphony Hall, the Isabella Stewart Gardner Museum and so many other amazing places. But what I will remember most is the moments in between: working on the details of a song for so long so we could get all the chords to crackle just right, laughing and eating ice cream in an empty bathtub during excursion, singing obnoxiously loud on the T on the way home from rehearsal every week, waking up early at retreat so that we could sneak out and sing to the sunrise. BCC has taught me so much about music, emotions, social justice, friendship and so much more. It has helped me to become confident in who I am. I am no longer the shy 13 year old I was when I joined BCC, afraid to sing loudly, to talk to the girl sitting next to me in rehearsal, or to say that I love listening classical music. I will forever be grateful to the conductors, staff and singers of BCC for the incredible 5 years they have given me. Next year I will be attending college, but I hope to return to BCC as often as I can.
CARRIE SHAO
To me, BCC means many things. An environment to get used to the American culture as a new immigrant, a chance to perform in the greatest music halls of the world, one of the few places where art is valued, or perhaps just an escape from the daily chaos of my academic life…

For most people, these four years of high school will soon be buried on this long road of ordinary preambles to something more extraordinary, but for me, my four years of high school have already been made extraordinary simply because of BCC.
As memory's watergate floods open time and again, I will always recall how we filled Symphony Hall with the dissonant but intriguing tritones in War Requiem, the tranquil melody of Ave Maria that warmed Faneuil Hall on a chilling mid-autumn's evening, the tears of a moved heart that I secretly shed at every MLK concert, and the way 112 Shawmut Avenue made me feel incredibly content in days of rain or shine, hot or cold, light or dark.

I don't know if I've become a different person because of BCC. All I know is that BCC isn't merely a children's chorus; it is the definition of my American Dream — tolerant, inclusive, and passionate.

Although my time at BCC is temporary, the pursuit of art is the virtue of a life time. Now as living conditions better and life options expand, it is crucial to self-actualize in higher pursuits far beyond the basic physiological necessities. So as I carry my musical pursuits to UC Berkeley this fall, and later into the world, I will inspire others to open the doors to their own artistic wonderland, just like how BCC has forever opened mine.

On this finale day, I would like express an ocean of gratitude to everyone at BCC who has given me endless opportunities.

Here's to the arts and the people of the arts that transform lives!
CASSIE SHAO
When I was in 7th grade, my family immigrated from China to the US. Two years later, while still in the process of acquainting myself with the American culture, I joined BCC as a member of the Concert Choir. Being in a choir outside of school was already thrilling for me, and the thrill rose to a higher level when I was introduced to a range of repertoire, from classical and folk to gospel and pop. But I soon figured that there were more layers to BCC than simply singing songs. During every rehearsal, people would willingly share out their own backgrounds and stories. While each story was so different from the other, when we sang, our voices melted into a single harmony. And so just like that, for four hours every week, I got a taste of how diverse yet united people can really be. Just like that, overtime, I realized that BCC is the true image of America.

At every BCC performance, my heart was always filled with an indescribable exhilaration. Now I understand that this is precisely the feeling of knowing that I can celebrate MLK's achievements even though I'm not black, perform at church and temple services even though I'm not religious, and even sing the tenor part in "Woke Up This Morning" even though I'm not a guy. That indescribable exhilaration. It's precisely what living in America is supposed to feel like.

Indeed, art is the best embodiment of a country's culture. In my short six years of living in America, much of my perception of the American culture was shaped by my experience at BCC. As I leave and move on to study at Wellesley College this fall, I want to thank you, BCC. Thank you for showing me what America is all about!
SEBASTIAN THEMELIS
I've been in BCC for just about as long as I can remember. I joined in the summer of 2006, the same year as our beloved Dr. TK. I still remember driving past the state house every week to get to the old rehearsal space on Tremont Street. During those first years of BCC, even though I didn't realize it at the time, I was cultivating a love for singing, music, and social justice. BCC profoundly shaped me and my interests, and gave me all the musical ability that I have today. I made my way up the ranks from Treble Choir, to Lyric Choir, and then Concert Choir. But in 2011 I left BCC, and what I like to call the "dark ages" of my life began. It was during this three-year intermission from BCC that I realized how much of an impact it had had on me. Without this constant of music and activism in my life, I felt empty; I felt that an integral part of me was missing and I couldn't figure out what it was. It was only when I went back to BCC in 10th grade that I understood it was BCC that I had been missing. Coming to BCC has given me a refuge to be myself and pursue my passion, free from stigma and judgement. I would not be who I am today without BCC. I'm very excited to attend Boston University next year, especially because I'll be able to come see all the performances (and maybe sing in some too!).