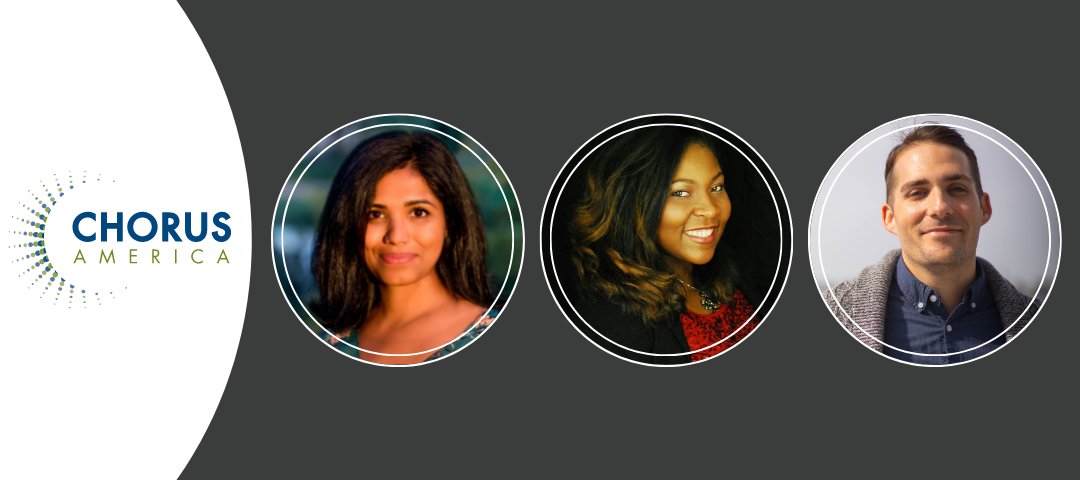 Irene Idicheria | November 3, 2021
As early as May 2020, researchers identified COVID-19 to be highly transmissible through singing and choral musicians had to pivot quickly. Overnight, music educators and choral conductors became experts in planning asynchronous Zoom rehearsals and producing virtual choirs, allowing their ensembles to continue creating through the pandemic.
As a children's choir conductor and arts administrator, I experienced these operational shifts first-hand. At Boston Children's Chorus, our entire 2020-21 season was produced and presented online. Occasional outdoor, in-person gatherings were possible during the fall and spring months, but restrictions reshaped the core experience of group singing.
Much of the unique power of choral singing comes from the collective breath, movement, and response of singers buoyed by great acoustics. With the implementation of COVID prevention guidelines, capturing that expressive magic proved to be an ongoing challenge.
We are 20 months into this pandemic and finally, for singing and performing groups, there is light at the end of the tunnel. Vaccinated singers are now regularly rehearsing indoors and in-person. While masks, ventilation requirements, distance, and time guidelines are rightfully still in place, educators and musicians must continue to think innovatively about crafting meaningful experiences for their ensembles. I recently sat down with two incredibly impactful music educators to ask how they are, fostering connections and making meaningful music in this new and ever-changing normal.
Their insights will resonate with choral music educators whether you work in a school, an independent nonprofit chorus or any other organization centered around human voices singing together.
Do the current guidelines you have to work around feel like barriers or opportunities?
Koriana Lewis Bradford: There are certainly hurdles to jump over. We've had to split up our large choral groups. I have some classes that are supposed to be 70-80 kids and instead we break it up, so someone takes the sopranos and altos and I take the tenors. I'm crying on the inside that we can't all be together, but in small groups it forces the students to have more independent ears and work on harmonies among individual sections. The big thing I miss is hearing that big, booming sound when we're all singing together.
Adam Calus: The resourcefulness teachers have developed is going to carry over once the pandemic ends. It feels like if you're working really hard to build relationships and make music together, the fact that everyone's wearing masks almost becomes second nature. For me, it's been recognizing that these restrictions are weird and awkward, but they're not going to stop us from making music together meaningfully.
How, as music educators, are you cultivating connection in this new environment?
AC: One thing I've really been noticing is now, more than ever, we need to give students a space to be. A lot of our expectations about behavior pre-pandemic needs to go out the window. Things like letting kids get up, walk around, talk during class; we need to have patience with that because sitting in one place with a mask on after a year in some cases of remote learning is just too constricting for some kids.
KLB: I had everyone take out their phones at the beginning of the year so we could make a playlist. I said, "We're just going to dump our favorite songs onto this playlist." That alone, finding out what they all love, gave them a burst of excitement and energy. If someone didn't like a certain style of music, I'd say, "Well, what's one good thing you can say about it?" It's a lot of relationship building before we even get to opening our mouths and singing a note.
So many of these innovations out of necessity have reshaped our perspective as educators. What innovations do you think will carry on after COVID is behind us?
KLB: The use of technology. It was so frowned upon before. From a choral standpoint, there was such a focus on learning to read notes, perform, do everything live. I had no focus on GarageBand or electronic music. Now we're doing some electronic recordings on Flipgrid, podcasts, incorporating technology into music fundamentals. All the tech gems that we had to learn when we were remote, I'm keeping as tools for sure.
AC: With my Berklee students, we're working on making slides that don't look like a third grader made them [laughs]. During the pandemic, slide presentations made everything engaging for the entire class. Now I have all our teachers use them. I prepare slide presentations for every class. It just ups the engagement factor so much.
Teaching can be so isolating these days. How do you connect to teachers that you trust and find community?
KLB: Boston Conservatory at Berklee was so inspiring; my classmates and I still talk. That's the community for me right now. We're bouncing ideas off each other even though we're in different parts of the world. I also stay in communication with the executive director of arts at Boston Public Schools and other colleagues within the BPS Arts department through our various professional development events to find out what others are doing and how to incorporate new ideas.
AC: Teaching through COVID, remote learning, just general busyness, it can be super isolating. We have to encourage educators to make time to go to professional development opportunities, reach out to teacher friends, etc. I also lurk in the background of like 12 different teacher groups on Facebook and Instagram to informally collect data, see what music teachers are talking about. The nonprofit I work for connects with schools all over the country, so there's a lot of teachers to bounce ideas off of. It's important to remember, there are great communities of thought leaders – other teachers you relate to, institutions you trust, people with experience in other related fields – all of that for me is valuable to collect ideas and feel validated, because none of us can do it alone, kids or those that teach them.
Irene Idicheria is a conductor and managing director at Boston Children's Chorus, which includes nine choirs with singers from 110 zip codes around the Greater Boston area.
Adam Calus is executive director for Education Through Music, which partners with under-resourced schools to provide music as a core subject for students in those communities. He teaches at Berklee College of Music and is a former high school music teacher.
Koriana Lewis Bradford is a music teacher at Boston Latin School and experienced music educator, vocalist, songwriter, coach, and choir director. She is a graduate of Berklee College of Music with a bachelor of music in education and business management.