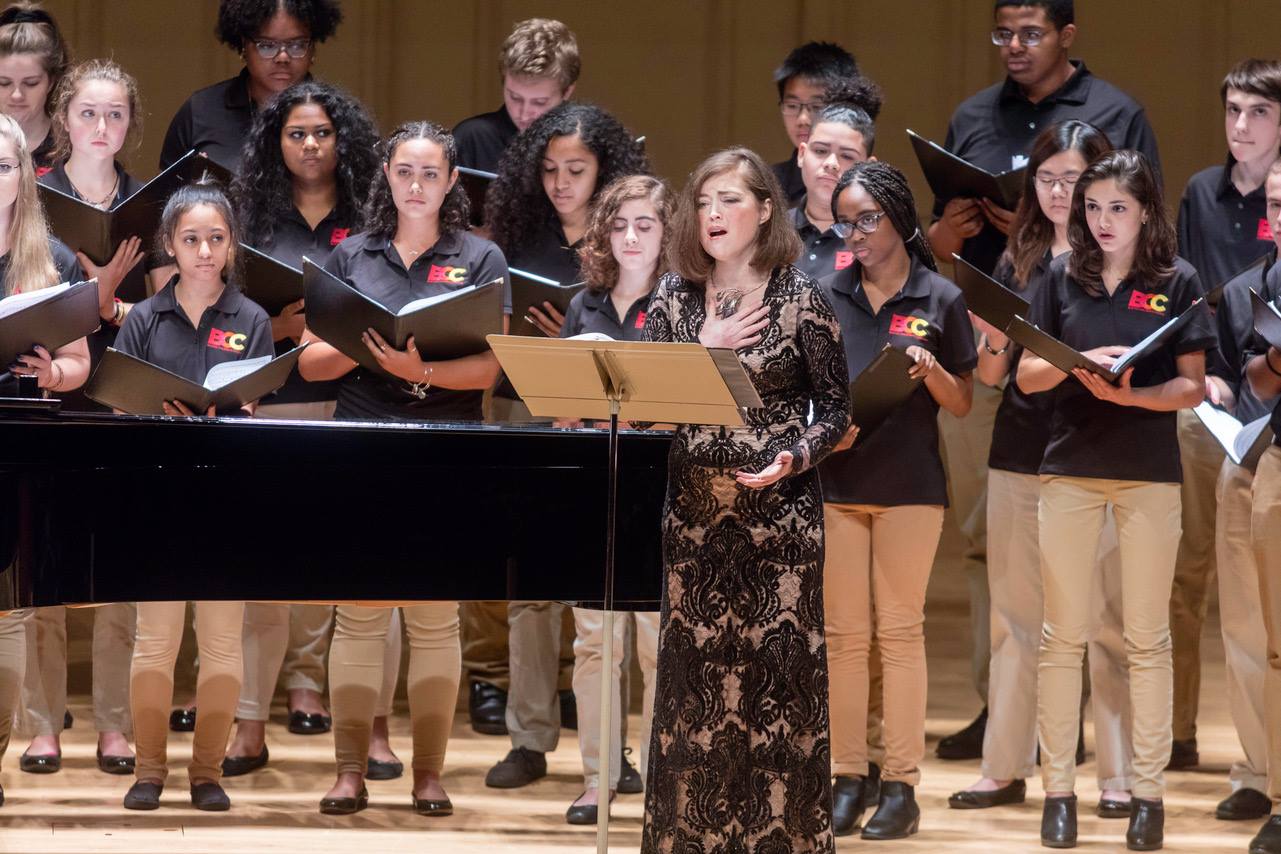 On Sunday, October 15, the Terezín Music Foundation presented "Do Not Forget Me," a multi-media concert gala and tribute to artistic creativity and survival in the Terezín concentration camp. Boston Children's Chorus had the honor of collaborating with survivors Michael Gruenbaum and Ela Weissberger to sing the finale from "Brundibár," a children's opera with a powerful secret message of resistance performed seventy-three years ago in Terezín.
Founded 25 years ago, the Terezín Music Foundation gives voice to the silenced artists of Terezín by performing their music, commissioning new works in their honor, and producing recordings, publications, and Holocaust education programs in the U.S. and Europe. BCC most recently premiered four commissions for the Foundation during our Liberation Tour to Prague and Berlin in June 2015.
Having participated in the tour, singer Eran Zelixon noted, "Hearing the stories at the concert was so powerful. Having visited Terezín two years ago, being able to draw on that experience added an emotional core to the music. We immersed ourselves in the history such that it was made viscerally real."
Singer Maya Fray-Witzer added, "I appreciated our engagement with the subject matter. I think that it is incredibly important to keep history alive. Remembering the terrible events of the past and telling these stories is crucial to engage hearts and minds, and to keep history from repeating itself. I think of the poem called 'First they came...' and the pattern of hate that leads to oppression. We need to address hate and find ways to unite our society."
"It's powerful to know that our music can help build bridges, unite, and open people to new perspectives," Eran ended.
In the Boston Globe
The children's opera "Brundibár" ends on a triumphant note. But when Brookline resident Michael Gruenbaum, 87, performed the jubilant lyrics for the first time in 1943, he was a prisoner at Terezín, or Theresienstadt, a Jewish ghetto and concentration camp about 30 miles outside Prague. READ MORE
In the Huffington Post
Khizr Khan received the 2017 Terezín Legacy Award at Boston's Symphony Hall on Oct. 15 during "Do Not Forget Me," a musical tribute to composers Gideon Klein, Pavel Haas, Viktor Ullmann, Hans Krása and Ilse Weber. The five, who perished in the Holocaust, were among the artistic community imprisoned at the Terezín concentration camp outside of Prague. READ MORE
In the Boston Musical Intelligencer
The theme for Sunday's Terezin Music Foundation Gala Symphony Hall concert, "Do not forget me," came from a letter written by Gideon Klein to his family after he was interned in the "model" concentration camp of Theresienstadt, or Terezin in Czechoslovakia. READ MORE
Remembering the Liberation Tour
From June 25 to July 5, 2015, 69 BCC singers between ages 13 and 18 traveled to Prague, Czech Republic and Berlin, Germany on a trip with the theme of Liberation.
In times of struggle, art can serve as a space for meditation and reflection, and a reminder of humanity's fundamental impulse toward the creation of beauty. During the tour to the Czech Republic and Germany, members of Premier Choir and Young Men's Ensemble performed a range of music written in response to conflict and strife. Our colleagues at the Terezín Music Foundation provided insight into and expertise on the music of the Holocaust, and supported the design of a memorable and educational tour experience for our singers.
To remember the tour, BCC created a photobook and collaborated with Boston University filmmaker Mary Jane Doherty on a tour film.
The Tour film by Mary Jane Doherty
"This tour was a truly amazing experience, providing us the opportunity to learn about the importance of exchange between cultures as a step in the development of a universally just and understanding world."