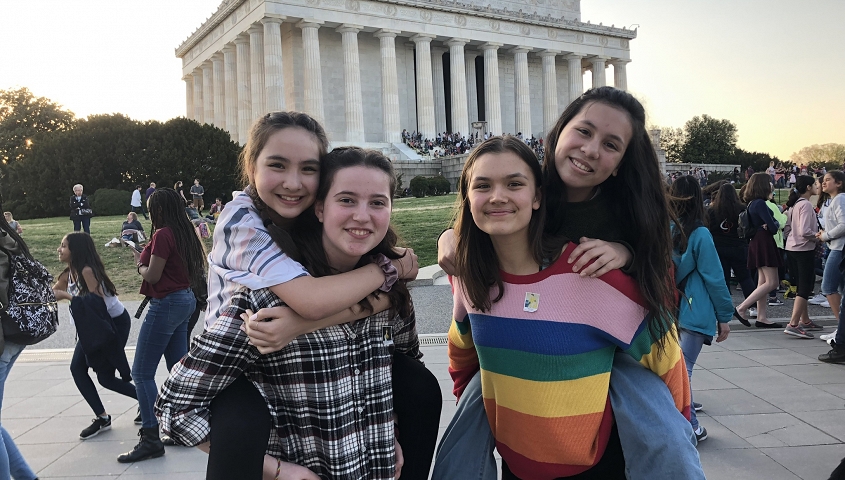 Left to Right: Jillian Ryan, Sarina Miller, Becca Lapham, and Magdalena Dolorico-Francoeur in Washington D.C for the Three Trebles Festival
Becca Lapham is a singer in Concert Choir. She joined BCC mid-season last year as a member of Central Intermediate Advanced Choir.
Why did you join BCC?
Well, I had a couple of friends who had been in BCC for a while and finally went to a concert- last year's 16th Annual MLK Jr. Tribute Concert. And even at the very start of the concert, where everyone in the whole audience talks to each other and introduce themselves, I knew I was in for something special. By the end, I was completely in love with not only the performance, but the community and mission of BCC, and the way it brought people together, even just in that one night. And so, a few days later, I auditioned because I knew I wanted to be a part of that.
Why is BCC special to you? What does BCC mean to you?
One of the most special things about BCC, and what sets it apart from other choruses, is the community that is really just as important for me as the singing. It's a chorus, but it's also a family, and one that tries to spread that same feeling of love and acceptance so many others through its concerts and outreach, and themes of social justice. And it's also been a place where I and so many others have found to be our happy place, that lifts us up and supports us when we need it most.
What has been your most memorable moment at BCC thus far? What is your favorite part about being in BCC?
This may seem a bit odd, but one of my most memorable moments with BCC was a few days before I actually joined, during the MLK concert. At the very end, first, those on the stage started singing We Shall Overcome, then the kids in the balcony, and eventually, the entire audience at Symphony Hall was singing together, and not only was it just such a beautiful sound. But the fact that so many strangers were just singing together in harmony so beautifully was something incredibly special that I had never experienced before in my life, and it brought me to tears. And I'd say that's my favorite part about being in BCC, being able to touch so many people in that way through music.
What is your favorite piece that you have sung with BCC thus far?
I've loved so many songs that I've sung with BCC, but it would have to be the "Everyday Wonders: The Girl from Aleppo" by Cecilia McDowall from Lift Every Voice: Her Song last year because it was such a moving piece, and the staging was incredible, as well as the music and arrangement. Combined all of these things helped tell the story of so many people so beautifully and powerfully, and I'm so grateful that I was a part of it.
What has been your favorite concert/performance at BCC thus far?
That's a hard one to choose because each of the concerts I've been in has been special to me for one reason or another, but I'd say my favorite performance was the Three Trebles Festival in Washington D.C last year with CIA. We got to meet so many other chorus kids, and sing a collection of great songs together. We performed together after only having known each other for a couple of days. Still, it was such a great performance, and getting to travel to and perform in D.C was such an amazing experience that I will never forget.
Have you been participating in BCC Online? What is a moment you remember from your lessons?
I have! I've been doing the mini-lessons, and I think it's so great and important that we can continue learning throughout this crazy time. One favorite moment during the lessons is when someone answers something or sings a melody right, seeing all of the little zoom rectangles silently cheering that person on, and still supporting them even from their respective homes.
Have you stayed connected with your BCC friends during this time of quarantine?
Of course!! I've stayed connected through texting, calling, FaceTiming, and social media with a lot of BCC friends, although there's nothing quite like rehearsal, and I do miss it a lot!
What does it feel like to see yourself in the Virtual Choir? How does it feel to know that those videos have reached so many people worldwide? Why do you think it is important to sing those messages?
It's so special and pretty incredible to see myself in the virtual choir. It's very different but no less exciting than performing in person, and a whole different but still familiar feeling of connection- to other singers (from around the world- which is amazing!) and to the audience, even though we can't see them. It's truly incredible how many people have seen the videos, and I think it's important to spread those messages of unity and perseverance, and this time when many people are feeling lonely, disconnected, and hopeless. To me, it is especially important to sing them, not just because it sounds good, but because music really does have a way of bringing people together, which is something that is much needed right now.
Any last thoughts?
Well, I'd like just to say that I'm so grateful that BCC has continued to do what it does, even in this time of the pandemic, because singing is something, we can all do, also when we're alone in our homes. It's amazing how many lives it can change and people it can touch, and bring together, and I'm endlessly grateful that BCC has given me the opportunity to do that, and to make a change.