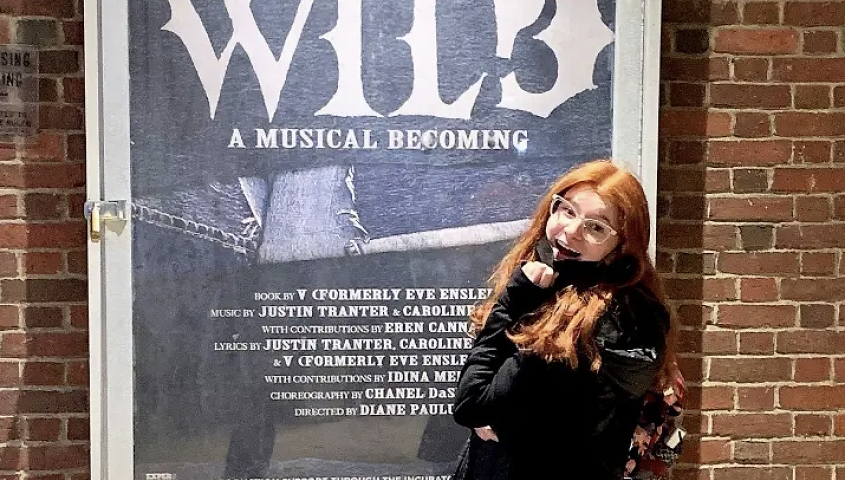 PEABODY, MA —Mara Stein is used to singing in front of huge crowds in massive stadiums having performed the national anthem at a New England Revolution contest at Gillette Stadium and a Washington Nationals game at Nationals Park.
This month, the Peabody teen is getting the chance to sing alongside one of Broadway's most celebrated stars as she shares the stage with Tony-winning performer Idina Menzel.
The 15-year-old Essex Tech sophomore is a member of the Boston Children's Chorus that is part of Menzel's "WILD: A Musical Becoming" at Harvard University's American Repertory Theater. For one week earlier this month, and a second run Dec. 26 through Jan. 2, Stein will make the trip from the North Shore to Cambridge for an experience she told Patch is personally exciting and educationally significant as she looks to pursue a career in the arts.
"When I found out I would be performing with Idina Menzel and other Broadway performers I was thrilled and couldn't wait to start rehearsals," she told Patch. "Even though I knew I would be performing with Idina Menzel, I was also curious and interested in learning who else was in the cast and what I might be able to learn from them."
Stein began singing when she was 5 years old, and by the time she was 7 she was performing in shows throughout the North Shore. She said she has been in more than 40 productions over the past eight years and has sung the national anthem in front of crowds of more than 30,000.
She has been with the Boston Children's Chorus for 3 1/2 years.
"I am extremely grateful for Boston Children's Chorus and the A.R.T. to have given me this opportunity to be able to perform and learn from such talented actors and actresses," she said.
Stein said she attended Essex Tech so she could study carpentry and learn how to build theatrical stage sets. She said she hopes to attend New York University and study musical theater, while minoring in set design, before a professional career in music.
While the chance to sing in the production alongside Menzel — who starred in "Rent" and "Enchanted" and won an Academy Award for Best Song for "Let It Go" from the movie "Frozen" —is an incredible one, it has made for a busy few weeks for Stein, who has been making the daily trek from a full school day to a night of rehearsals and performances.
Stein, however, said it's all part of being a young singer seeking out opportunities to develop and showcase her skills with the help of her parents taking her from school to one show after another.
"I have been able to balance my school work very well between the show and school," she said. "I'm used to this process because I already know what it's like being in a show and trying to balance my school work at the same time.
"I am most grateful for my parents who have given me these amazing opportunities and have driven me everywhere on time."
Stein's first run with the show goes through Sunday before she returns to the stage on Dec. 26 for another week.
Tickets for the show, which is centered around the theme of climate justice, can be purchased here.
(Scott Souza is a Patch field editor covering Beverly, Danvers, Marblehead, Peabody, Salem and Swampscott. He can be reached at Scott.Souza@Patch.com. Twitter: @Scott_Souza.)