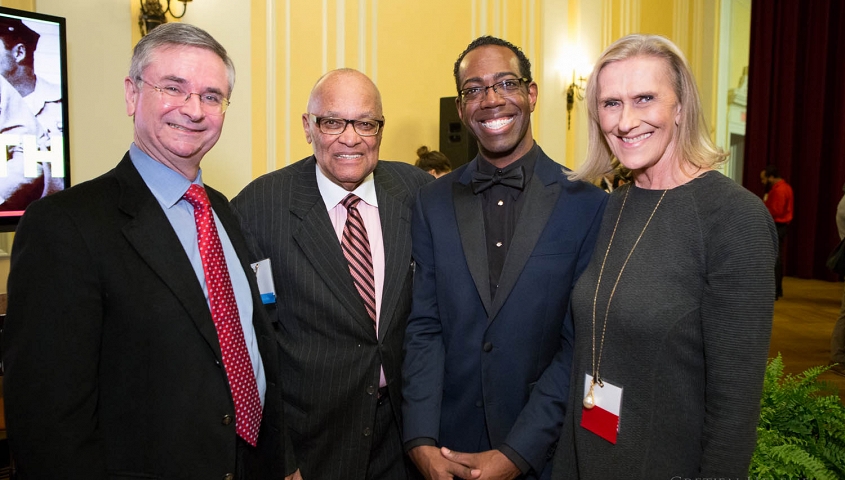 Tim Ferguson, Hubie Jones, Dr. Anthony Trecek-King, and Mary Jo Meisner / Photo: Gretjen Helene
The end of this season marks the end of Tim Ferguson's tenure as Chairman of the Board of Directors at Boston Children's Chorus. During Tim's 11 years as a board member, including six as Chairman, BCC grew from 316 to 451 young artists, was awarded the 2013 National Arts and Humanities Youth Program Award, performed at the nationally televised Boston Marathon Memorial Service, and moved to a new space at 20 Old Colony Avenue in South Boston -- just to name a few highlights. Tim also watched his youngest daughter, Mia, graduate from Boston Children's Chorus in 2011 after starting as one of the original singers in the 2003 pilot program that is now BCC.
Our community of singers, families, staff, board members, and donors recognize and thank Tim for his generous service, strong commitment to social justice and equity, dedication to developing the next generation of leaders, and strategic stewardship of BCC. We are very fortunate to have Tim serving on the Board of Directors in his new role as Chairman Emeritus for the upcoming season, and grateful to have Tim and his wife Corinne as a part of our alumni parent community.
Thank you, Tim, for all that you have accomplished and helped Boston Children's Chorus accomplish. We look forward to your ongoing involvement at BCC.