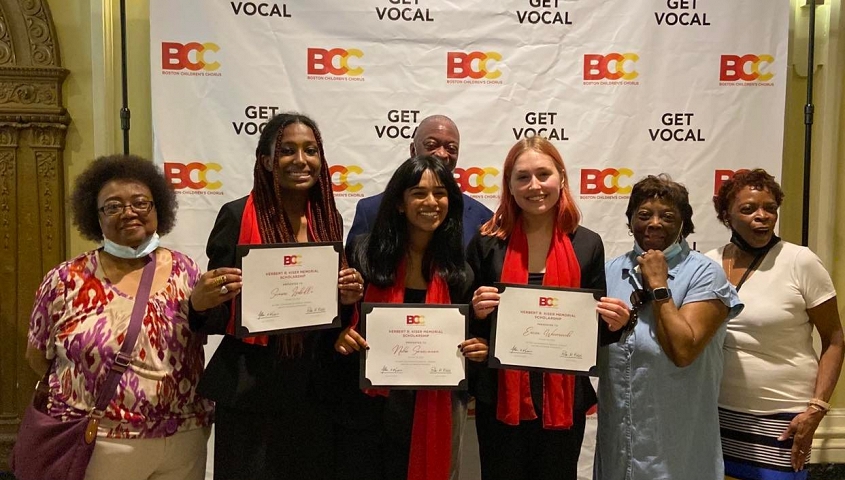 BCC congratulates the 2022 winners of the 11th Annual Herbert Randolph Kiser Memorial Scholarship, Neha Saravanan, Erica Weinreich, and Simone Isabelle!
The Herbert Randolph Kiser Memorial Scholarship was established to help young people realize their full potential. Herbert Randolph "Randy" Kiser was born in Waltham, Massachusetts in 1956. Randy received the majority of his formal education in the Boston Public Schools and last attended Boston English. In May 1974, Randy was returning home from work when he was approached by two young men on Gallivan Boulevard near Neponset Circle in Dorchester. Randy's life was taken as a result of a racially motivated attack.
The scholarship was established for the singular purpose of helping a young person realize their full potential since Randy is unable to realize his. Recipient(s) are graduating Boston Children's Chorus seniors who are bound for college, who are civically engaged, and who have demonstrated a commitment to diversity and the well-being of humanity.
This year, three Herbert Randolph Kiser Memorial Scholarships were given:
Neha Saravanan received $10,000
Erica Weinreich received $5,000
Simone Isabelle received $5,000
Neha Saravanan
Prompt: This year, how have you contributed to equity, demonstrated empathy, and a commitment to justice in your community?
The Most Important
In a college interview earlier this year, I was asked: 'what do you think is the most important aspect of equity work?' I recall a panic rising in my chest, fingers beginning to wobble, my tongue going slack. I stared at myself in the Zoom window for an excruciatingly long minute. And in the most even voice I could muster, I replied with the only answer that I truly believed: there isn't one, every aspect of equity work is not only important, but necessary. Only after the interview could I recognize the very astuteness of my answer.
Sometimes winning one battle is not enough, and the most difficult part is maintaining momentum and continuing to build consensus in a community. Last year, Acton-BoxboroughStudents for Equity and Justice (ABSEJ), a group that I founded and co-lead, proposed to retire AB's mascot symbolizing a history plagued with genocide and colonialism. Despite the lawsuit, yard signs, and protests countering our proposal, the school committee voted in our favor, and we admittedly rejoiced. But this victory reflected something short-lived, as the district would reckon with more troubling racialized episodes. The mascot removal came to represent the treatment of a symptom rather than a cause, and in recognizing this, ABSEJ has embarked on initiatives this year confronting Acton's underlying issues. Over the past months we've implemented a schoolwide speaker-webinar to elevate underrepresented voices, worked with department heads to amend curricula, and proposed initiatives addressing mental health disparities. We are currently working with administration on our School Resource Officerproject, evaluating the role of police in schools. Still, despite this work, incidents of hate occur. There's no immediate solution to a divided community, only a place to start growing. The mascot removal represented our school's willingness to promote diversity, equity, and inclusion; although merely a symbol, it garnered the attention necessary to spark real change.
Recognizing the importance of awareness in advocacy work, I've spent the past weeks planning 'AB Together', ABSEJ's Community Gala. Offering our platform to AB's BlackStudent Union, Dear Asian Youth Group, Latinx Affinity Club, and Accessibility Alliance has been immensely gratifying. As I work with musicians, coordinate to obtain equipment, and reach out to venues, I am reminded that even the tedious moments of advocacy work carry great importance. The event RSVP list now boasts 250 guests, including Congresswoman Lori Trahan, State Representatives Tami Gouveia and Dan Sena, and Senator Jamie Eldridge. On May 15th, we will celebrate student voices while indulging in activities, music, and refreshments.
The ABSEJ event highlights how the arts and humanities are integral to activism, though as a STEM inclined student, it's the importance of advocacy to the sciences that has always interested me. This past winter, I interned at the Broad Institute of MIT and Harvard, working with a lab specializing in genomics. While investigating genotypic associations, I discovered that almost all samples in major global-biobanks derive from a white patient population. Unable to dissect the genetic data of people of color, researchers lose the application of their findings to a global population. My research empowered me to participate in initiatives promoting genetic testing in more diverse communities. While generating figures for our publication, I've engaged in projects like the NIH's All of Us program, promoting genetic testing to create an inclusive biobank. I spoke with the Boston Globe to discuss youth in health equity and the importance of accessible healthcare. By directing attention towards the inequities caused by homogenous data, we push individuals to provide their data to health professionals. Mindful data collection, teaching health equity, and studying subjects interdisciplinarily are all necessary for change.
Ensuring equity within my research while contributing academically mirrors my participation in BCC—as one of the presidents of Premier Choir, I've had the privilege of leading a group of brave young people rallying for change while contributing as a musician. This year, my peers and I tackled the definition of community in a time of turbulence; while engaging in necessary dialogues, I've learned ceaselessly from the experiences and actions of my fellow musicians. Last year, I co-founded BCC's Group for Equity in Music; working with conductors, we implemented a Music Mentorship Program to promote musical education equity, which has allowed dozens of students to improve their music theory. Over the past summer, we worked on recruitment from underrepresented environments to offer BCC's resources to students in and around Greater Boston. All the while, we have sung.
To sing is to love. Though to sing with a consciousness of your peers' opinions, ideas, and passions is different; it is, in itself, a certain activism. To me, choir represents the very mechanisms that cause the power of the whole to rely completely on the power of the individual. As a child of immigrants, an Asian American, a Hindu, I have understood the necessity for advocacy from the day it became comprehensible. Working for equity has never been a mere option—more of a birthright. When asked about the most important aspect of equity work, I replied that there wasn't one, and from the renting of a porta-potty for an event uplifting young voices to the fight for health equity in data collection, from the quarter notes bleeding off pages of sheet music to the removal of a harmful mascot, I am reassured in the integrity of my answer. All equity work is important; advocacy ranges from conversation to action. I continue to grow in my activism just as I continue to grow as a student, musician, scientist, and daughter. While doing so, I recognize value in the seemingly small actions. Every voice in a choir holds power, and every choir's power comes from the individual voices that encompass it

Erica Weinreich
Prompt: This year, how have you contributed to equity, demonstrated empathy, and a commitment to justice in your community?
Conversations for Change
"IT IS NICE TO MEET YOU LUKAS!" My friend spoke with an uncharacteristically loud, high-pitched, cooing voice as I introduced her to my younger brother. Lukas immediately looked to me for guidance and responded with a surprised, "nice to meet you too." I realized as she spoke in that tone that she had thrown her understanding of disabilities into a basket and made the assumption that Lukas had comprehension issues. When new friends become aware that my brother has intellectual disabilities, their default reaction is to speak to him in an exaggerated manner, over-mouthing each word. Although Lukas has disabilities, he is certainly not hard of hearing and is particularly intuitive about communication. I gently took the opportunity to tell my friend about Lukas's situation. I explained that reverting to this modified form of speech can be hurtful and offensive, as it reinforces the idea that disabled people are less capable.
I am committed to creating a diverse and inclusive environment in all of the communities I belong to, and my brother is the source of my inspiration. My role as a primary member of Lukas's support system has broadened my perspective and helped me learn to be more empathetic and compassionate towards others. Watching someone so special to me experience being marginalized and minimized has motivated my passion to promote equality in all areas of my life.
My social justice advocacy takes the form of educating people in my community. For example, recently, elevators in our school were not in service and there seemed to be a lack of urgency about getting them back up and running. I participated in a sit-in with a group of students to protest. Accessibility is a community issue, as each student deserves to have the same access to resources and feel a sense of respect and inclusion. My school's slow response to fixing the non-functioning elevator sent a clear message to students, which was just one example of how our school frequently ignores the needs of students with additional challenges. I shared my frustration with the sit-in group about this situation, which sparked a dialogue in which a number of students shared their experiences with disabilities. Some students had hearing loss or blindness, others were neurodivergent or had physical disabilities, while others were siblings or children of people with disabilities. In the end, after sharing our voices regarding this inequality, my school installed a temporary stairlift that remedied the issue.
I am proud of my ability to spark difficult conversations, and it is something that I take with me every day. At school, I co-lead "SHARP Warriors", which is a coalition of students committed to fighting against sexual violence. At SHARP, I helped create a school-wide day that focused on dialogue about rape culture and its intersectionality with racism, homophobia, classism, and other issues. Throughout the day, I facilitated group discussions with teachers and students, which was an inspiring experience that impacted the school community. SHARP motivated me to continue creating spaces to acknowledge issues that often go unheard. So, I helped to found "Off-Brand," a feminist zine that gives students a platform to explore gender liberation. Through the zine, we have created a space that empowers minorities to celebrate and amplify their voices. Having this space has allowed me to share my story as a queer woman, while also allowing me to listen and learn from other people's experiences.
I work diligently to make change happen on an individual and community-based level in many different ways. Whether it is bringing up topics I've been following in the news at the dinner table or giving presentations about intersectionality and the patriarchy in a SHARP meeting, having these difficult conversations leads to education and growth. Books are also a powerful medium to jump-start conversations and keep them going at home, in social circles, and in communities. I recently read the book "So You Want To Talk About Race", by Ijeoma Oluo, which upended my understanding of race. Using this book as a tool for reflection and growth, I passed it along to family and friends to encourage uncomfortable discussions about race and brainstorm about how to take concrete steps toward promoting diversity and inclusion in our own communities.
It is true that conversations are just the first step toward broader change in social attitudes and behaviors. Still, on a one-to-one level, I am doing my best to meet people where they are and help them along their journey to create a society that is more justice-oriented and respectful of all types of identities. The more we participate in small, interaction-level conversations and education, the more we can create a ripple effect that spreads outwards. I plan to take full advantage of the resources that I have been privileged to access to pursue my mission of investigating social justice and working towards more open-minded approaches to creating diverse and authentic communities. I am eager to continue learning, educating my peers, creating space for diversity of thought, and searching for new perspectives that fuel innovation.

Simone Isabelle
Prompt: This year, how have you contributed to equity, demonstrated empathy, and a commitment to justice in your community?
Finding A Voice
I am only seventeen, but the change I want to see in the world has always been clear to me. I have always valued advocacy, equity, and inclusion, sharing perspectives or experiences in group discussions and voicing my support of the fight to dismantle systems of inequity. In the past, however, I have struggled to be the individual who initiates and leads these conversations, advocacy efforts, and movements. Despite my passion for social justice, I used to doubt my ability to take leadership in these efforts and initiate deep-rooted change. Over the course of the past year, I have learned to be confident in my voice, and have used the skills I have learned to spark change in the communities I belong to.
I have lived in Newton, Massachusetts my entire life. As a Black child in the predominantly white suburb, I became aware of inequity, intolerance, and systemic oppression at a much younger age than the children around me. Spanning from as early as I can remember to now, the instances of prejudice and ignorance alienated me from my peers, leaving me to feel helpless, isolated, and afraid. Recently, my high school, Newton South, has experienced an increase in instances of hate and discrimination, particularly those of racism, antisemitism, and sexist harassment. These are not one-off incidents; but, rather a reflection of the culture of intolerance and entitlement that has been allowed to fester for decades. As I become more confident in the power of my voice and gain the courage to be more outspoken, I can take more initiative by starting crucial conversations that address the school's deep-rooted issues and make heard the need for change. This school year, I became a facilitator of Newton South's Courageous Conversations on Race (CcoR) initiative, an anti-racism program held for NewtonSouth Sophomores over two days. While preparing to join the CCoR program this year as a student facilitator alongside a group of upperclassmen volunteering to get involved in making South a more safe and equitable environment for all, I had the opportunity to converse with fellow students involved in the program and hear about experiences that both resembled and differed from mine in countless ways. During my time as a member of the CCoR program, I along with my co-facilitators led programs that taught lessons on race in America crucial to working towards equity, both through statistical and historical presentations and the fostering of safe spaces within these sessions, encouraging others to see the world through different eyes through peer conversation. When it came time to present the training to these classrooms, I watched the perspectives of sophomore students shift and change as they listened to each other, influenced by each student's individual experiences, and truly felt the impact of the program. Though there is still work to be done within the school, the CCoR program has truly helped Newton South's predominantly White student body to see the importance of diversity, equity, and inclusion.
The value of connection and conversation when it comes to advocacy and activism is something that I have learned during my time in BCC, a time which has greatly impacted the person I am today. As a younger singer, I remember the admiration I felt when I watched the performances of the Chorus' oldest members who passionately cried out for social change with every word they spoke and every note they sung. BCC has unwaveringly supported its singers with a community that acknowledges, values, and uplifts the voice and identity of every single individual who has entered its presence, which has meant the world to me over my eleven years as a singer. In May of last year, I was elected one of four co-presidents of the Premier Choir, and though I at first felt nervous to be one of the leaders of the group, it has been one of the most rewarding experiences of my life. This year, Premier Choir had many open conversations questioning and discussing the meaning of community in our rapidly changing world. The experiences of this year has taught me how to be a leader that makes sure everyone is heard, and have learned so much from a group of people that I am so fortunate to be surrounded by. I have always known that I want to use my voice to advocate for a better future. I both see and feel the power of the young voices of the Boston Children's Chorus that surround me from in-rehearsal discussions to the tangible spark that comes from the merging of hearts felt as we sing together. Although I still feel the vulnerability in being among the first to take a stand, I no longer feel helpless. I know that my passion for advocacy and my newfound leadership–along with the lessons it has taught me–will give me the strength needed to continue to connect with everyone and bring our collective concerns to the forefront. As I continue to find my place in an ever-changing world, I know that the lessons I have learned about leadership and advocacy, both through my own experiences and through the lessons BCC has taught me about using music, connection, and conversation as tools for advocacy will remain with me for the rest of my life form the connections needed to plant the roots of a brighter future.
Prior Scholarship Recipients
Jillian Baker
Allyssa Almeida
Sabrina Marzouki
Kevin Chan
Nafisa Wara
Jessie Rubin
Ana Mejia
Emmaline Dillon
David Blitzman
Leo Kotomori
Alex Lee-Papstavros
Carrie Shao
Austin Moore
Sophia Bereaud
Hal Cox
Matthew Auguste
Elizabeth Rozmanith
Shantel Teixeira
Branden Garcia
Grace Wagner
Abigail Gauch
About Herbert Randolph Kiser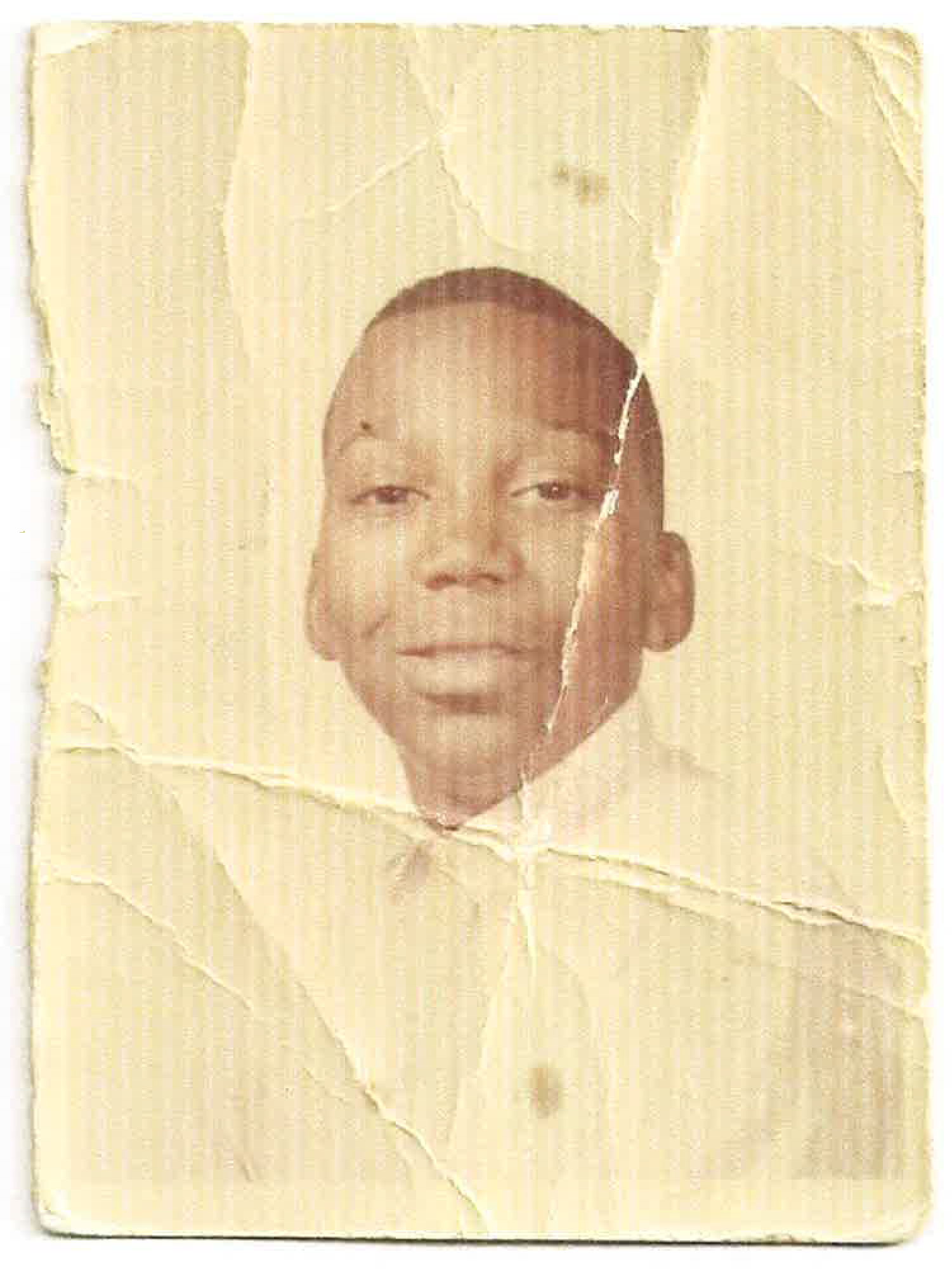 Herbert Randolph Kiser was born in Waltham, Massachusetts in 1956. Herbert, affectionately called Randy by his family and friends, received the majority of his formal education in the Boston Public Schools and last attended Boston English.
On May 15, 1974, Randy was returning home from work when a car occupied by two young men approached him on Gallivan Boulevard in Dorchester. One of the young men exited the vehicle and a brief altercation ensued.
Most, unfortunately, Randy's life was then taken.
The young man shared that it was solely out of racial hatred that he ended Randy's life. Randy was 18 years old at the time.
The Herbert Randolph Kiser Memorial Scholarship was established for the singular purpose of helping a young person to realize their full potential since Randy was unable to realize his.
The annual scholarship was founded in 2006.
Randy was raised in a family that believes fervently in the value of all people. Believing deeply in the mission of the BCC organization, the scholarship chose BCC as its home in 2012.
Since then, 21 graduating seniors have received scholarships, totaling more than $56,000.
Past Scholarship recipients have attended or are currently attending such colleges and universities as The University of Southern California, Norte Dame, Ithaca College, Elon, Clark, UMASS, Harvard, Boston University, and Berklee College of Music.
Randy's family is committed to social justice, fairness, inclusion, diversity in all of its forms, and supporting all efforts in support of peace and reconciliation in society.