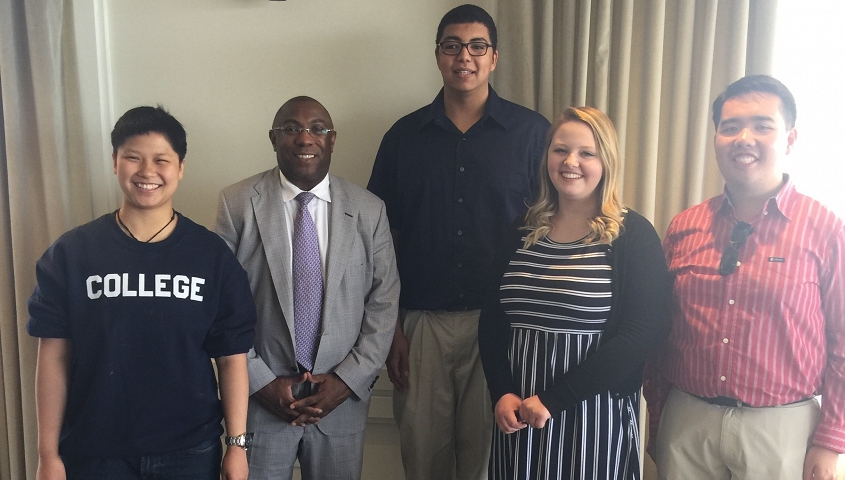 BCC congratulates the 2019 winners of the 8th Annual Herbert Randolph Kiser Memorial Scholarship, Hal Cox, Matthew Auguste, and Elizabeth Rozmanith.
The Herbert Randolph Kiser Memorial Scholarship was established to help young people realize their full potential. Herbert Randolph "Randy" Kiser was born in Waltham, Massachusetts in 1956. Randy received the majority of his formal education in the Boston Public Schools and last attended Boston English. In May 1974, Randy was returning home from work when he was approached by two young men on Gallivan Boulevard near Neponset Circle in Dorchester. Randy's life was taken as a result of a racially motivated attack.
The scholarship was established for the singular purpose of helping a young person realize their full potential since Randy is unable to realize his. Recipient(s) are graduating Boston Children's Chorus seniors who are bound for college, who are civically engaged, and who have demonstrated a commitment to diversity and the well-being of humanity.
This year, three Herbert Randolph Kiser Memorial Scholarships were given:
Hal Cox received $10,000
Matthew Auguste received $5,000
Elizabeth Rozmanith received $5,000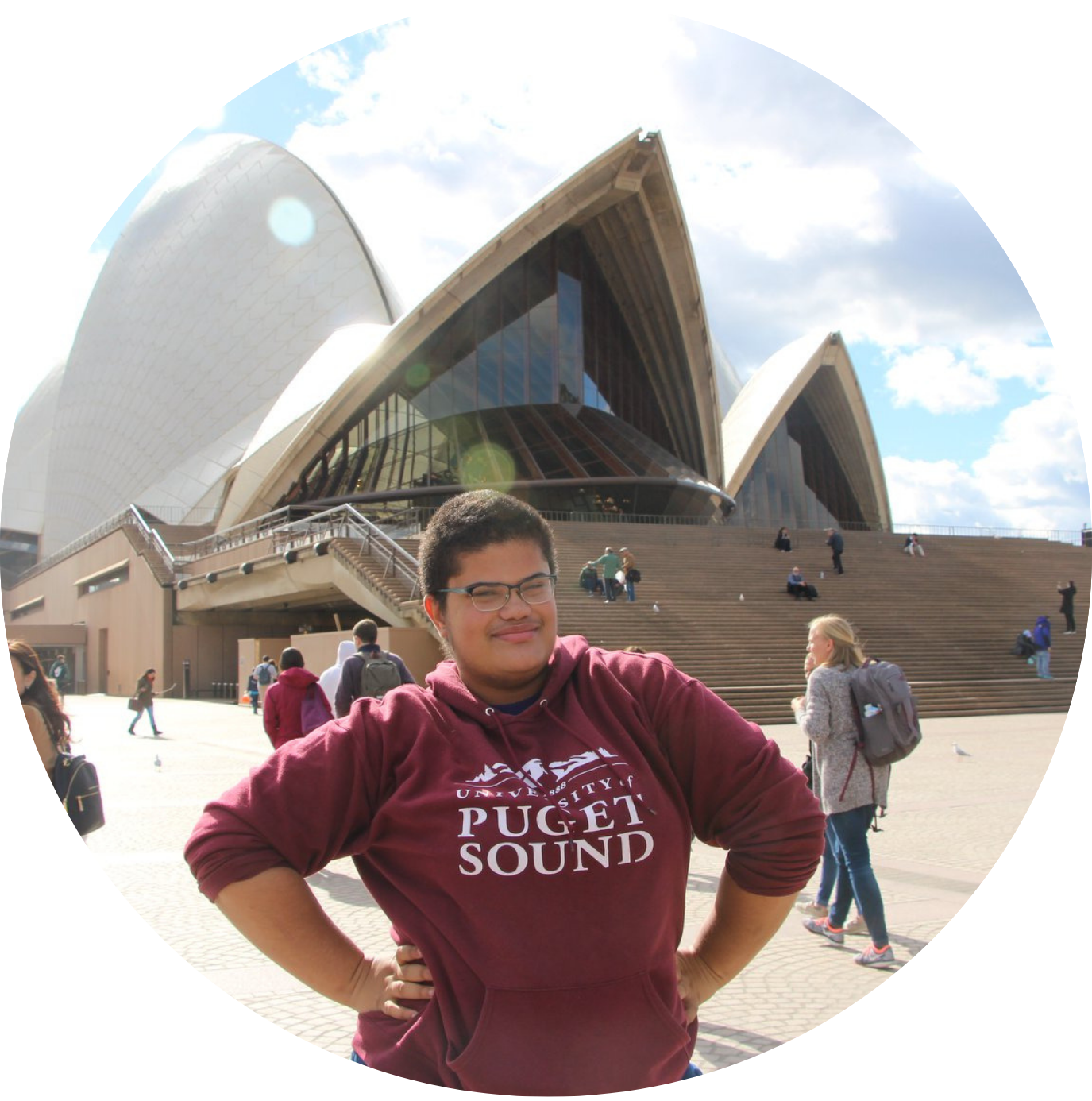 Hal Cox
Imagine America's Future: What does intolerance and discrimination cost America? Compare and contrast the specific benefits, specific losses, and risks that come from an intolerant America versus an America committed to diversity and inclusion. What do you plan to do post BCC to contribute to social justice efforts, inclusion and respecting the diversity of thought?
"America never was America to me
And yet I swear this oath—
America will be!"
On March 16th, the Young Men's Ensemble performed the piece "America Will Be!" The text of the piece was taken the Langston Hughes poem Let America Be America Again, a poem detailing the dreams of people of color and immigrants in America. The hope in the poem is palpable—written in 1935, it still rings uncomfortably true in my ears. We have everything to gain and nothing to lose from devoting ourselves to ending discrimination and intolerance in our country. When a society restricts the opportunities of one group, we lose innumerable victories, the greatest of which is the knowledge that we have created a safer society for everyone. And yet, my brothers and sisters remain subjugated under the heel of institutional and interpersonal discrimination.
People for centuries have been dreaming of what could be and what they can fashion their American dream into. Our country is letting down the millions of people who have emigrated here, who have been brought here, who have been the first of their family born here—their dream is intangible in today's America.
When faced with a problem like this that looks so much like a wall, it's very hard to imagine what life might be like on the other side. There are two real options for youth at this point: tunnel through or hand each other over. I was deeply involved with the "Yes on 3" campaign this past fall, a campaign to maintain protections for transgender people in Massachusetts. This type of activism fell within the boundaries of respectability, and shows there are benefits to working with the structure already in place!
But to truly affect change in our lives, to work for the children not yet born, to create a country they will want to live in and that they can be proud of—we must step outside the beaten path and create our own trail toward justice, equity, and safety. Malcolm X took the struggle for civil rights one step farther by advocating for universal rights. Martin Luther King Jr. described the worst threat to racial justice in America as white moderate liberals. Stonewall was a riot against police violence. Many recent successful activist movements have succeeded because they stepped outside the bounds of what was acceptable. Authorities and larger institutions of discrimination maintain their power and hold on America by stepping on our throats, so it is not enough to simply ask them to stop. We must take direct action against those who hold us down.
As a young black man in America today, there is much of which to be afraid. But I take inspiration from those who have come before. We as a people have come so far; there is still so far to go. I, and my peers will realize Langston Hughes' dream of an America that lives up to what we know it can be.
O, let America be America again—
The land that never has been yet—
And yet must be—the land where every man is free.
-Langston Hughes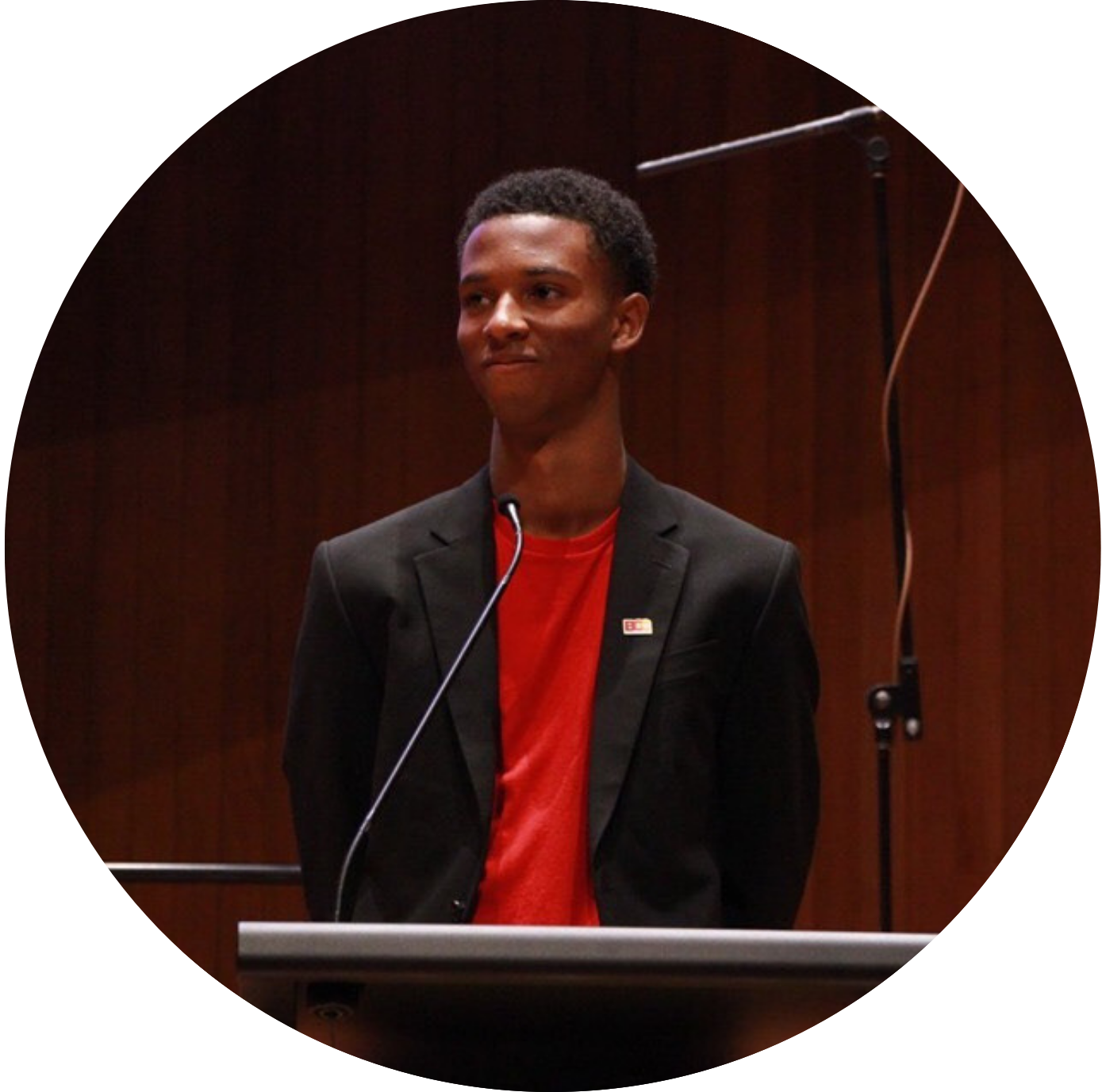 Matthew Auguste
Conflict Resolution: In what specific ways has BCC taught you to solve problems and manage conflict with people whom you don't agree? What life skills have you developed to manage conflict and resolve problems in areas related to social justice and others? What do you plan to do post BCC to contribute to social justice efforts, inclusion, and respect the diversity of thought?
When I was in the ninth grade, I attended a school where the majority of the student body was very affluent with little representation from the minority races. I was grateful for the opportunity to receive such a stellar education, but I always felt uncomfortable in my own skin when I was there. The other kids there were nothing like me and had been raised with a completely different mindset.
This was particularly evident when I had a discussion about systematic oppression with one of my peers. He had never even heard of the term before I had introduced it to him. He didn't believe that such injustice could exist in the world and he chastised me by asking me for specific instances where I felt the effects of systematic oppression in my life in order to discredit my beliefs.
Although I ended up switching to a new school, that experience has stuck with me. I did not lose my calm when faced with senseless ignorance, and I credit that to my time in the Boston Children's Chorus (BCC). I listened to what he had to say and I understood that his ignorance came from the fact that he would never have to live a life like mine. His life experiences were, and would always be, different from mine, so I knew it was my responsibility to have a civil conversation with him in the hopes of understanding each other's perspectives.
At BCC we are trained to appreciate the value of music and the ways through which it can affect positive change in people's lives. For me, the moments of resolution that we reach at the end of our songs have always symbolized the possibility that peace and harmony can eventually be reached in the world, despite different perspectives. It may not be as easy as resolving a chord, but we can get there if we try.
To that end, I will always be grateful to BCC for providing me with an environment where I can openly express my opinions on anything, whether or not the majority of the room may agree with me. Our rehearsals consist of discussions about what's going on in the world and how that affects our individual lives. All members of the chorus are granted the privilege to speak openly, which is something that not many of us are able to find in any of our other communities. We emphasize keeping an open mind in these discussions, and that has taught me how to converse with others outside of BCC who may not share my same political views. Creating an environment like this helps to make us all feel safe to share our opinions and respect the opinions of others.
Above all else, BCC has taught me how to listen. Not just how to listen for my notes in the opening chords of the piano, but also how to listen to others. BCC has introduced me to so many different people that I would have otherwise never met. Most importantly, I have learned how to be conscientious of other people's needs, and how to be more considerate of their situations. Therefore, I have learned to value other people's opinions and perspectives and how to listen to what they have to say in order to reach peaceful solutions in everything that I do.
I hope to embody BCC's mission and become someone who spreads kindness wherever they go. Following my graduation from BCC, I plan to continue being an advocate for change by going into the medical field to work towards restructuring the health care system so that it may provide more equitable and ubiquitous care in the United States and around the world. I plan to take full advantage of all the educational resources with which I have been privileged so that I may be able to actually make a difference in the world. I believe that the conflicts in our world can only be solved if we work towards a common goal of understanding each other and learning how to coexist - two skills I believe I possess as a result of the time that I have spent in BCC.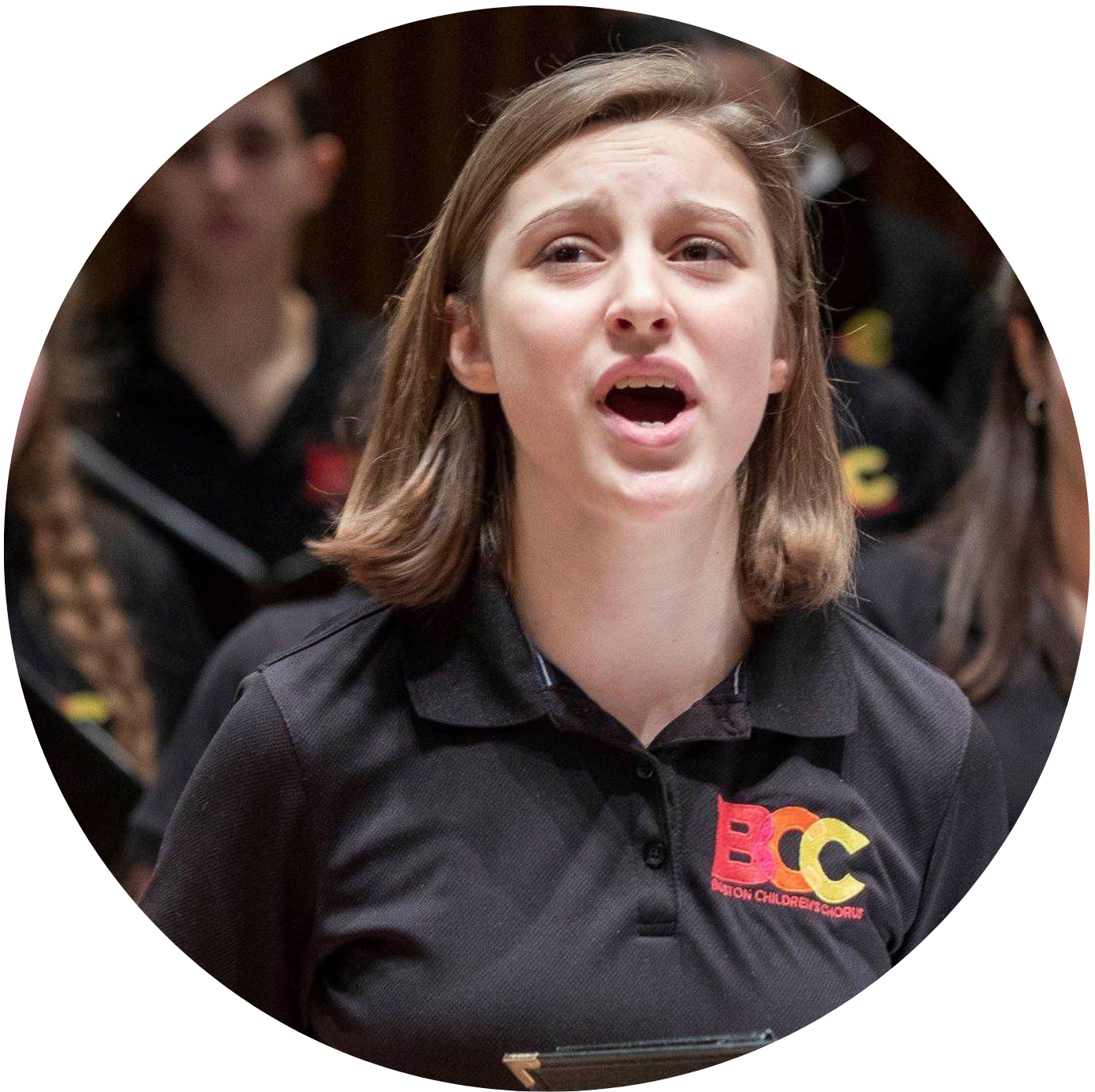 Elizabeth Rozmanith
Conflict Resolution: In what specific ways has BCC taught you to solve problems and manage conflict with people whom you don't agree? What life skills have you developed to manage conflict and resolve problems in areas related to social justice and others? What do you plan to do post BCC to contribute to social justice efforts, inclusion, and respect the diversity of thought?
I take a deep breath and step forward. Then I take a step back. Two steps forward. I look around at the other members of my choir. A few stand in front of me, but many more are behind. "Take a step back if you have been catcalled before." "Take a step forward if you have never had to worry about going hungry." We are at our annual choir retreat, doing an exercise called the Privilege Walk, and the results are somewhat as I expected. While I am not at the front of the room, I clearly have more privileges than some. When we reach our final positions, people share their thoughts. Everyone else in the room is silent as people tell stories about how they have grown up, about the privilege they have had, or a severe lack of it. This experience is one of many from BCC that has inspired my visual art. In forming the Privilege Walk Series, I created five human figures out of wire and built wooden pedestals of varying heights for each of them. The tallest base is 4 feet tall, with the entire sculpture taller than me. The figure has its fist in the air, on top of a base covered in silver metal plating. This one is called "The Power." The shortest is only one foot tall, a figure kneeling with its hands in the air, the base coated in cracked tar paper. The sign next to this sculpture says "Hands Up, Don't Shoot." I have used this sculpture series as an opportunity to open up a dialogue about privilege and protest. Just as BCC has shown me how music can inspire people to talk about and fight for social change, I am trying to do the same thing with my art. Thanks to BCC, I have the skills to explain the ideas behind my artwork, and to talk about privilege and social justice openly.
While my art connects strongly with people from BCC, it is usually more difficult to explain my ideas to students in my high school. At BCC, we will sometimes spend an hour in rehearsal talking about current events. I feel respected and listened to at BCC, and its safe environment provides a space where I can share personal stories. Many times in the past few years, I have thought about the sense of inclusion I find at BCC, and I realized I did not have the same feeling in my high school. Before, my high school did not have any social justice clubs or programs. Determined to change that, I formed a club at my school called SoJust, or the Student Initiative for Social Justice. We meet once a week and talk about social justice issues in the news. So far this year, we have even brought in a guest speaker to talk about educational equity, and coordinated workshops teaching students diversity and inclusion communication skills. We are currently reading a book that focuses on Native American rights, which we will discuss with members of the League of Women Voters in my town at the end of April. I try to bring connections to music and art into the group since my artistic side is what led me to pursue social justice through BCC. Were it not for BCC, I would not have been inspired to create this club, and I would not have formed these connections with both adults and other students at my school.
One day, the group was discussing the appointment of Brett Kavanaugh, and one student made a controversial comment about the Me Too movement. Immediately, everyone else in the group started yelling at him. I was surprised by the comment as well, but I remained calm. Based on my experiences discussing similar issues at BCC, I knew that yelling would only divide the group more. I spoke up and got everyone to hear him out. I didn't agree with what he was saying, but I really tried to understand where he was coming from. The other members of the club realized their mistake and tried to explain their points of view more patiently. By the end of the meeting, some respect had been restored on both sides. The student stated his desire to learn from the group and communicate his opinions better. He also later thanked me for calming everyone down and allowing him to explain his opinion because he was able to still feel welcome in the group as a result. BCC has played a huge role in enabling me to better handle arguments like these. After six years of discussing controversial issues at BCC, I can moderate conversations and make everyone feel welcome to speak, even when they disagree with the majority. It is incredibly important for us to respect the diversity of thought, and I have been fortunate to have the opportunity to lead others in creating a more inclusive environment.
My passion for social justice began in BCC, but will not end as I graduate and move on. I will always have the skills and the hunger for social change that I gained from BCC. In the future, I want to continue to focus on social justice and diversity issues. I am planning on studying both visual art and social policy in college. I want to research social justice issues and use research to inform my artistic practice. By combining art and social change, I believe I can make a real difference in the world.
Prior Scholarship Recipients
Jillian Baker
Allyssa Almeida
Sabrina Marzouki
Kevin Chan
Nafisa Wara
Jessie Rubin
Ana Mejia
Emmaline Dillon
David Blitzman
Leo Kotomori
Alex Lee-Papstavros
Carrie Shao
Austin Moore
Sophia Bereaud
About Herbert Randolph Kiser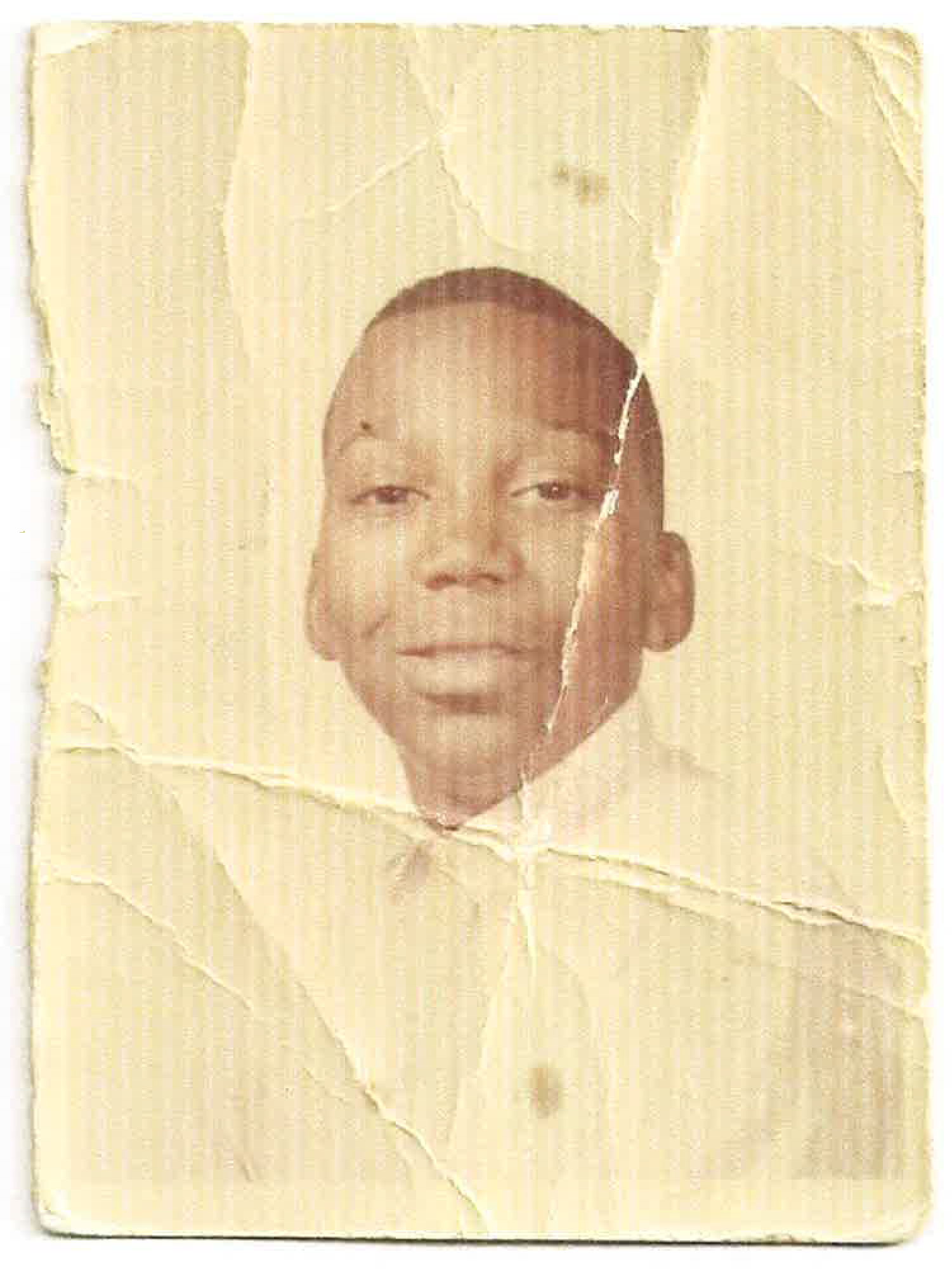 Herbert Randolph Kiser was born in Waltham, Massachusetts in 1956. Herbert, affectionately called Randy by his family and friends, received the majority of his formal education in the Boston Public Schools and last attended Boston English.
On May 15, 1974, Randy was returning home from work when a car occupied by two young men approached him on Gallivan Boulevard in Dorchester. One of the young men exited the vehicle and a brief altercation ensued.
Most, unfortunately, Randy's life was then taken.
The young man shared that it was solely out of racial hatred that he ended Randy's life. Randy was 18 years old at the time.
The Herbert Randolph Kiser Memorial Scholarship was established for the singular purpose of helping a young person to realize their full potential since Randy was unable to realize his.
The annual scholarship was founded in 2006.
Randy was raised in a family that believes fervently in the value of all people. Believing deeply in the mission of the BCC organization, the scholarship chose BCC as its home in 2012.
Since then, 14 graduating seniors have received scholarships, totaling more than $30,000.
Past Scholarship recipients have attended or are currently attending such colleges and universities as The University of Southern California, Norte Dame, Ithaca College, Elon, Clark, UMASS, Harvard, and Boston University.
Randy's family is committed to social justice, fairness, inclusion, diversity in all of its forms, and supporting all efforts in support of peace and reconciliation in society.