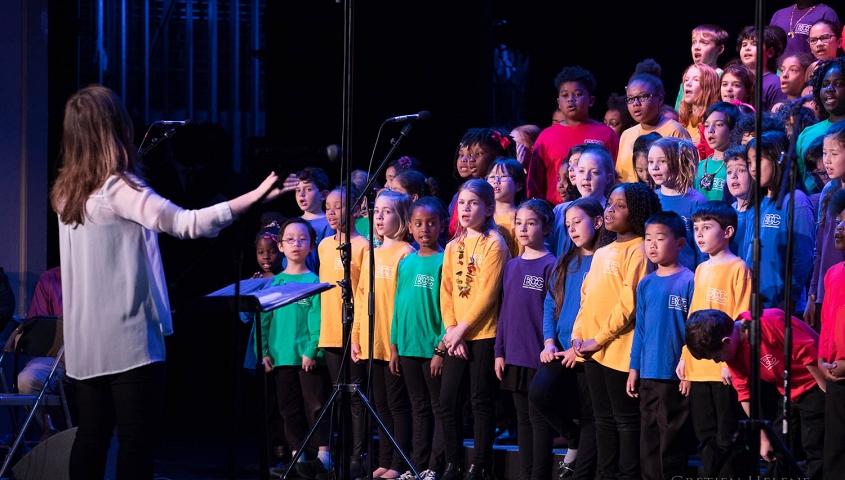 Photo: Gretjen Helene
Over the course of the 2016-2017 season, Boston Children's Chorus piloted a program, "Things I Wish My Conductor Knew," to survey our singers' inner thoughts about how their time at BCC impacts them. BCC is there with our singers on every step of their journey. We know it takes fearlessness to stand in your truth and share your personal story. Whether it's about discussing how you got over, or rising up, BCC continues to be the place where young artists feel welcomed and all opinions count.
Courage as an individual and as part of a collective is at the core of making social harmony a reality. We encourage asking open-ended questions and exploring the power of music and conversation to inspire and provoke thought.
Give today to ensure that BCC can continue to elevate all forms of self-expression!

"Rise up means to me to be a part of something bigger than yourself. It also means to be yourself, be brave, and express your feelings, whether it be through music or through words."
"BCC has taught me not only how to be a better singer, but a better friend, activist, global citizen, and overall person. This organization has meant so much for me and many other aspiring young leaders."
- Luis, age 16
"It's a lot to think about. Ever since I set foot in rehearsal, it feels like I've been in the best place ever. I started feeling the groove of music at the Governor's Tree Lighting at the State House. At each rehearsal and performance, it's been showing me that music can change people. BCC has brought children from all different backgrounds together to "rise up" and believe that they can do anything. Thank you, every adult that has helped in the journey."
"I wish my conductor knew that I want to write my own music."
- Sara, age 10
"Singing in BCC has given me a focus and a purpose in life. It has made me aware and empathetic to situations when people seem upset. I have learned to serve others in my community."
"Music is my life. When we have 'zen mode' before a BCC concert, I feel happy, important, beautiful, lucky, established, empowered, lifted up, and just into it."
- Lena, age 13