Sponsors

Premier Platinum Level

Gold Sponsor Level
Silver Sponsor Level
Bronze Sponsor Level
Media Sponsor

Raw Truth
Even at his most poetic, Dr. Martin Luther King, Jr. never shied away from delivering an honest and at times brutal indictment of racial inequality in America. Telling the stories of racism's ravages during the Civil Rights Movement, King risked his own safety in order to share the raw truth of American injustice with the world. As our nation continues to grapple with the legacy of systemic inequality, BCC will present a raw acoustic performance paying tribute to King's work and reflecting on the challenges we still face as a society. Featuring Grammy award-winning vocal ensemble Roomful of Teeth, which has electrified the world with performances of contemporary compositions that stretch the boundaries of the choral genre, this concert will engage hearts and minds and anticipate a future where difference is valued and justice reigns.
Guest Artist: Roomful of Teeth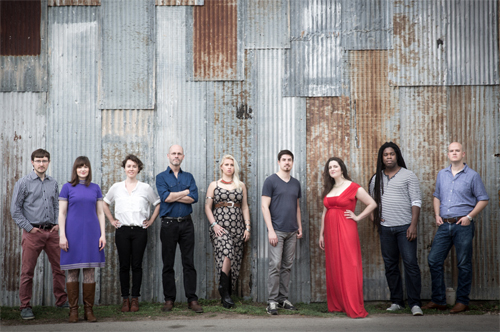 Roomful of Teeth is a GRAMMY-winning vocal project dedicated to mining the expressive potential of the human voice. Through study with masters from singing traditions the world over, the eight-voice ensemble continually expands its vocabulary of singing techniques and, through an ongoing commissioning process, forges a new repertoire without borders.
Founded in 2009 by Brad Wells, the band gathers annually at the Massachusetts Museum of Contemporary Art (MASS MoCA) in North Adams, Massachusetts, where they've studied Tuvan throat singing, yodeling, belting, Inuit throat singing, Korean P'ansori, Georgian singing, Sardinian cantu a tenore, Hindustani music and Persian classical singing with some of the world's top performers and teachers. Commissioned composers include Rinde Eckert, Judd Greenstein, Caleb Burhans, Merrill Garbus (of tUnE-yArDs), William Brittelle, Anna Clyne, Fred Hersh, Wally Gunn, Sarah Kirkland Snider, Missy Mazzoli, Michael Harrison, Sam Amidon and Ted Hearne.
2015-2016 projects include The Colorado, a music driven documentary film that explores water, land and survival in the Colorado River Basin (featuring former Kronos Quartet cellist Jeffrey Zeigler and Wilco's Glenn Kotche); concerts with the Seattle Symphony performing Berio's Sinfonia; collaborations with NOW Ensemble and the American Contemporary Music Ensemble (ACME); appearances at new music festivals in the US, Mexico and Vancouver; and partnerships with over a dozen higher education institutions across the country.
For more information about Roomful of Teeth click here.