5:00 pm
Cocktails and Hors d'oeuvres Pre-Reception
7:00 pm
Dr. Martin Luther King, Jr. Tribute Concert
Just before sunset on April 4, 1968, Dr. Martin Luther King, Jr. spoke with musician Ben Branch in the courtyard of the Lorraine Motel in Memphis, Tennessee. Branch asked Dr. King what to play at a meeting planned later that evening. Dr. King replied, "You should play Take My Hand, Precious Lord. Play it like you never played it before in your life. Play it real pretty." The lyrics "lead me on to the light… lead me home" proved prophetic, as Dr. King was assassinated that night. Five days later, Mahalia Jackson performed this same hymn, one of Dr. King's favorites, at his funeral in Atlanta.
Our 15th annual MLK concert reflects the message that a seemingly small gesture – the taking of one's hand, for example – can lead to enormous change. Small gestures bring us together, unite us, and help us build movements, just as Dr. King's gestures of love, compassion, tolerance, and hope led to a civil rights movement that transformed the world.
Please join our 15th Anniversary Committee and Sponsors at Symphony Hall! We are grateful for our community's support.
15th ANNIVERSARY SEASON COMMITTEE
HONORARY CHAIRS
GOVERNOR DEVAL PATRICK AND MRS. DIANE PATRICK
AND PAMELA AND ROBERT ADAMS
Jonathan C. Abbott, WGBH
Governor Charlie Baker
Julie Burros, Chief of Arts for City of Boston
Gerald and Kate Chertavian
Jack and Eileen Connors
Joan and Colin Diver
Paul English, MLK Boston Memorial
Deborah Goldberg, Massachusetts State Treasurer
Steven and Barbara Grossman
Alan Khazei and Vanessa Kirsch
Colette Phillips
Victoria Reggie Kennedy, Edward M. Kennedy Institute for the United States Senate
Robert and Patricia Rivers
Reverend Liz Walker, MLK Boston Memorial and Roxbury Presbyterian Church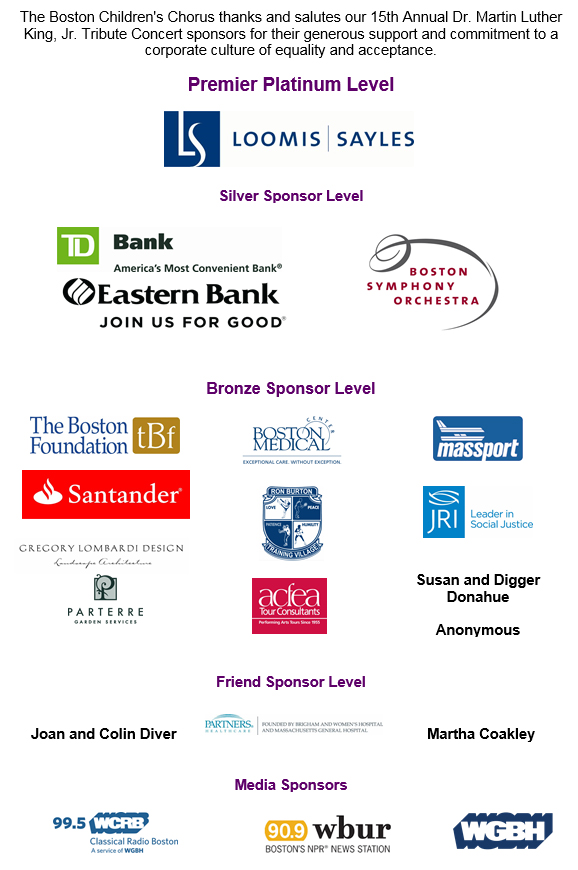 For school and group tickets, please contact Jason Holmes at jholmes@bostonchildrenschorus.org.