WILD: A Musical Becoming
This Event Has Been Cancelled

Due to a breakthrough of COVID-19 in the WILD: A Musical Becoming production team and in line with guidance from Harvard University and our public health advisors, all remaining performances of WILD have been cancelled. If you have any questions, please contact Ticket Services at TicketServices@amrep.org or 617.547.8300 (Tuesday – Sunday, noon – 5PM).
"I want you to act as if the house was on fire. Because it is."
-GRETA THUNBERG

WILD: A Musical Becoming is a new musical fable about a single mother struggling to hold on to her family farm and connect with her teenage daughter, whose determination to save the planet endows her and her friends with powers they never knew they had. Created by Tony and Obie Award-winning playwright V (formerly Eve Ensler; In the Body of the World, The Vagina Monologues), Grammy and Golden Globe-nominated songwriter Justin Tranter (Selena Gomez, Justin Bieber, Ariana Grande, Imagine Dragons), and songwriter Caroline Pennell (Demi Lovato, Selena Gomez) and directed by Diane Paulus, WILD features Tony Award-winning performer and songwriter Idina Menzel (Rent, Wicked, Frozen).
Inspired by the show's theme of caring for the planet, this concert production embraces regenerative practice and invites you to use your imagination to set the scene. Come join the becoming!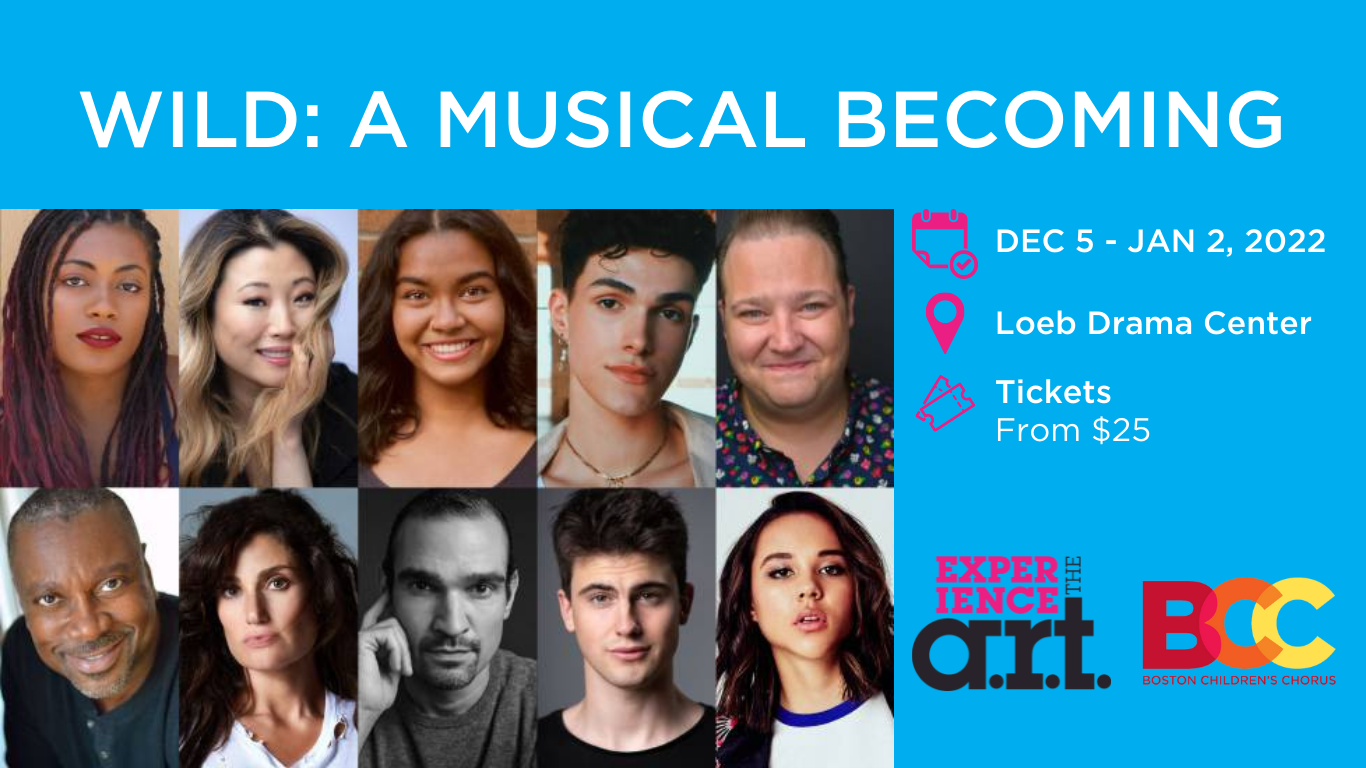 "Boston Children's Chorus is thrilled to be part of the ART's production of WILD for more reasons than I can count!"
BCC Executive Director Andrés Holder.
"The opportunity to showcase the incredible talent of BCC singers alongside one of the premiere Broadway performers of our time is reason enough to be excited. But to be participating in a show that highlights the power of advocacy and the impact of the next generation directly connects to BCC's season-long theme of climate justice. We're proud to partner with ART to draw attention to the voices of young people who are speaking up to combat the climate crisis."
The theme of climate justice is one with particular relevance to Boston Children's Chorus this year. BCC is gearing up for the second season of Opus Nuovo, a project that commissions new work from composers of color revolving around a theme that resonates with BCC's youth singers. This year's theme, "Now Is the Time," features music focusing on the climate emergency. In addition, climate justice is the central theme of all BCC's 2021-22 programming.
Book by V (formerly Eve Ensler)
Music by Justin Tranter & Caroline Pennell with contributions by Eren Cannata
Lyrics by Justin Tranter, Caroline Pennell & V (formerly Eve Ensler)
With contributions by Idina Menzel
Choreography by Chanel DaSilva
Directed by Diane Paulus