2022-2023 Season: We Are

"For each child that's born a morning star rises and sings to the universe who we are."
- Dr. Ysaye M. Barnwell from Lessons (1993)

For two decades, Boston Children's Chorus has represented our city—reflecting and celebrating its diversity and raising voices for social change. In the 200th anniversary of Boston's incorporation as a city, BCC singers celebrate our city's history of civil rights activism and draw attention to the work still ahead of us. While exploring an inequitable past and the generational impact of these injustices on the Boston we live in today, BCC singers celebrate our 20th anniversary by recommitting to our core mission—inspiring inquiry, cultivating empathy, and becoming the future generation of Boston leaders.
Season Overview:
In the 20th Anniversary season, BCC is exploring our past, present, and future impact in the Greater Boston community. There are many exciting performance opportunities for our singers to collaborate with award-winning artists. BCC singers will take the stage again at Boston Symphony Hall, Old South Church, Calderwood Hall at the Isabella Stewart Gardner Museum, the Shalin Liu Performance Center in Rockport, and many more!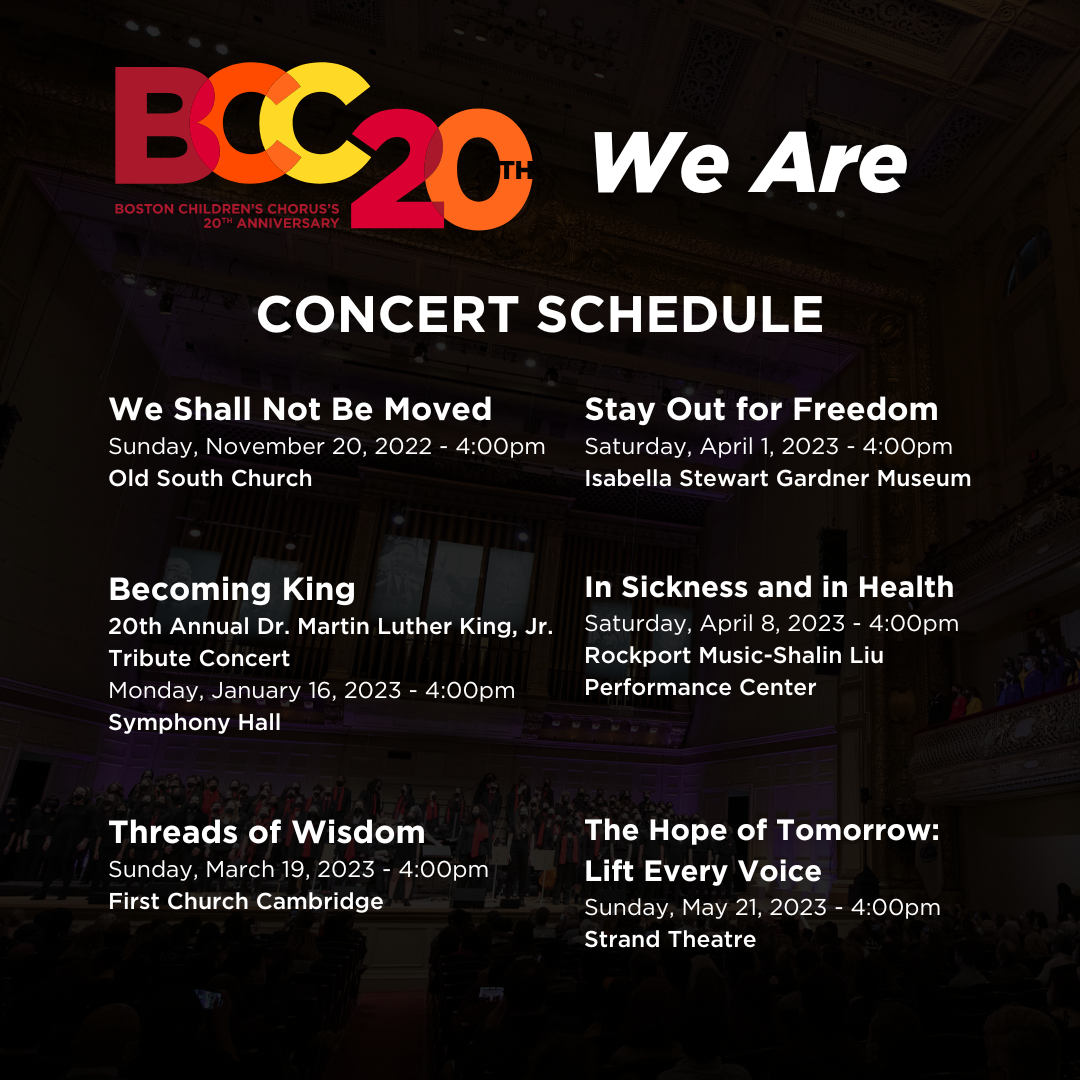 Sing With Us:
Boston Children's Chorus (BCC) invites singers, aged 7-18, to join us in the fall for our 20th anniversary season, We Are! BCC is a creative, affirming, and vibrant community with nearly 300 young artists in 8 choirs. Our programs focus on issues of justice that pertain to advancing recognition, respect, and representation of the many cultures that characterize Boston's landscape.
Placement Session Dates:
In-Person: May 7 & June 11
Zoom: May 25 & June 8
To join BCC this fall (September 2022), sign up for a placement session!