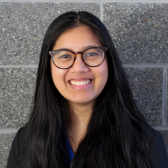 Alexis Lujares
Marketing Associate
.(JavaScript must be enabled to view this email address)
Alexis Lujares first joined Boston Children's Chorus as a singer from 2014-2016. She returned to BCC as a Marketing Intern in 2018 and currently serves as a Marketing Associate. She manages BCC's social media channels, creates the monthly eNewsletter, and handles other fun marketing and communications duties.
Alexis studied Integrated Marketing Communications with a minor in Communication Management & Design at Ithaca College in Ithaca, New York. Don't worry; she still made time to sing in the Campus Chorus Ensemble under Dr. Susan Avery.
In her free time, Alexis enjoys baking, especially chocolate chip cookies. She also loves to read, listen to Disney music, and play along with Elle Magazine's Song Association videos on YouTube!