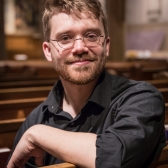 Jacob Hiser
Collaborative Pianist
Jacob Hiser is a versatile pianist and violinist who performs and studies a variety of musical traditions. Born and raised in southern Missouri, he grew up playing bluegrass, blues, and classical music, eventually discovering jazz as a teenager. He attended Missouri State University and graduated with a bachelor's degree in Jazz Studies. In 2014, he moved to Boston to attend New England Conservatory's Contemporary Improvisation program, completing his master's in 2016. While there, he studied with Ran Blake, Bruce Brubaker, Joe Morris, and Frank Carlberg, and performed in ensembles and concerts coached/directed by John Zorn, Jason Moran, Tanya Kalmonovitch, Anthony Coleman, and Simon Carrington.
With jazz groups, country bands, choirs, Korean folk music ensembles, and classical cellists, Jacob has performed all over the United States, as well as Canada, France, Germany, Hungary, Australia, and New Zealand. In summer 2019, he was accepted into the International Workshop in Jazz and Creative Music at Banff Centre for the Arts in Alberta, Canada, where he spent 3 weeks creating music with 45 other improvising musicians from around the world and working closely with faculty Vijay Iyer, Steph Richards, Tyshawn Sorey, Okkyung Lee, and many others. He has contributed music to "Called to Walls", a mural documentary broadcast on PBS.
Currently, Jacob is staff pianist/piano faculty for Phillips Exeter Academy and rehearsal pianist for Boston Children's Chorus. During the summers, he is a faculty member at two fine arts programs: Missouri Fine Arts Academy: a two-week summer residential program for high school student artists in visual arts, theatre, dance, creative writing, and music, and Next Generation Performing Arts Camp: a week-long piano/strings camp in Lawton, Oklahoma for middle school and high school students). He recently left UMass Lowell after teaching there for 7 years. He has released one album, "Seconds", comprised mostly of original jazz compositions for quintet and trio.