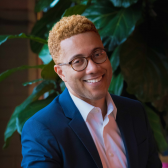 Kenneth Griffith
Music Director
.(JavaScript must be enabled to view this email address)
Kenneth Griffith is the Music Director and Principal Conductor of the Premier Choir at Boston Children's Chorus. In addition to conducting the choir, Kenneth leads the artistic programs and coaches the team of conducting and teaching staff. Bringing a decade of choral music education experience, Kenneth's warm but demanding approach and distinctive ability to connect with young people have created demand from choruses across the region, from the elementary to the collegiate level.
During his time with BCC, Kenneth has led the chorus in major performances at some of the city's most prestigious venues, including Boston's Symphony Hall, the debut of a new musical, WILD, with the American Repertory Theater featuring Idina Menzel, the WGBH Holiday Celebration with operatic tenor Lawrence Brownlee, and civic performances such as a performance for the Earthshot Prize and the investiture of US Attorney Rachael Rollins, and events for the Red Sox and Boston Celtics.
Kenneth has experience with singers ranging from public school elementary through collegiate and professional levels at institutions like Bard College and Wellesley College. Over the years, he has assisted in preparing ensembles heard at the Lincoln Center, Carnegie Hall, American Repertory Theater, and the Verbier Music Festival in Switzerland. A versatile musician, Kenneth collaborated on projects with vocalists including Idina Menzel and Javier Muñoz, movement artists like Chanel DaSilva, and instrumental ensembles such as the Boston-based Eureka Ensemble and Castle of Our Skins.
Kenneth is passionate about music's role in bringing together diverse communities and leading to social change. His dynamic programming and ability to unify singers across differences have resulted in an active career on stage, in schools, and communities around Greater Boston, sharing songs and stories of underrepresented peoples and providing music instruction in neighborhoods underserved in the arts. He is a frequent adjudicator and clinician for state Music Educators Associations in Massachusetts, adding New Hampshire and Rhode Island in 2023.
On the professional stage, Kenneth recently prepared the chorus and ensemble for Anthony Davis' Pulitzer Prize-winning opera X: The Life and Times of Malcolm X, with the Boston Modern Orchestra Project. The recording of this project was GRAMMY-nominated in 2023. In addition to his work with BCC, Kenneth is the Music Director of the Unitarian Universalist Church of Greater Lynn. Kenneth holds a BM in Vocal Performance from Capital University and an MM in Choral Conducting from Bard College.