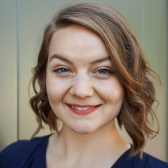 Krystal Morin
Associate Director of Choirs
Krystal Morin (she/her) is a New England-based conductor, singer, and educator who is passionate about leading singing experiences rooted in empowerment, co-creation, culturally responsive pedagogy, community building, and interdisciplinary story telling.
Krystal is Associate Director of Choirs for Boston Children's Chorus where she leads ensembles, mentors teaching assistants and part-time artistic staff, and contributes to artistic and educational programming. Krystal is a singer, artistic leader, and leadership team member for VOICES 21C, a Boston-based artists collective dedicated to exploring divergent choral practices and social justice topics. With VOICES 21C, Krystal develops long-form narrative driven programs, imaginative staging, improvisation based arrangements, and educational and community collaborations. Krystal also works as part of Boston University's Prison Arts Initiative co-teaching collaborative arts courses using the Empowering Song approach alongside André de Quadros in facilities throughout the greater Boston area.
Krystal's background includes diverse music making experiences including ten years as a public high school choir and music teacher, designing and implementing music curriculums in varied settings, providing artistic development and ensemble leadership, multi-modal artistic work in incarceration settings, field leadership, and experience performing as a choral singer and soloist in community and professional ensembles. Krystal holds a Master's in Choral Conducting from the Boston Conservatory at Berklee and a B.S. in Music Education from Plymouth State University.