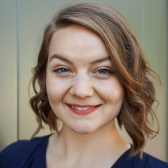 Krystal Morin (she/her) is a New England-based conductor, singer, and educator who is passionate about leading singing experiences rooted in empowerment through co-creation, community building, and interdisciplinary story telling.
Krystal is the music teacher at Boston Green Academy, a conductor with the Boston Children's Chorus, and a private voice instructor. Krystal also works as part of Boston University's Prison Arts Initiative co-teaching collaborative arts courses in facilities throughout the greater Boston area.
Krystal is an active choral singer and soloist, regularly performing with New Hampshire Master Chorale. She also sings and serves on the artistic leadership team for VOICES 21C, a Boston-based artists collective ​who explore improvisational and interdisciplinary modes of music making through co-creating and utilizing an egalitarian consensus model. Additionally, Krystal serves on the leadership team for The Choral Commons.
Previously, Krystal was the founding music director of Second Generation Manchester Choral Society and led choral ensembles and general music courses at ConVal Regional High School in Peterborough, NH. Krystal holds a Master's in Choral Conducting from the Boston Conservatory at Berklee and a B.S. in Music Education from Plymouth State University.