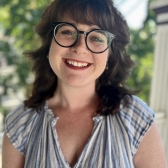 Maggie Storm
Assistant Conductor
Maggie Storm, an energetic choral conductor from Long Island, New York, leads with enthusiasm. This marks her third season with Boston Children's Chorus, and she's thrilled to return to Concert Choir.
Currently, Maggie is pursuing her Master's in Choral Conducting at the New England Conservatory of Music under the baton of Erica Washburn. Alongside her studies, Maggie works as an Acquisitions Assistant at the Blumenthal Family Library, where she handles cataloging, maintaining collections, and writing about new additions. She also is a graduate assistant to Dr. Kati Agocs, Professor of Composition.
During the summer, Maggie contributes to the Charles River Creative Arts Program, teaching guitar, piano, ukulele, and modern band. This past summer Maggie has taken on the role of Camp Director, blending her musical skills with administrative duties.
Maggie's background includes years of public school teaching. She taught middle school chorus at Cameron Middle School, where she founded the Campfire Chorus club. Previously, she taught middle and high school at Trumansburg Central School District.
Maggie holds a BM in Music Education from Ithaca College, studying with Sean Linfors. At Ithaca, Maggie was the Choral Department Assistant, and President of IC's chapter of ACDA, which won the National Outstanding Student Chapter award.