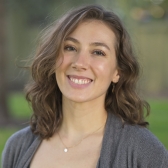 Margot Wegman
Program Coordinator
.(JavaScript must be enabled to view this email address)

617-245-6035
Margot Wegman (she/her) is a classically trained mezzo-soprano who received a Master of Music from New England Conservatory in Vocal Performance, concentration in Vocal Pedagogy and a Bachelor of Music from Ithaca College in Voice Performance and Music Education.

Having a keen curiosity and passion for the different opportunities music provides, Margot has held several titles including performer, educator, and director. During her time at New England Conservatory, Margot had the opportunity to realize and direct a scene, perform in several operatic scenes and operas, and maintain a robust voice studio, which was under the direction of Dr. Ian Howell. She also sings as an Alto Section Leader with United Parish in Brookline, where she loves to be a part of exploring new interpretations of traditional music.
Originally from Pennsylvania, Margot grew up working in her family's small businesses and helping out on the family farm. As a French-American, Margot is bilingual in English and French, and very much enjoys when she can visit her family in southern France.
Margot is thrilled to be joining BCC as Program Coordinator and is very much looking forward to getting to know and work with all the singers and families of BCC!