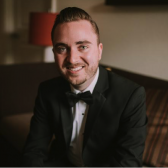 Patrick Hanafin
Associate Director of Operations
As Producer, Patrick manages BCC's communications and marketing and assists in the planning, production, and execution of all of BCC's events. He graduated Summa Cum Laude from Berklee College of Music in Boston with a Bachelor's Degree in Music Business Management and Marketing. Prior to joining BCC, Patrick was part of a marketing team for an event ticket software company, where he shared customer messages and helped many arts organizations bring their events to life.
Patrick is also a professional drummer and percussionist in Boston, performing and recording with various artists, groups, theatre companies, and ensembles. He has toured nationally and has played in many notable theatres from the Boston Opera House to the Castro Theater in San Francisco. Patrick is very passionate about his community and is a big advocate for the arts.
Outside of his passion for music and the arts, Patrick loves traveling and spending time with his family, his wife Katie, and their dog Ollie.