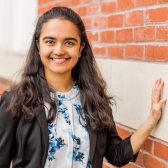 Kripa Joseph
Program Associate
.(JavaScript must be enabled to view this email address)
Kripa Joseph has a love for choral music, having participated in choirs since she was a child. She has experience in higher education, youth development, and cultural nonprofit administration.
Kripa received her Bachelor of Arts ('18) and Master of Arts ('19) in Peace and Conflict Studies from UMass Lowell. She sang as part of Chamber Singers and Early Music Ensemble at UML. She studies voice with Cristi Catt through New England Conservatory's School of Continuing Education. Kripa has led music worship at church for several years and is currently on the worship team at King's Hill Church in Boston.
In her free time, she enjoys traveling, reading, analyzing films & TV shows, and running.