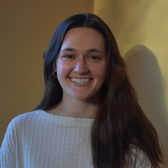 Thea Brenner
Development Operations Associate
.(JavaScript must be enabled to view this email address)
Thea Brenner grew up in Ames, Iowa where she first learned to sing in the Ames Children's Choir and developed a deep love for music.
Thea received a Music and Media Studies degree from St. Olaf College in Northfield, Minnesota where she sang as Soprano Section Leader of the St. Olaf Choir under the direction of Dr. Anton Armstrong. Thea also had the opportunity to spend a summer researching and mapping the life of composer H.T. Burleigh which included archival research at the Library of Congress and Howard University. Thea is interested in using digital tools and data to support the work of Boston Children's Chorus.
In her spare time, she loves baking projects, listening to podcasts, carving wooden spoons, and going on walks in the woods.