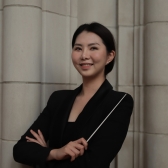 Yeheun Kwon
Assistant Conductor
Yeheun (Yennie) Kwon's journey echoes the transformative power of music. A versatile Conductor, Pianist, Accompanist, Jazz Vocalist, and Professional Singer with the renowned professional 'Music Of Baroque Chicago', she enriches Boston Children's Chorus as New Assistant Conductor. Her academic prowess matches her exceptional musical talent, mastering Orchestra Conducting, Piano, Organ, Harpsichord, and Jazz Voice.

Roles as Conductor, Teaching Assistant, Music Director, and accompanist, Yeheun exemplifies music' unifying power. She led Black Chorus at UIUC, Varsity Men's Glee Club, and Grace Lutheran Church's Bell Choir while playing and singing in numerous Illinois churches. In Seoul, she directed Geumho Jeil Methodist Church's Children's Choir, earning acclaim in National Children's Choir Competitions. Former Music Director of Wangsimni Joongang Presbyterian Church and DENU Choir.

Beyond genres, Yeheun's passion thrives. As a Jazz Vocalist, she performed extensively and led her jazz ensemble, SoWhat Jazz Orchestra. Her commitment as a music educator extends to piano teaching and vocal coaching. Hailing from Seoul, South Korea, Yeheun holds degrees in Choral Studies and Conducting from the University of Illinois Urbana-Champaign (MM '23), a Summa cum laude graduate from Yonsei University's Church Music Department in Choral Conducting (BM '20) and Seoul Arts High School in Classical Voice.