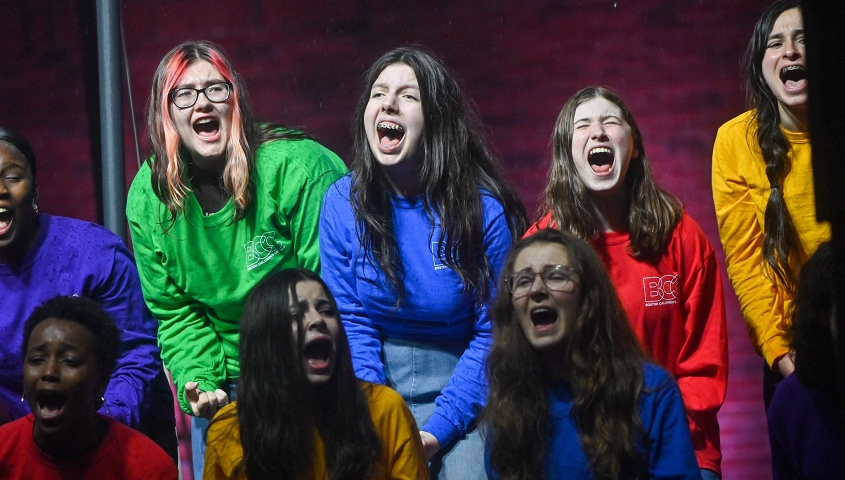 Credit: Jeremiah Robinson from Mayor's Office
On Wednesday, November 30, 2022, Boston Children's Chorus (BCC) was proud to raise our voices in song to welcome the Prince and Princess of Wales for Earthshot Boston 2022 with Mayor Michelle Wu at City Hall Plaza. BCC singers who were part of "WILD: A Musical Becoming" as the Earth Choir at the American Repertory Theater in 2021 reprised their feature "Panic," an anthem focused on climate action.
We are incredibly grateful to the fantastic creative team of the production and the staff at A.R.T. for their continued partnership in allowing us to perform this song, which has become an anthem for BCC singers!
From GBH News' Morning Edition, co-hosted by Paris Alston: "There was lots of wind and rain yesterday, but that did not stop this performance….That is the Boston Children's Chorus performing at the kick-off event for this week's Earthshot Prize Awards… Basically, this was the welcome party for Prince William and Princess Kate…Here are two of the singing students, Rory L. of Westford and Jo A. of Arlington":
"When we have opportunities like this to come together and really share our feelings of wanting to make change, I think that really reminds you that there are people in the world that want to make change, and that can make a difference." - Rory L.

"I think what songs like Panic do is they're really passionate, and what I hope happens is that people who watched our song today are sort of compelled to take a more active role in fighting the climate crisis." - Jo
After the welcome ceremony, select BCC singers & BCC staff headed to TD Garden to attend the Earthshot Prize Takeover at the Celtics' game. The Prince & Princess of Wales attended the game too. BCC singers & staff had the opportunity to meet Mayor Michelle Wu & take a photo together.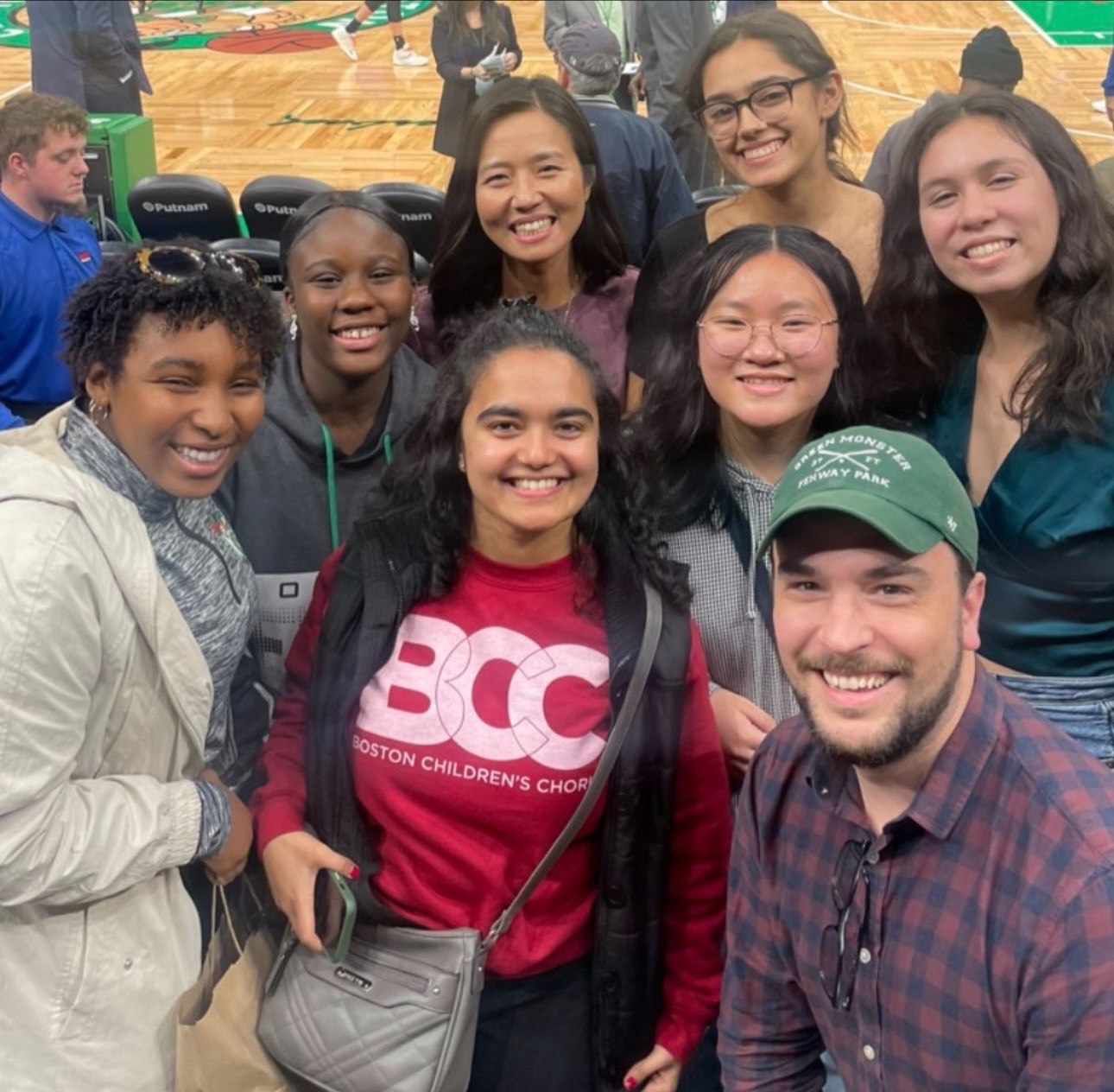 Front Left To Right: Tiana S, Program Associate, Ms. Joseph, Individual Giving Officer/Assistant Conductor of Premier Choir Joshua Glassman, Middle Left To Right: Ilaria M, Rory L, & Magdalena D-F, Back Left To Right: Mayor Michelle Wu & Cami I
On Thursday, December 1, 2022, Earthshot Prize Boston Host Committee Members gathered at the John F. Kennedy Library. The representatives at the host committee gathering included Executive Director Andrés Holder, Associate Director of Choirs Kenneth Griffith, & BCC Board Co-Chair Pat Temple.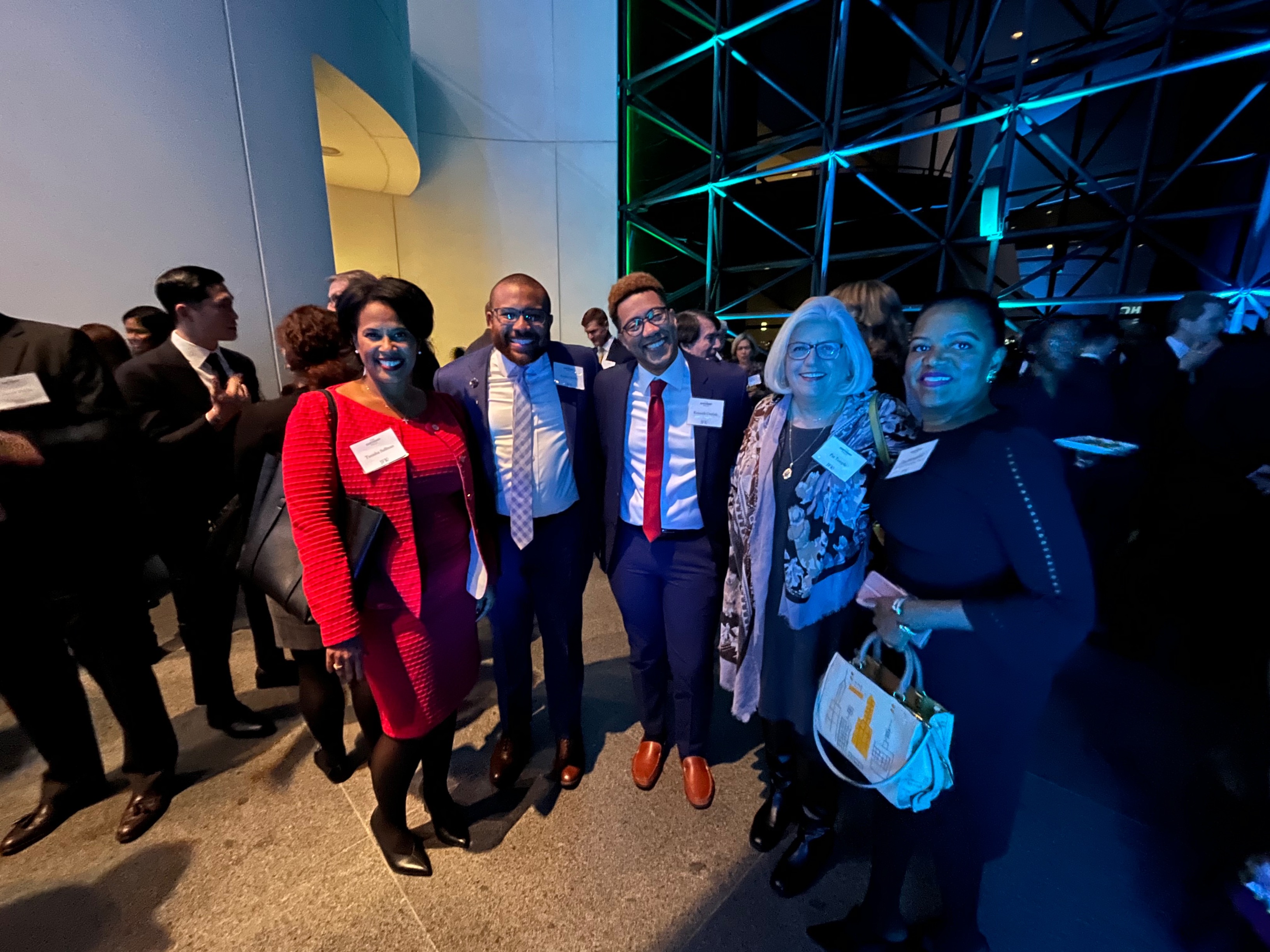 Left To Right: Secretary of State candidate Tanisha Sullivan, Executive Director Andrés Holder, Associate Director of Choirs Kenneth Griffith, BCC Board Co-Chair Pat Temple, & former Massachusetts State Representative Linda Dorcena Forry
Lastly, on Friday, December 2, 2022, BCC community members got the opportunity to attend the taping of the Earthshot Prize awards ceremony at MGM Music Hall in Fenway. The BCC delegation included Executive Director Andrés Holder, Managing Director Irene Idicheria, Marketing Associate & alum Alexis Lujares '16, Juliana Brandao '13, Marlon Matthews '14, Angus Abercombie 22 & BCC Board member Turahn Dorsey. BCC alumni Marlon, Juliana, and Alexis, can be spotted on the broadcast at the 54:50 timestamp, right after the Queensland Indigenous Women's Rangers Network speech. The star-studded line-up of presenters & performers at the Earthshot Prize 2022 included: Rami Malek, Shailene Woodley, Catherine O'Hara, David Beckham, Chloe & Halle, Billie Eilish, Annie Lenox, & Ellie Goulding.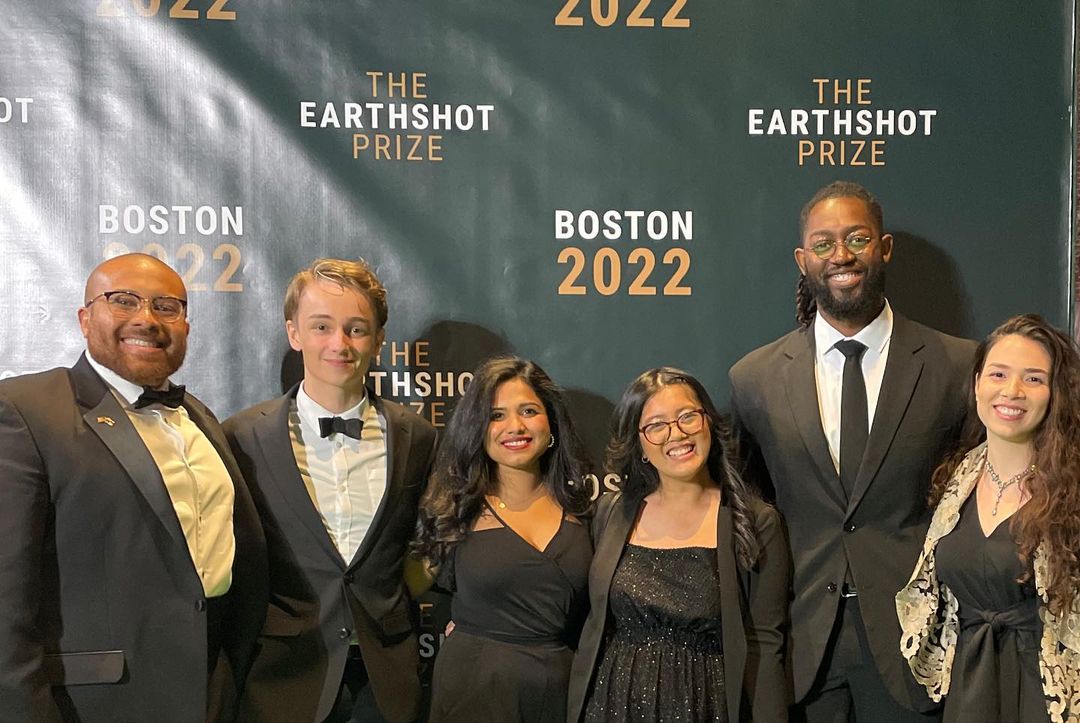 Left To Right: Executive Director, Andrés Holder, Angus Abercombie '22, Managing Director & Conductor, Irene Idicheria, Marketing Associate, Alexis Lujares '16, Marlon Matthews '14, Juliana Brandao '13
Stream the Earthshot Prize in the UK on BBC & BBC iPlayer, in the US on PBS, or non-UK/US/Africa on YouTube here!
View the BCC at Earthshot Boston 2022 photo album here!